Adsterra Review 2023 With Payment Proofs: Features & Alternatives
Adsterra Review 2023: Online Advertisement has become one of the most effective ways of marketing in both online businesses and product sales. Online companies and physical firms now look to create brand awareness in cyberspace to reach many audiences. It is no doubt that the internet is gradually taking over most businesses around the globe.
This created opportunities for Ad networks to partner with companies to ensure that their services reach larger audiences. In this article, we will review the Adsterra network, one of the best ad networks globally.
Adsterra is a renowned global ad network with thousands of users across the world. These users include publishers, advertisers, affiliates, brands, etc.
Before we go into the main discussion of Adsterra, let us take a brief look at where it started from;
Overview Of Adsterra Network
Adsterra Network is an advertising media with global recognition and adoption. It was established in 2013 in Scotland. The ad network has now spread its wing across the borders to different parts of the world. Adsterra started with friends of professional affiliate marketers and webmasters who now have over two decades of experience. This is why the network has thrived in helping so many business owners and publishers.
The network already has close to 20,000 publishers in its advertising medium. Adsterra records over 30 billion impressions every month and delivers more than 100,000 leads monthly.
Adsterra network now has experts in IT, competent account managers, risk management teams, policy groups, and skilled workers. This network is one of the favourite mediums for bloggers seeking to monetize their blogs and affiliate marketers.
This ad network helps to connect advertisers and publishers for a commission-based partnership. Bloggers and affiliate marketers are famous publishers who create brand awareness for advertisers through the Adsterra network. It is a win-win situation as advertisers get leads while publishers also earn. This has made ad networks very popular with increasing publishers and new businesses seeking large audiences.
Adsterra put value in teamwork, commitment, quality, and transparency to ensure good services to publishers and advertisers.
The network makes use of different tools and strategies to ensure that advertisers get to their target audience. Adsterra encourages the use of Apps, Virtual Private Networks (VPN), software, eCommerce, and other mediums to help advertisers. Publishers, including bloggers and affiliate marketers, are ways that the Adsterra network uses to help advertisers.
Features of Adsterra Network
They are so many features accompanied by the Adsterra advertising platform. This includes components for both advertisers and publishers. Here, we are going to outline some Adsterra features for advertisers;
Advertisers
Adsterra ensures good customer relationships with advertisers on the platform, including swift responses and solutions to problems. They also offer design ideas and concepts for advertisers.
Adsterra also guarantees real human traffic from over 18,000 publishers all around the globe to help advertisers create brand awareness.
With their ad network, advertisers can launch marketing campaigns with absolute ease and in less than an hour.
Adsterra network requires a minimum of $100 into the advertiser's platform deposit.
This ad network also has an efficient cost metric for activities like clicks, impressions, etc. The various cost models include Cost per action (CPA); Cost per 1000 impressions (CPM); Cost per Install (CPI); Cost per lead (CPL); Cost per click (CPC); and Real-time bidding (RTB).
Top conversions are available from VPNs, utilities, subscriptions, leads, dating, and so on.
Adsterra also provides filters to narrow targets and also helps track the activities of the users. They use the information on the browser versions, OS versions, devices, and IP targeting.
Also available are various payment methods. These include the following: Visa/Mastercard, Paxum, PayPal, wire transfer.
Provides easy Application program interface (API) and installation of tracking codes.
Publishers
They are also a lot of features for publishers to help in marketing products and creating brand awareness. These include;
Adsterra provides lots of advertisers with over 20 000 campaigns and special offers.
A 100% fill rate.
They are also an assurance of high and stable cost per 1000 impression rates (CPM)
Flexibility in the display of ads concerning the volumes, verticals, frequency, and display formats.
The ad formats available in Adsterra include a deal bar (a new feature), Push ads notification, Banners, Pop-unders, native ads, news feeds, and stories, links, etc.
Adsterra also offers the flexibility of using direct links for App monetization.
Cashout windows are open twice every month and within fixed days for as low as $5.
The following are the payment methods available for publishers on Adsterra: Tether, Bitcoin, PayPal, Webmoney, Paxum, and wire transfer.
Offers transparency and stats on human traffic and other analytic information.
Increased revenue with Anti-AdBlock features.
Personal managers and live chat with a customer support staff.
Adsterra offers a referral program of up to 5%.
API integration and tracking integration.
These are features of the Adsterra network for both publishers and advertisers who partner for efficiency in marketing.
These features are beneficial to both parties. In Adsterra, Malware is not allowed. Redirects, unsolicited downloads, and viruses are very well dealt with. Only Real human traffics and clean ads are permitted on the ad network.
Amidst the excellent and quality features that this ad network provides, they might still be some loopholes. However, this is not strange as they are also some shortcomings with other ad networks. Choosing the perfect ad network might be a myth as personal preference and individual and professional purposes are involved. This means that users would only look to satisfy their purpose and comfort when choosing a product.
Adsterra network could be a good fit for one business or user but not for all users. This is why we will look at the pros and cons of the ad network.
Adsterra Review 2023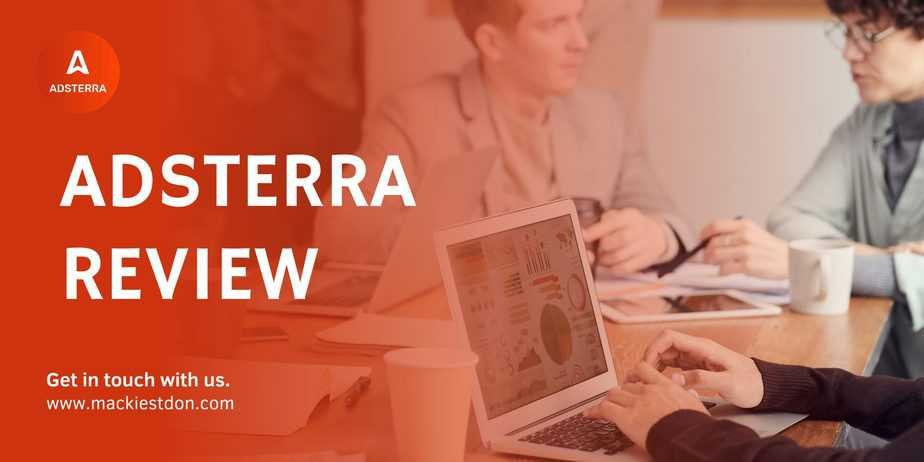 In the remaining part of this article, we will have a thorough review of the Adsterra network. This is to help prospects weigh up their interests before going all out. Check out what you like and what works best for you and your business.
Pros of the Adsterra Network
Adsterra has over 18 000 publishers and a lot more advertisers. This is because it is one of the best ad networks around the world. They have some significant advantages which we are going to talk about here.
Pop-Under advertising: This format of ad is one of Adsterra's most vital links. Pop-under ads are great because they do not seem to annoy the users or interrupt navigation. This means that it is a suitable format for desktop or mobile users. Additionally, the pop-under has a low cost per click (CPC), which benefits advertisers on a small budget.
These pop-under ads tend to be very visible to specific users, making this ad format more targeted. This is a good feature for both advertisers and publishers because of its effectiveness.
Provision of Account Managers: Adsterra network provides publishers with the luxury of an account manager to help in ad implementation. This feature is also available for advertisers as they can choose between the self-service platforms or use an account manager.
The ad network also claims a 100% fill rate on their CPM (Costs per 1000 impressions). Adsterra also offers a 100% fill rate for all ads formats. Does this sound too good to be true? You can visit their FAQ section to confirm this information.
Security System: Out of all the network's strengths, Adsterrra puts a great deal of attention on its security system. Adsterra tries to ensure that bad ad placements, malicious ads, and malware are blocked from sites through strategic filtering. With the aid of a personal manager, Publishers can contact or consult someone for assistance in ad implementation. A lot of review of the Adsterra network has testified to the efficiency of their security.
Adsterra Geo-targeting: This is a good feature of the Adsterra network that helps both advertisers and publishers. With Geo-targeting, publishers can choose to display different types of ads for a specific location. This means the network can use certain information to detect the country and determine a relevant ad to show. Also, segments of your traffic could be categorized and display targeted ads.
This feature is fantastic for publishers that receive traffic from different parts of the globe. It makes for effective advertisements and could increase the CPM rate.
Payment methods/options: Payment options on the Adsterra network are vast and very flexible. The payment tools used on the platform include Paxum, e-Payments, Webmoney, wire transfer, and PayPal. For those who love to use crypto, Adsterra permits the use of Bitcoin and Tether for payments.
Affiliate marketing/Referral commission: In Adsterra, you can get to do some affiliate marketing to earn a little cash. Publishers can write a review about the product and earn a commission if someone signup through their referral links. They offer 5% through their referral program.
Cons of Adsterra Network
Just like we mentioned earlier in this article, our review of the Adsterra network will include the negatives. So let's talk about the cons of this ad network.
Minimum payment threshold: The minimum payment for the Adsterra network is $100, and this might be too high for low-volume publishers. Receiving payment through wire transfer could require that you have earned up to $1 000. Wire transfer also costs $50 to complete each transaction. For those using crypto, Bitcoin also requires a 1% commission. Paxum seems better as it only demands $1 for every transaction. Additionally, you can only receive payments every 15 days. This requires that you hit the $100 mark more frequently to receive payouts.
The high payment threshold also means that small sites would find it challenging to earn within a short period. This means that depending on this money could be unreliable for future use.
Manager hurdles: Although Adsterra does not need millions of clicks every month to earn, they still have some restrictions that could be frustrating. Publishers that are willing to make specific changes to their ad implementation could be restricted. This means that they would have to go through their manager to make some consultations. However, you can make changes such as removing or installing ad codes, and the tracker can be done without a manager. However, adjusting more complex settings like, the default frequency cap would require that you contact your manager. Personal managers would also block some advertisers or make some significant changes to your ad account.
Live Chat feature: Unlike other ad platforms, the Adsterra network does not provide a webchat support channel. However, you can Skype them, but this could be limited to people with reliable internet connections. The Skype feature serves the purpose of communication, so this is not too much of a big deal.
Alternatives to Adsterra Ad Network
They are a lot of other ads network that provide similar services to Adsterra. However, some of these networks might not be as popular/or have not been in the market long enough. On the other hand, they are some solid rivals and competitors of Adsterra.
In this section, we will be analyzing Adsterra in comparison to some of its top competitors. You will get some of the essential features and other alternative ad networks to help you weigh these ad networks.
Top competitors of Adsterra network
Adsterra is not the only ad network around at the moment. They are other top competitors and alternatives to the Adsterra network. Below are some features of different options to Adsterra:
1. Traffic Nomads
This ad network is recognized globally as one of the best ad networks in push ads. Traffic nomads are also known for their high conversion rate while running push ads campaigns.
The push ads technique is straightforward. The user approves of the request to receive notifications from a website. This way, publishers can get to reach the target audience. Traffic nomads offer the following advantages:
Increased Click-through rate (CTR) via push notification ads. This promises over 100m daily impressions
Ads formats including banners, calendars, in-page push, and native ads are also available.
Top verticals include Crypto, Casino, dating, and so on.
Analytics information to optimize campaigns. You can also filter campaign
Security system to avoid bots traffic and ensure 100% push notification traffic.
All these features are available in the traffic nomads. They are much other important information about this ad network. So feel free to carry out your research on this ad network.
2. AdMaven
This is also another top competitor of the Adsterra network. Just like Adsterra, they offer a lot of ad formats. They also give advertisers access to high traffic from any location. Below are some of the features of AdMaven:
Support team available to help you
Tools to help optimize your CPM and revenues
Integration of different ad formats to your websites.
Just like Adsterra, this ad network also provides an account manager to help manage ad implementation. Users also have access to an admin dashboard.
Top security to filter out bad ads and malware from your sites
CPA, CPM with good pricing models
You can do more research on AdMaven to see more about this ad network and how it compares to Adsterra.
3. Zeropark
This is a self-service advertising platform and is an excellent alternative Adsterra network. Zeropark provides three ad formats which are push notification, domain redirect, and pop.
Here are some of the features available on the zero park ad network:
Easy and quick campaign set-up
Utilizes a CPC traffic-based monetization. CPC is the cost per click, and this means that advertisers pay for clicks only.
Offers security to filter manual and automatic bots traffic.
A/B testing with different formats of ads
Analytical information such as devices, GEO, and others can help in audience targeting.
These are brief features of the Zeropark ad network. However, if you want more information on this ad network, feel free to do more research on Zeropark.
So these alternatives and competitors provided here in this review of the Adsterra network also have their pros and cons. This is inevitable as no ad network is entirely perfect. However, they could fit into your purpose or preference.
Is Adsterra worth it?
With a monthly impression of over 25 billion, and close 20 000 publishers, Adsterra is not one of the best ad networks by accident. The numbers are there to back up these claims. Although they are other alternatives with their unique features, Adsterra is not just about the hype.
Conclusion
From this review of the Adsterra network, you can now make your judgments on Adsterra and its competitors/alternatives. If before now you had a difficult time making a verdict on Adsterra. Like I said earlier, decisions could be made concerning Individual preference, satisfaction, and business purposes.
Let me know your thoughts down in the comment section!