20+ Best Traffic Exchange Website in 2023 (Manual & Auto Surf)
Are you looking for the best traffic exchange website in 2023?  If your answer is yes, then you are in the right place. It's time to spend some time on this article. I have mentioned some of the best traffic exchange programs both auto and manual surf.
After reading this article, you'll be able to choose the best traffic exchange website for yourself according to your requirements and needs. I'm giving you a list of the top 20 traffic exchange sites along with their features and benefits so it's easy for you to find what you really want.
Let's start…
What is Traffic Exchange?
Traffic Exchange is a free traffic-generating tool that allows you to get targeted visitors to your blog or website. It's like a tool for obtaining specific, targeted traffic to your site. It's the ideal approach to acquire search engine optimized (SEO) traffic instantly and of high quality.
Traffic from traffic exchanges can be a very good source of free human visitors to your website or blog. These are generally real people who are looking for whatever you have to offer, and they're interested in helping you promote your site as well as making some extra money by viewing ads on your site after they visit it.
How Does Traffic Exchange Websites Work?
Traffic exchange is a means of getting free traffic to your website. This traffic exchange website enables you to view other people's websites and ads as they also view yours, usually for free.
In a nutshell, members of a network agree to visit one another's websites and spend a pre-determined amount of time there. The hit ratio is an element of the agreement that shows the amount of traffic your website gets while you're visiting other sites.
These members can also use credits as they participate in banner advertisement exchanges. Thus, the traffic exchange sites can allow members to increase hit ratios, earn credits, or purchase membership upgrades.
Benefits of Traffic Exchange Website
1. Free Website Traffic: If you want free traffic to your blog or website, the best way is to choose a traffic exchange website that will provide you with free and targeted traffic. You wouldn't have to pay anything, which makes it the cheapest and fastest option available for getting quality traffic on your site.
2. Instant Traffic: The best thing about working with traffic exchange websites is that it provides instant targeted traffic to your website. You'll get a good amount of visitors within a few hours of starting the campaign.
3. High Retention Rate: The retention rate of visitors from this source is generally high, which can provide you with real value for money spent on campaigns. It's because they are interested in your website content, so they tend to stay there for a longer duration of time.
Types of Surfing Methods in Traffic Exchanges
There are two main types of Traffic Exchanges: Manual Surf and Auto Surf.
1. Manual Surf Traffic Exchange: This type of exchange allows you to click on other members' ads and websites manually. The system uses some anti-cheat methods to ensure that people don't cheat on this system. Therefore, you need to wait until the required amount of time elapses for you to move to the next site.
2. Auto-Surf Traffic Exchange: This is a system that runs automatically, and can easily earn hits and credits. Auto surfing requires an application that has a timer. Thus, the auto surf application will visit other sites as the timer provided by the traffic exchange site monitor these movements and the time spent on each website.
Pros and Cons of Using Traffic Exchange Sites
Pros
Traffic exchanges increase overall web traffic to your website.
Other network members add your website link to their site.
You don't have to contact the website owners for traffic exchanges since that is the work of the traffic exchange website.
The network will offer you customized services since it is skilled at internet advertising technologies and SEO.
Cons
The manual surf method requires a lot of time
Although traffic exchange will drive traffic to your website, there is no guarantee that this will translate into increased sales.
The traffic is not targeted; thus, the value of that generated traffic is zero since it's only junk traffic.
Google AdSense frowns at this type of traffic, and you are of getting your account disabled.
There is an increased bounce rate, which affects your SEO negatively since each visitor is bound to stay for less than thirty seconds.
20+ Best Traffic Exchange Websites In 2023
Here's a list of the best traffic exchange programs that are currently functioning and will continue to do so in 2023.
Youlikehits 

– Best traffic exchange website

Leadsleap 

– Best free traffic exchange Site

Rankboostup 

– Best auto traffic exchange sites

TrafficSwarm

TrafficG

Otohits

Herculist

Hitleap

EasyHits4U

eBesucher

Trafficsend

Autowebsurf

10KHits 
1. Youlikehits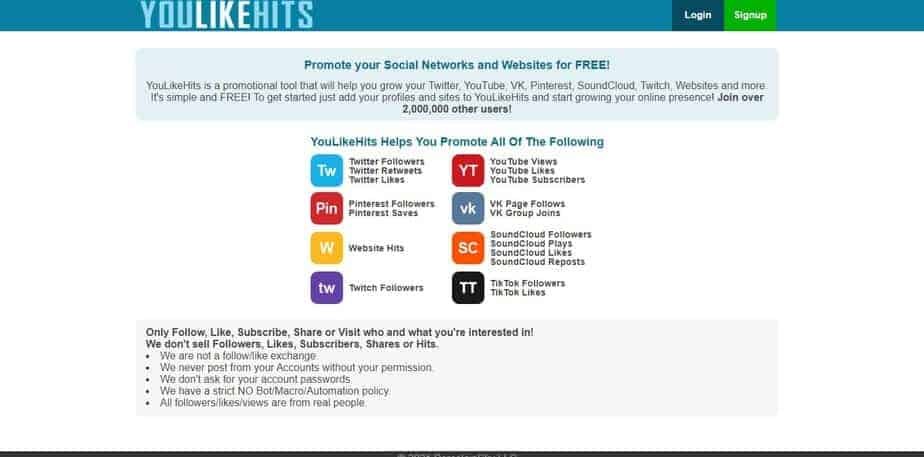 Youlikehits is regarded as the best traffic exchange website in 2023. It is a reputable traffic exchange that uses reliable software. Youlikehits received a fairly high ranking from the majority of the algorithms.
This traffic exchange may help you grow your social media following on many platforms. The idea is straightforward: you earn points for doing things (such as watching a video or the following someone ).
Your points can be used to entice others to follow you or view your YouTube video, and they will return to you. The points are sold in order to attract followers on social media.
Pros
Easy to operate
The SSL certificate is valid
This website is quite old and trustworthy.
You can see who has been to your website and when they were there.
Cons
There aren't enough people using the system to keep it running.
The wait time to visit a website is excessive, therefore it's not worth it for points.
It's not cheap to buy points from the system.
It's possible that you may lose your website IP address if too many people visit your site.
2. Leadsleap
LeadsLeap is a traffic exchange for business owners, bloggers, and marketers who are looking to increase web traffic. You can use this service to help promote buy links or run your own advertising campaigns.
Tools for developing an ad campaign and ad network offering text links, image banners, and contextual advertising were provided byLeadsleap; it is effective for promoting affiliate products or your own business.
To join Leadsleap, you must first provide an email address and select a password. You may then access the web pages that are accessible by logging in.
Feature Of Leadleaps
 Free traffic to your websites
 Free autoresponder service, your own list, not co-owned
 Free page builder, hosting included
 Free popup generator, hosting included
 Free link tracker that can differentiate bot vs human traffic
 Make Free money while benefiting from all these!
Pros
It's easy to use this site since you'll be shown how to use everything when signing up.
You don't have to wait very long before you can see other website visitors on your blog/site.
Cons
You need to pay credit to advertise yourself
You earn very little, and for the rest of the promotions, you need to purchase plans
Sometimes you don't get the targeted audience you were hoping for
3. Rankboostup
Rankboostup has been delivering traffic to websites since 2007. It allows you to control every aspect of the traffic experience, from the beginning to the end.
The Advanced split test feature allows you to set the per cent of people that you want to be directed to another page on your website or sent to a different webpage. This decreases bounce rates, which is one of the major metrics used in algorithms.
It's free to join, and upon signup, you'll receive up to 100 hits for free, allowing you to test out the auto-surf traffic exchange.
Pros
You can target a particular country
Choose how many hits you want per day.
Pick and choose what keyword you want to rank
Auto-surf browser help you to earn as many points as you want
Cons
Unlimited traffic is only provided in premium plans
Difficult payment methods
You have no control over the time of day you can use it
4. TrafficSwarm
Another traffic exchange site on our list is TrafficSwarm. It works in such a manner that customers may post an ad on their website and distribute the link so that other users can see it.
When a person sees one of those advertisements, they read it and this is how website traffic rises. Every time someone visits another site, they earn points that may be used to have your ad displayed on the list.
You may get a "swarm" of visitors to your website in less than 5 minutes, according to TrafficSwarm. The sign-up procedure is simple, and people start visiting your website immediately and receiving the most impressions possible.
Pros
Users get hits in a few minutes
Quick and easy process
User-friendly interface
You can earn credits by visiting more sites
Cons
Visitors need to stay on a website for some time for impressions
Low search engine traffic
5. TrafficG
Another free traffic exchange site is TrafficG, which has a user-friendly layout and allows you to advertise other businesses in exchange for visitors to your website. TrafficG members read one another's websites. It enables you to include a tiny banner in the exchange frame from TrafficG.
When you tell others about TrafficG, you will be given credits for the banner/traffic trade. Once you've joined up, go to Add site > Choose internet channel and location > Enter your URL and press continue. Start surfing by clicking on start browsing, and you'll be taken to various websites that may be engaged and impressions provided in the return.
Pros
It allows you to target your audience.
TrafficG gives you a free listing.
Banners may be used by site visitors.
You may advertise as many websites as you'd like.
Cons
If new members remain active, you may get referrals.
You'll need premium memberships for other surfing tools.
6. Otohits
Otohits is a unique traffic exchange website that comes with some cool free features.
It's a fast, simple, and efficient platform that provides free auto-surfs with a clear interface and hides your site's referrer.
Otohits offers quick validation and ensures fast and smooth registration. You can customize the visitors' duration with their unique auto-surf engine.
Otohits has some incredible advantages; it's competitors that make it stand out.
All premium features are free
Websites audition for malicious content.
Custom user agents
Multilingual
Random clicks for la ow bounce rate.
The system comes with clean and detailed statistics of your activity and pages.
So far, it`s one of the best auto surf.
Pros
It offers various features.
The number of free hits is not limited.
Cons
Free members get fewer credits for surfing.
Traffic from Otohits cannot be directly monetized through ad networks or AdSense programs.
7. Herculist
Herculist is one of the most popular traffic exchange sites. Email exchange and traffic exchange are two options for advertising on this site. This is a self-service solution, and your primary goal is to increase the number of visitors to your website.
To join Herculist, you'll require two Gmail email addresses. Since improved email delivery is possible with Gmail, they recommend it as a good option. In a mailbox exchange, you receive offers and send emails to other members, while in a traffic exchange, your advertisements are monitored by many people.
Pros
Earn a 35% commission on referral programs.
You can modify the timer on the website if you want to stay there for a longer period of time.
The additional $5 when you register
Cons
In a single day, you'll receive an infinite number of emails.
A separate email account is required for spam.
Get a premium membership to enable vacation mode.
8. Hitz Boost
Hitz Boost is a traffic exchange service whose work is to hook up people who want to promote their sites with other like-minded people
The aim of this is for both parties to gain viewers; you show me yours, and I'll show you mine in the sense of a website.
The company has made all it takes to keep the customers happy and satisfied by providing accessible solutions for them.
You must submit your website, browse other members' websites, and return the favour.
You may use Hitleap to buy traffic or produce it, and the amount of traffic you receive can be customized by Hitleap.
The site may help you make money and traffic.
Pros
You may customize the ads and even upload your own images.
There's an option to block unwanted websites.
A unique method of gaining visitors to your site.
Cons
It may be slow sometimes.
It doesn't allow you to select a specific country from which traffic comes.
9. EasyHits4U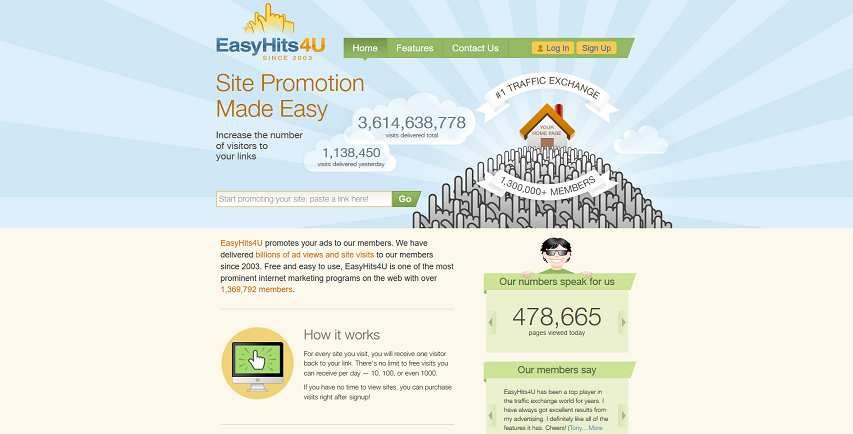 This is a traffic exchange site that is manually operated; they provide a 1:1 trade ratio. You visit one website. They give you one credit to promote your link, among other things. If you surf 100 sites as a referral, you can make money.
With a minimal expenditure of $3.00 and big trust pay, this is the drawing of $0.10 with a maximum withdrawal of $3.00.
You may also earn credits that you may utilize to advertise your websites, website banners, and text links. These banners, sites, and other items can also be targeted by continent and location.
There are two selections for surfing
2:1 web surfing, which lasts for 15 secs
1:1 web surfing, which lasts for 20 seconds.
I would recommend manual surfing at the 20-second rate.
I find this very effective at promoting attractive websites and banners and have gained many sign-ups from using this website.
Pros
There are various ways of earning credits.
It is user-friendly, which means you should have no problems understanding how it functions.
Cons
The site may be slow sometimes.
A maximum withdrawal threshold is in place, so you can't withdraw whenever you wish to do so.
10. eBesucher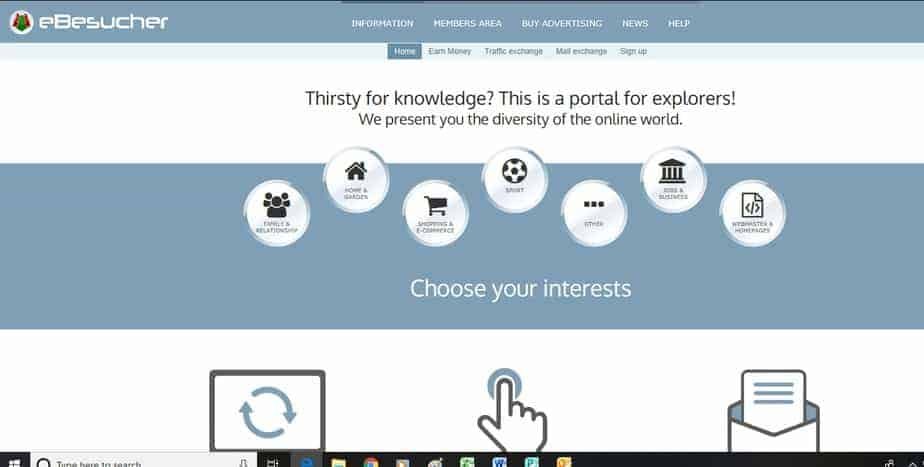 eBesucher is a fantastic traffic exchange site. You've arrived at the appropriate location if you're looking for a pointless effort because eBesucher allows you to earn money without spending hours on the computer, even if you sleep. This auto-surf software rotates web/video sites in an automated manner.
The interface is available in German, Spanish, English, and French. They offer a manually operated email exchange and traffic exchange service. Various images, usability, and the removal of malware are accessible to users.
Pros
It offers both auto-surfing and manual surfing.
Targeted to a specific region and population.
It is permitted to have as much traffic as you want.
Simple to use
Cons
Low-quality traffic
Reach the correct audience with a long-distance jump.
The AutoSurf Traffic Exchange Network is an autosurf traffic exchange system. It has both free and paid memberships. The open layout limits the number of visitors, which may be ideal for marketers or people looking to make money through referrals, but premium subscriptions will help you increase blog traffic or Alexa ranking.
TrafficSends allows you to set the number of views you needed for every one hour, and you can also set time duration, and how long you want a visitor to stay.
With TrafficSend, you can get high-quality views on your YouTube videos if you own a Youtube channel.
Pros
It offers auto-surf service
Easy user-interface
Instant increase of visitors
Cons
It's Not entirely free; you have to take membership plans for additional features
Autowebsurf is another auto-surf traffic exchange site that sends traffic to your website automatically. AutoWebSurf traffic exchange program has a unique method of delivering unique visitors to your websites.
Here are three simple steps involve to get started. First, submit your link, click on get traffic, and monitor your webpage.
Features Of AutoWebSurf:
There are some unique features of the AutoSurfWeb traffic exchange program
The hourly traffic control system
Anonymous hide referrer system
Availability of LightViewer
Multiple sessions on multiple IPs
Custom timer from ten seconds to three hundred seconds
Referral credits earning up to 0.2
Banner & text ads option and referral cash earning up to 40%.
Asides from that, AutoWebSurf offers a credit-earning system, which is very simple. You can start earning credits by surfing other websites; the ratio of visitors will depend on the rate and time for each site view.
You can also earn credits by referring other people to use this service. The more people you refer, the more your credits will increase along with a higher possibility of earning money.
Pros
It offers an auto-surfing service to display sites automatically and manually.
Targeted traffic depends on continent and country.
You can customize the timer duration from 10 seconds to 300 seconds. You can also add multiple sessions on multiple IPs.
Simple to use
Cons
There are no cons
13. 10KHits  Free Traffic Exchange Site
10KHits is a traffic exchange website that focuses on bringing genuine human visitors to your website monthly.
10KHits has a good number of active users who are willing to visit your website once you register your website and place a promotion for it.
10kHits has three membership plans which include:
Free membership: You are awarded 100 traffic points with the ability to earn more
Pro Membership: This costs $10 per month and 50,000 monthly traffic points.
Business Membership: This costs $29 a month and awards you with 200,000 monthly traffic points.
10KHits has some fantastic features that make it stand out among other traffic exchange websites.
Geographic Targeting
Organic Traffic
Social Traffic
Direct
Anonymous Traffic and
Low Bounce Rate.
Pros
This platform provides real visitors
You get free points on first sign-up
Users can earn commission points on referrals
The application is user-friendly
Cons
The bounce rate increase if a visitor leaves the website without reading the content
You need to pay $10 monthly for additional features
Conclusion
I have compiled a list of the best traffic exchange sites that I anticipate will be among the finest in 2023. Hopefully, this post has been beneficial to you in some way, and you gained new information about traffic exchanges and their advantages.
There's one thing for sure: we all want to make money online without putting forth much effort. This is the area in which I am uncertain if you can succeed, but traffic exchanges are most definitely a method to assist you in achieving your objectives. You may begin receiving money simply by surfing other people's websites and being rewarded with a commission on each referral
I hope this helps!