10+ Best Free Tweet Deleter Tool (delete all tweets)
Tweet deleter tools are web-based services used to clear out your Twitter history. Tweet deleter also lets you keep deleted tweets on the app even though they are permanently deleted from Twitter.
If you're looking for a service that can help mass-delete your Twitter posts based on their age or specific text they contain, then tweet deleter is what you need. With this tool, it's also possible to schedule automated deletion jobs!
Tweet deleter is used by many influencers, celebrities, or ordinary people to mass-delete tweets that don't receive high engagements. Retweets, likes, and comments signify their popularity, and tweets with low engagement weaken their Twitter account, so they use tweet deleter to remove them. In addition, at times, tweet deleting is the only way forward, the clean state that allows you to start afresh.
Currently, several tweet delete tools massively delete tweets at one because there is no point in keeping old tweets that are no longer important to you. You can delete unnecessary or unwanted tweets one by one on a Twitter app, but it will require a significant amount of time. For this purpose, the tweet deleters tool is needed.
There are numerous factors to consider while selecting a tweet deleting software, depending on your demands. You don't want to choose at random! And there's more good news: some of these applications may be used for free. That's right; I said FREE! This means you'll be able to remove your unsolicited tweets using these tools with ease.
Are you in a quest for the best tweet deleter? Worry no more; your answers are here. I have conducted extensive research on your behalf and listed the best tweet deleting tools available.
i. Change In Niche/ Industry/ Job
Tweet deleter is an excellent way to delete 12 years-old tweets that might surface during a job interview. Many people resort to Twitter to post industry updates or job updates while working. Still, when you change your industry or job, you want your colleagues and followers to only interact with your present without questioning your past job history.
To prevent pointless debates, I advise that you mass-delete past postings connected to old projects, and there is no better method than to use a tweet deleter.
ii. It Is Used When Change In Political Ideologies Occur
Political tweets are one of the most deleted tweets because people have fickle opinions about politics. Legit tweet deleters are used when people change their views about leaders with the changing Government or political pressure. When this happens, they rush to mass tweet and delete old opinions using tweet deleters. Many politicians are also seen tweets deleted with changing alliances.
iii. Change In Relationships.
Mass tweet deleting is used for this problem which is almost familiar to all generations—changing relationships results in people deleting old tweets. People like to get rid of photos or tweets they have posted with their ex. Tweet deleter is used to remove all those love posts that make you grieve and no longer make sense.
iv. It Covers For Sudden Change In Thought
Have you seen yourself rushing to Twitter when mad at something and posting embarrassing tweets? A few hours, days, weeks, or months later, you become regretful of your tweet, and you want to delete it together with another subsequent tweet you've posted in that kind of mood. Tweet deleter comes to your aid here. When our anger subsides, our emotions change, we feel our tweets exaggerated, and we want to delete them immediately.
v. When A Tweet Is No Longer Relevant
Some tweets don't make sense after a certain period. They look like blabbering that you want to get rid of. Many people like to clean their Twitter accounts of tweets that seem like complete nonsense over time. In this case, tweet deleter is used.
The above are some of the benefits of tweet deleter; there are lots more.
Best Tweet Deleter In 2023 (Free & Paid)
Below is the list of the best tweet deleting tools and their unique feature. The list below contains free and paid tweet deleting tools available in 2022.
Circleboom (The #1 tweet Deleting Tool)
TweetDelete (Best Tweet delete free Tool)
TwitWipe (Best tweet Delete all Tool)
TweetDeleter (Best Bulk Tweet deleting Tool)
TwitEraser (Safe Tweet Delete Tool)
TwitLan (Best Mass Tweet deleting Tool)
DeleteAllMyTweets (Best Bulk Tweet delete Tool)
Twit Archive Eraser (Best tweet Deleting Tool)
Semiphemiral (Best user-friendly tweet-deleting Tool)
Cardigan
Check out: TweetHunter Review: Best Viral Tweet Generator Tool (Promo Code)
It's a web application that allows you to remove all of your tweets in one fell swoop. CircleBoom doesn't collect any personal information, and the removal of tweets isn't recorded in any way.
CircleBoom does not use 3rd-party services like Twitter's Firehose to save data, so Circleboom cannot be used to track tweet deletions. CircleBack is a service that allows users to delete their old tweets and Facebook posts and even remove followers.
CircleBoom comes with the CircleBack feature set, allowing it to remove retweets, replies, or favourites. CircleBoom also deletes your tweets from Google Cache and Archive.
Features Of CircleBoom
Some of the significant and handy features of Circleboom include:
Searching via Free-text: This Tool allows you to find and erase unnecessary tweets by using the names of users, keywords or hashtags search with this beautiful feature.
Searching via Date Range: This feature allows you to erase your old tweets history using a date range, which enables you to delete your old tweets via the period in which they were sent.
Searching via Language: Circleboom keeps language records, thus making it easy and improving finding tweets sent in any other specific language. So whenever there is a tweet that is hard to be recognized, you can delete them fast.
CircleBoom Payment Plan:
The Circleboom has four payment plans:
Free Plan: The first version is free of cost, and it enables you to delete tweets from 3 social accounts at once, ten scheduled/queued posts per account.
Pro Plan: The next version is called pro, and it helps to delete tweets from 5 social accounts and 120 scheduled/queued posts per account.
Premium Plan: The premium version operates on ten social accounts and 2000 scheduled/queued posts per account; plus, it is a design tool.
Business Plan: The business version enables you to operate on 30 social accounts and 3000 scheduled/queued posts per account.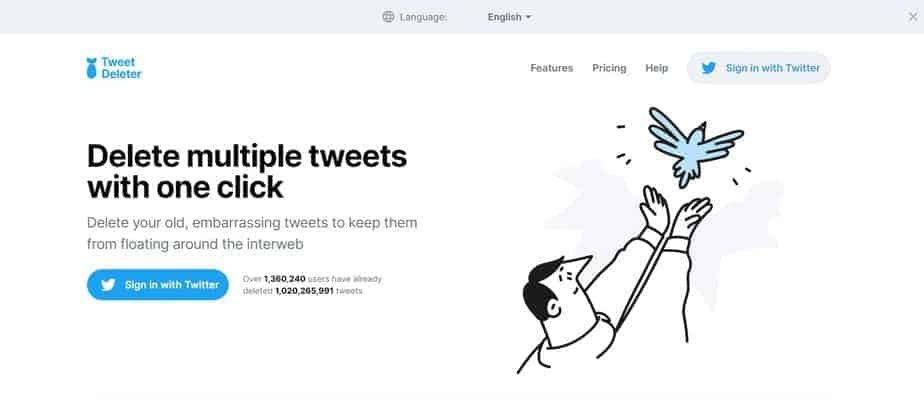 Tweet Deleter is one of the Twitter deletion tools on my free list that may assist you. TweetDeleter lets you mass-delete all of your old tweets (the tweet limit is 50,000).
The way Tweet Deleter works are as follows: it will collect all of the Tweets from a particular Twitter account and then break them down into 50-entry categories. You may select which Tweet you'd like to remove or delete all the Tweets at once using Tweet Deleter's user interface.
Tweet Deleter also TweetDeleter provide an excellent option that allows you to export Tweet statistics before deleting them (this can be useful if you're trying to get rid of older Twitter data but don't want it gone altogether).
Features Of TweetDeleter
Auto-delete – Setting up auto-delete will slowly but steadily delete your earliest tweets every day.
Tweet archive – Locate particular tweets using this feature.
Full delete – The quickest, cleanest sweep of your Twitter account.
Allows you to delete tweets with just a few clicks
It gives you the option to export twitter data
It helps prevent accidental tweet deletion
Tweet Deleter also has filters to narrow down your search results. There is a "rude word filter" feature that allows you to locate tweets that contain rude language. It also includes a "Tweet-type" filter feature to find retweets, likes, and replies and a Media-filter to discover gifs, pictures, and videos.
Not surprisingly, TweetDeleter is a free download, but it isn't entirely free. To access certain premium features, you'll have to pay.
Downsides: There are a few downsides to Tweet Deleter, the most prominent one being you can only delete up to five tweets per day using the free option. Also, features such as auto-delete, tweet archive, and full delete are reserved for paid users.
TweetDeleter Pricing
If you are interested in paying for Tweet Deleter, there are two tiers. The Premium tier allows for up to 3,000 deleted tweets per day, and the Unlimited tier allows for unlimited deleted tweets per day.
Premium – $5.99/month annually, $9.99/month-to-month
Unlimited – $7.50/month annually, $14.99/month-to-month
Are you feeling exhausted after reading the write-up above? Ooh, there's no need to be concerned. There is another entirely free tool, and it's a good thing too! Continue reading to learn more about this fantastic opportunity.
This Tool is free—one hundred per cent free tweet delete. TweetDelete.net is an excellent way to delete up to 3,200 of your latest tweets. Tweet Delete may not have the robust features or slick interface compared to Tweet Deleter, but for those looking to do a quick sweep of more than just five tweets per day, this Tool is highly effective.
How to delete tweets with Tweet Delete
From the homepage, find and click on Sign in with Twitter. You'll need to check the box agreeing to their terms of service before authorizing the app.
A new window will open asking you to authorize the Twitter app by Memset Ltd. Click on Authorize app to continue.
Tweet Delete will then provide you with an option to delete tweets ranging from one week old to one-year-old. You can delete existing tweets beyond one year, as long as it's less than 3,200 total tweets.
Click on Activate TweetDelete. Warning, deleting tweets is a permanent action and cannot be undone.
Tweet Delete may also post to your feed, notifying followers you've deleted tweets. It could also prompt you to follow its Twitter account. Uncheck these boxes before activating to delete.
Downsides: Tweet Delete works extremely quickly; however, deleting massive amounts of tweets in a single sweep could take some time and lead to significant bugs with your Twitter timeline. If this occurs, it is only fixable by Twitter support.
Pricing
Contrary to Tweet Deleter, this tool is 100% free to use, so free tweet deletes using this tool.
4. TweetEraser
TweetEraser is a simple web-based tool that helps you manage and efficiently delete tweets. TweetEraser combines the free aspects of TweetDeleter with the dashboard choices of TweetDelete. When users arrive at the site, they are greeted by a prominent sign informing them of the free and paid tiers of the Tool, which is a helpful touch.
Features Of Tweet Eraser
Once signed in, you'll have access to the Tweet Eraser dashboard. Some of its key features include:
Search filters – Find specific tweets by typing in keywords. You can then create a custom filter to apply later on.
Multiple Twitter accounts – Many people have a personal Twitter and a business Twitter. You can sync these accounts here with this feature.
Keep deleted tweets – While deleted tweets won't be public-facing, you can still access them with this feature.
Downsides: You can clear up to 3,200 tweets peruse, which is better than Tweet Deleter, although there are on-page advertisements. Additionally, search filters are limited under the free version. Features such as syncing multiple Twitter accounts and saving old tweets are reserved for paid users.
Tweet Eraser Pricing
If you are interested in paying for Tweet Eraser, there are two tiers. The Standard eraser allows for unlimited deleted tweets per day, but you cannot save old tweets, and search filters are limited. The Premium eraser has virtually no caps on all features and search filters.
Standard – $6.99 for 30 days
Premium – $9.99 for 30 days
TwitWipe is a tweet deleting tool to wipe or mass tweet delete and clean your Twitter account in one go. It erases all your multiple tweets automatically and quickly. Suppose you want to clean up your Twitter account for a fresh start. In that case, you must clean it out before giving your account's authority to someone else, or maybe you are thinking differently now and want to remove those tweets you posted in a fit of boredom or emotions.
Thus, it is the best and perfect solution for a tweeter, so he will not lose his followers. It enables you to delete all of your old and unimportant tweets just in one go. It not just deletes old tweets but also removes the last tweets posted.
Features Of TwitWipe
TwitWipe also comes with some unique features that are listed below:
Cleans up Deleted Tweets:
Unfollowing Tweeps Option:
Cleans up Dm's:
TwitWipe Pricing
TwitWipe tweet deleting tool is available for free.
TwitLan is a perfect mass tweet deleting Tool. It is relatively simple to upload, select, and delete multiple tweets simultaneously. For this purpose, you only need to log in to the site and authorize access to Twitter from TwitLan. Then, the site will upload your Twitter messages in batches. For each set of 50, you can delete all 50 tweets at once, start deleting one tweet at a time or select multiple tweets at a single go.
Features Of TwitLan
Aside from these specifications, it also entitles the following characteristics:
Free of cost
Don't Require any Registration
User-friendly Interface
TwitLan Pricing
This Tweet deleting tool is available online free of cost.
This is best for tweet deleting in multiples. It does what it says. If you need to mass delete a large number of tweets at once, then DeleteAllMyTweets is the perfect and time-saving option for you.
Its interface and dashboard are convenient, so it's not difficult for users to select and erase unwanted tweets. It is capable of mass tweet deleting in thousands with a single click, and for deleting more, one can repeat the same steps.
Features Of DeleteAllMyTweet
A few more exciting features of this tweet deleting Tool are given below:
Capable of deleting 1000 Tweets at once: The DeleteAllMyTweets Tool can delete thousands of tweets at once, and there is no need to log in or install the software. It is necessary to reconsider that they cannot be recovered once you have deleted tweets.
Quick and Instant Tool: DeleteAllMyTweets wipes off tweets, retweets, likes, and comments quickly.
Maintains Privacy: This tweet deleting Tool maintains the privacy of its users and deletes unnecessary tweets, likes, and comments safely.
DeleteAllMyTweets Pricing
The DeleteAllMyTweets tool is free to use, and it requires no payment.
Twitter Archive Eraser allows you to mass tweet delete in thousands no matter how many you have or when they were published, regardless of if it has been over a decade. If you are searching for something that can clean up and manage your Twitter account in just a few clicks on the computer, this is the right option.
Feature Of Twitter Archive Eraser
Some of the enchanting features of this Tool are:
Delete your old tweets —without any limits
Provides Full Control
Privacy and security are kept First
Tweet Archive Eraser Pricing
Twitter Archive Eraser enables you to delete up to 1,000 tweets for free, but for removing more tweets and access to advanced features, the Tool has three pricing plans:
The Basic Plan: This is the best deal for beginners who have to deal with a few thousand tweets. It enables you to remove 2,000 tweets in a week. It also has a tweet age restriction of 2 years, and it will cost $9.
The Advanced Plan: This begins from $19 and enables you to delete 5,000 tweets per week. With this tool, you can erase four-year-old tweets.
The Premium Plan: The premium version of this tool helps to remove unlimited tweets per week, and it can even delete 12 plus years-older tweets.
Semiphemiral is a tweet deleting tool that protects your privacy. It automatically deletes tweets (i.e. deleting years of old tweets), giving you control over exactly which tweet you want to make sure you keep. It is a very user-friendly tweet deleting Tool.
Feature Of Semiphemiral
These are some more features of this Tool:
Auto-Deletion Feature: If you want to set Semiphemeral according to your choice, you can do so; for example, auto-removes your tweets older than 30 days, except they have a minimum of 10 retweets or a minimum of 20 likes.
Manages tweets: The Tool keeps all tweets that are part of the same thread as a tweet that looks similar and unlike tweets after several days.
Searches through Keywords: This tweet deleting tool searches through all of your tweets and gathers those you want to exclude from auto-deletion. In this way, Semiphemeral does not delete them.
Antifascist Service: If you want to prevent fascists from using this free privacy feature, the Semiphemiral Tool can keep track of Twitter accounts used by protruding racists and misogynists, antisemites223, homophobes, neo-Nazis, and other fascists. If you like tweets posted by these fascist influencer accounts, this Tool will block you, and you will not be able to get benefit from the service until the service unblocks you.
Keeps Privacy: Everyone wants privacy on social media, but not everyone can have that privacy by using this free service.
Semiphemiral Pricing
Semiphemiral Tool is also available for free that automatically deletes your unimportant tweets. But for availing its more features you have to agree with its terms and conditions.
Cardigan is a free tweet deleting tool that helps you find and delete old tweets. Like most other tweet deleters, cardigan, too, can only delete the latest 3,200 tweets on your account. If you have more than 3,200 tweets, you will need to upload an archive of all your tweets to a cardigan, and it will use that to guide the deletion process. To get your library, you need to request it from Twitter.
FeatureOf Cardigan
Some of the fantastic features of this Tool are listed below:
Tweets and Likes Deletion at Once: Another great feature that it offers is you can delete likes on Twitter. If you don't like that, you can delete it quickly, and then it will be no more visible to you.
Free up to 3200 mass tweet deletion: Cardigan offers free deletion of up to 3200 tweets, and after that, it charges 99 cents for every 10,000 tweets.
Cardigan Pricing:
It is free for the first 3200 tweet deletion; after that, this tweet deleting tool charges 99 cents for every 10,000 tweets or like removals.
Conclusion
Tweet deleting tools undoubtedly relieves the stress of deleting tweets one by one or manually scrolling to delete tweets posted a very long time ago. Anybody can also use these tools when you want to take a fresh start or remove old tweets for privacy. In this article, I have mentioned the best tweet deleters that will enable you to remove all tweets. I believe you will find the most suitable one for you. What next? Get rid of those tweets now.