How To Increase AdSense Earnings In 2023 (10 Best Tips)
Are you searching for tips and tricks on how to increase AdSense earnings/revenue? You are at the right place.
The vision of every online hustler is to make some money from their website. Google AdSense is one of the most lucrative ways to make money online in 2023.
To make money from AdSense the first thing is to set up your site,
the second is to apply for AdSense and get approved,
and the last is the problem of low
CPC (Cost Per Click)
which we will be treating today in this article.
Google shares the Advertisers' money with the publisher at the ratio of 32:68 i.e, Google takes 32% and publishers 68%. As a publisher, you receive your pay on the 21st of every month.
It is a lucrative way of making money online and many bloggers have turned their blogs into full-time businesses.
Thus if you are getting AdSense low CPC, I will show you some tips which can help you increase AdSense earnings.
I once got $ 0.01 per click but with these tips am about to share here, you can boost your AdSense earnings by at least 40%.
10 Best Tips To Increase AdSense Earnings In 2023
Target High CPC Keywords 
Follow Best Ads Placement Practices
Track your AdSense Click With Google Analytics
Optimize Your Blog Page Speed To be Fast
Implement Links Ads
Block low-paying adverts using competitive filters
Enable AMP Plugin To Increase AdSense earnings
Drive More Traffic to Your Blog
Blend your Ad color with Your Content
Use Responsive text and display Ads Unit
The truth is that AdSense doesn't work the same way for everybody so you need to keep experimenting till you find out the one that works best for your site.
Below are the best tips to increase your AdSense earnings and all are in compliance with Google AdSense rules and TOS (Term of service)
Target High CPC Keywords To Increase AdSense Earnings
The average Adsense CPC that you get paid for depends on the keyword and topics you write about, It might sound confusing but am going to break it down so you get to understand it better.
When it comes to AdSense, Advertisers bids higher on certain keywords that they are targeting, the more the keywords appear on your post the higher the chances of getting high AdSense CPC and in turn increasing your earnings.
But how do you know the keywords an advertiser is willing to pay high for?
To find out the CPC of different keywords, I suggest you use the keyword research tool I personally use Long Tail Pro as it allows you to quickly and easily filter out the best "buyer" keywords. You can also check out Semrush 
Try out: Semrush 7-day Pro  Free Trial
The gif below shows an example of Longtail pro keyword CPC. I searched for the keyword affiliate marketing and it showed other related keywords to the searched term and the CPC of each keyword.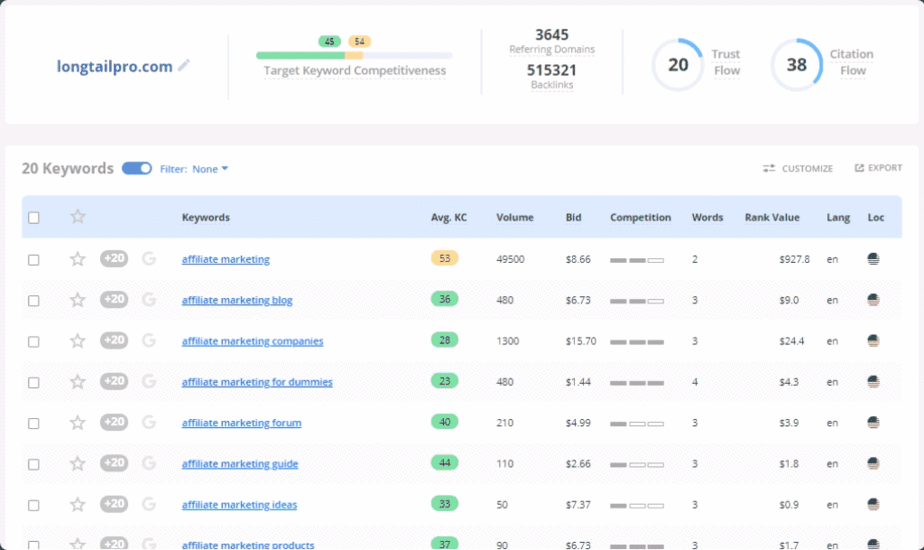 Imagine targeting the keyword affiliate marketing companies which have a CPC of  $15.70, which will definitely stand you a chance of getting a high increasing your Adsense earnings.
Therefore all you need to do is to take advantage of the above-mentioned tool to find high CPC keywords, write a detailed article related to the keyword, and watch out to see how your revenue will increase.
Follow Adsense Placement Best Practices
Coming to Ads placement on your blog,  what matters the most is that your Ads are placed in places where it gains more exposure and visibility. However, ensure that the Ads placement is in compliance with AdSense Ads placement and does not annoy visitors.
If you own a WordPress blog, below are a few placements I think will work well for you
Header Section: Header ads attract visibility and increase CTR (Click Through Rate), You are advised to use 728×90 leaderboard image Ads on your header.
Content Section: Depending on the length of your post but I suggest you use 300×250 banner display Ads at the beginning of the content i.e below the title of the post,  and other ads of the same nature at the end of the post before the comment section. You can also place ads in the middle of your content for long articles only.
Sidebars Section: I don't really like placing Ads on the sidebar because it doesn't normally get clicks,  but you can try it out as well.
Track your AdSense Click With Google Analytics
Linking your blog to Google Analytics not only increase AdSense earnings but it also helps you to get the actual pageviews of your site.
If you have not linked your blog to Google Analytics I suggest you do it immediately so as to enjoy their awesome features.
On the other hand, AdSense recommends you link your AdSense account to Google Analytics so that they can track the performance of your pages and traffic source.  It also allows you to track your clicks and know which Ads unit performs better than the other.
If you are running a WordPress blog,  I recommend this Analytics WordPress plugin by Monster Insights, it is one of the best Analytics plugins available on the internet. Just install it and activate and follow the instructions to set it up in a few minutes.
Optimize Your Blog Page Speed To be Fast
Does page speed really affect AdSense earnings?
Yes, it does,  let me explain how Page Speed affects AdSense earnings.
Put yourself in the shoes of your visitors who are in need of a solution to their problem and go straight to Google to find it, No visitor would love to spend their little minute on a webpage that takes a lot of seconds to load.
Therefore slow website tends to have an increase in bounce rate and in turn result in poor AdSense earnings.
To learn how to increase your blog page speed and reduce bounce rate I recommend you read this article from my theme shop on how to increase your page speed 
Implement Links Ads
The truth is said, links Ads tend to have a lower CPC but still at that, it increases CTR (Click Through Rate).  You shouldn't overlook them because it increases the number of clicks you get and also increase Adsense earnings.
Block low-paying adverts using competitive filters
To be sincere with me,  I don't do this one in particular, but you can also try it out.
You can block all the Advertisers that tend to give you low CPC and focus on high-paying Advertisers only.
To do this you need to login to your Adsense dashboard from your browser, navigate to  Blocking Control from the menu, and select the domain name you want to work on, from there you will now see a list of categories you can block
Enable AMP Plugin To Increase AdSense earnings
AMP stands for Accelerated Mobile Page, it is a WordPress plugin that speeds up the mobile version of your site which also serves as a ranking factor.
There is an official AMP plugin that was developed by WordPress but it doesn't allow Adsense Ads there is a way to manipulate it if you really want to use AdSense with the Official AMP plugin.
To use AdSense on the AMP plugin, install this WordPress plugin called New Adman, Then log in to the Google Adsense dashboard and navigate to the Ads overview section
Click on the AMP version and copy the AMP AdSense code and paste it into the New Adman plugin.
Drive More Traffic to Your Blog
Increasing the number of visitors you get will dramatically increase AdSense earnings.
Traffic = Money, this equation hold for all PPC network including AdSense so focus on increasing your page view and remember not to involve in any policy violation so as to keep your AdSense account safe.
Blend your Ad color with Your Content
Blending the Ad's color simply means making the ad's background and border colors the same as the site's primary color.
You can decide the color of your Title, Background, Border, Links etc.
Tips:
Let your content text color and Ad color be the same.
Don't use bright colors that are hard to see.
Ensure that your ads blend with your website's theme color.
Don't make the Ads color to attract too much attention.
Use Responsive text and display Ads Unit
These Ad units contain both text and image components and serve almost as a bridge between the text and banner ad types.
Making these Ads unit responsive make it possible for Ads to appear well across different device screen sizes
Text and display Ads help to increase Ads impression and in turn, increase your CPM (cost per impression)
That's it!
I hope this article helped you learn a few AdSense tips to increase your earnings.
Apart from Google AdSense, there are other ways you can make money from your blog.  If you want to diversify your blog income? Check out how to promote affiliate offers and make more money on how to promote affiliate offers and make more money.
And don't forget to follow us on Twitter and Facebook for more tutorial on how to make money online