Sellvia Vs AliDropship: Which is the Best For Dropshipping?
Are you wondering which platform is better: Sellvia or Alidropship? Although both platforms have their unique features, there are a few key differences that you should keep in mind when deciding which one to use for your business.
Both of these platforms offer a similar service and have many similarities. However, there are also some differences between them that you should keep in mind before choosing which one is right for you.
Both are excellent choices for anyone who is looking to start dropshipping. These two platforms provide the tools needed to set up an online store from the beginning, so you don't have to worry about technical details.
Let me explain if you have no idea what I'm talking about!
Dropshipping allows business owners and entrepreneurs to sell products without having to stock inventory or deal with long-term storage costs. Instead, dropshippers use one of these platforms as their leading supplier to focus on marketing their brand instead of worrying about logistics.
The same company owns Sellvia and Alidropship, so they are not direct competitors. Each serves a different purpose:
Let's take a look at some of the similarities and differences between Sellvia and AliDropship.
What is Sellvia?
Sellvia is an e-commerce platform that helps you start dropshipping business and target the US market only. They have their warehouse in California, and it takes 1-3 business days to deliver products to any other state.
The business model is simple: you set the prices of products, Sellvia helps you with delivery, and you profit from the difference between your and their price. They create a store for you and provide 24/7 customer support. You can place up to 200 products in your store.
The company was founded by a group of entrepreneurs with years of experience selling online. One of the founders, an industry veteran with years of eCommerce experience and owner/operator of several successful dropshipping businesses, including AliDropship (a popular long-running platform for building such stores),
Sellvia expanded into a thriving business because its founders had experience operating successful dropshipping companies in the past.
Sellvia's custom store service is an excellent option for sellers looking to get started quickly or with little knowledge in the field.
The custom store service helps customers create an online store with 200 products sourced from Sellvia's warehouse and delivered to customers upon purchase within 1-3 business days.
Selling products online is an intelligent way to make money, and dropshipping is one of the easiest ways to get started. You don't need to carry any inventory or worry about shipping – that's all taken care of by Sellvia. This means you can focus on finding the best products to sell and making sure your customers are happy.
What is Alidropship?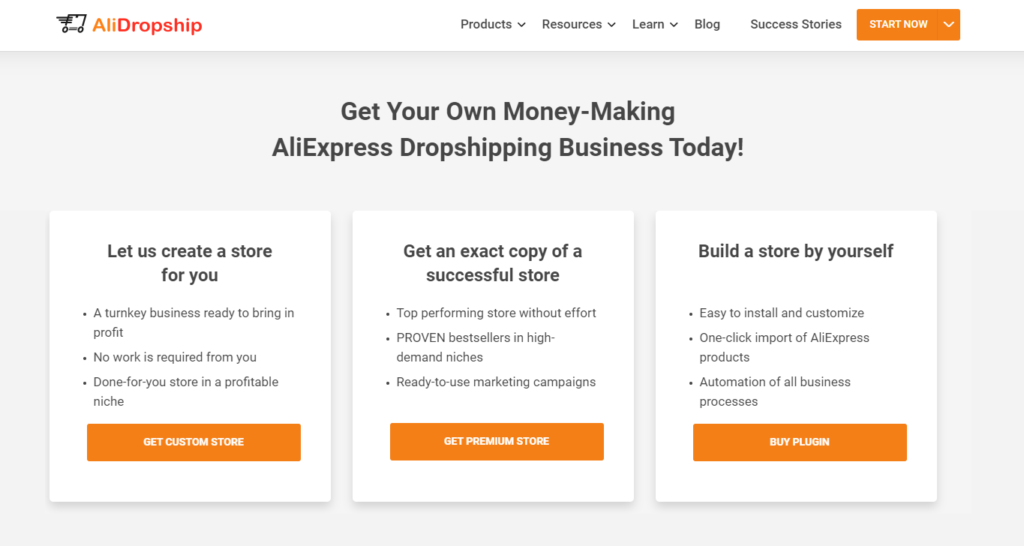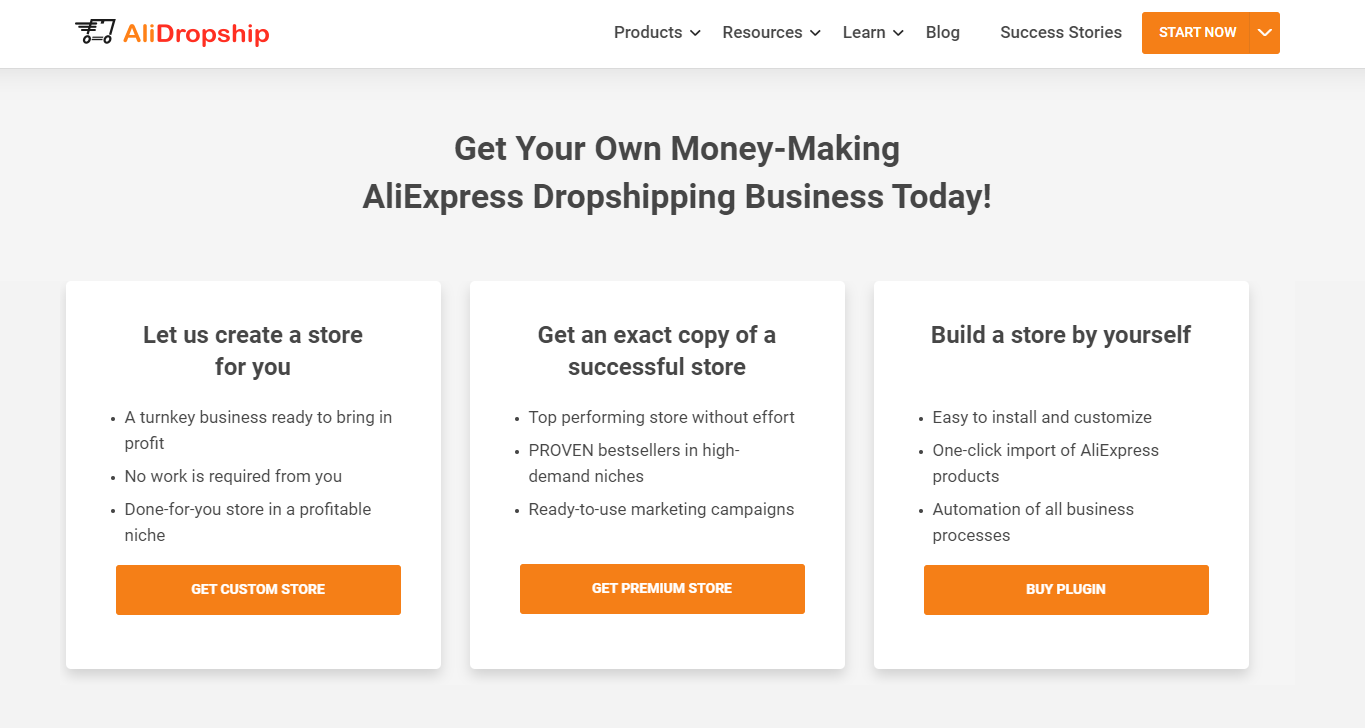 AliDropship is a huge e-Commerce platform dedicated to helping WordPress and WooCommerce users take advantage of dropshipping.
It offers many features and plugins to help you create a successful online store, including automated order fulfilment, product sourcing from AliExpress, automatic price calculation, and more.
If you have used Shopify or you are familiar with how it works, you will understand that it is a Self-hosted platform meaning that you don't have full control over how the platform works. You are bound to the terms and conditions of Shopify and can't do much about it.
However, with Alidropship, you are in full control over your store and can build it from scratch using WordPress and the Plugin provided by AliDropship.
The Alidropship Plugin are of two versions which are Alidropship and Alidropship-Woo. Both work well for WordPress but the Alidropship-Woo works in conjunction with the popular Woocomerce WordPress plugin.
For example, if you already have a store built with the Woocommerce WordPress Plugin, you can decide to also import products from Aliexpress and sell them in your store. This is where Alidropship-Woo comes in—it will help you import those new items directly into your existing website.
Alidropship is quite similar to Sellvia but the major difference between these two companies is that Alidropship relies on Aliexpress to fulfil customer orders while Sellvia has its own fulfilment centre.
In addition to these two core services, Alidropship offers a variety of add-on packages—including the Alidropship Premium Store, Custom Dropshipping Stores, AliDropship Supreme package store and many others.
Difference Between Sellvia and Alidropship
1. Global Dropshipping Service
Sellvia provides services only in the USA, while Alidropship is a global marketplace and works with over 300 suppliers worldwide.
If you are targeting the US market only, then Sellvia is a better option as it has local warehouses and shipping services in the USA. But if you are looking for a global marketplace and want to expand your business internationally, then.
Sellvia and Alidropship both have advantages and disadvantages. With Sellvia, your customers get their packages on time; but with Alidropship, you have access to a global marketplace that can help expand your business internationally.
2. Pricing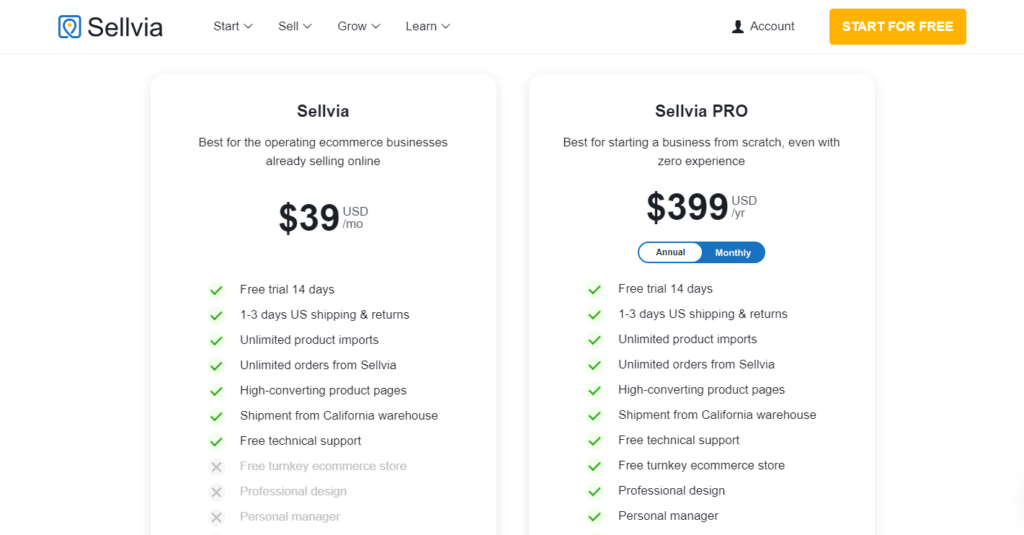 Sellvia is a subscription-based marketplace where you are billed either monthly or annually, while Alidropship is a one-time fee for lifetime access.
Sellvia offers a 14-day free trial which is great for you to test the platform and see if it's a good fit for your business. After this period is over, you will be billed $39 every month.
If you choose to pay for the annual plan, you will get a $78 discount and only pay $399 instead $468. If you are starting out on a low budget, The monthly plan will probably be your best bet.
Looking at the Alidropship pricing, you won't find a single price sheet because they offer so many products that can help you manage your store. Each product comes with its own unique price tag.
Alidropship is a WordPress and Woocommerce-based platform. Let's examine some of their product offerings and how much they cost.
The Alidropship WordPress plugin is a WordPress plugin that allows you to add an Alidropship store to your website easily. It's great for people who have an existing WordPress store but want to expand their reach by dropshipping with Aliexpress.
It works majorly with Aliexpress and offers many payment processing systems.
The Alidropship-woo Plugin is another way to use Alidropship's dropshipping service on your site. This one's like the wooCommerce version of their main plugin—it lets you integrate with your existing WordPress store built with Woocomerce Plugin.
These plugins are available for $89 annually—you pay once and never again!
2. Custom Store
AliDropship's custom store service is an exciting way to ensure your online store looks precisely how you want it to.
You might be wondering what having a custom store means. AliDropship's team of designers and developers will work with you to design a store that fits all your needs and looks exactly how you envision it.
This service is perfect for anyone who wants a professional-looking online store but isn't sure where to start. The price ranges from $299-$899 depending on the project's complexity, but it's worth every penny!
Basic – $299
Advanced – $499
Ultimate – $899
You'll get a custom store ready to go live at the end of the process. You'll also get a free domain name for your store. But If you want to add hosting to your package, there will be an additional fee.
AliDropship premium store is an exact duplicate of some of the best-performing AliDropship successful stores.
When you pay for any of the premium stores, what happens is that you'll get a replica of one out of the eight best Alidropshipping premium stores depending on your choice.
Your premium package includes the store's theme, website structure, imported products, design elements, product data, etc. You will get an exact copy of any of the selected dropshipping stores.
It's more like a "kick and start" business strategy because you have all the necessary materials to start a successful dropshipping store.
These features include; bestselling products, products from reliable suppliers, premium themes, and promotion strategies to replicate.
You can check out my detailed review about the Alidropship Premium Store.
Alidropship offers other products as well, including Alidropship themes, Hosting, Sellika, Alidropship Established Store and many others.
3. The number of products to import
Another notable difference between the two platforms is the number of products you can import into your store. While Alidropship has a much more extensive selection, Sellvia only offers a limited number of products for sale in its product catalog.
But one of the good things about Sellvia is that its products are carefully selected and tend to sell better than Alidropship's.
This feature alone is an additional package on Alidropship. If you want the best possible products to import to your store from Aliexpress, you should consider subscribing to their Premium Products.
This package cost $39 per month and is carefully selected by an editorial team of experts in order to ensure they're guaranteed high-quality choices.
4. Logistics Services
Sellvia has an inbuilt logistics system that operates only within the US. Their delivery time is 1-3 days, which is perfect.
Alidropship uses AliExpress logistics to ship goods globally, their delivery time is 7-15 days.
If you are looking for a company that can provide you with fast delivery, then Sellvia is the right choice for you. The company has an inbuilt logistics system which operates only within the US. Their delivery time is 1-3 days, which is perfect for your business.
If on the other hand, you want a globally accessible platform where you can sell your products without having to worry about how they will be delivered, then Alidropship is what you need.
They use AliExpress logistics to ship goods globally, their delivery time is 7-15 days but this doesn't mean that it's not worth it because of all the benefits it brings along with it!
5. Cross-Platform Compatibility
The biggest difference between Alidropship and Sellvia is that Sellvia works on both WordPress and Shopify, while Alidropship works only on WordPress.
You can build your store on any of these platforms and connect it to the Sellvia warehouse. You can add products from our catalog in bulk and they'll manage their delivery for you.
Using Alidropship will require you to build a store with WordPress, which may be challenging for users who are more familiar with Shopify.
This is the winning side of Sellvia because it has the ability to work with multiple platforms and makes it more convenient for anyone who wants to sell online.
Similarities Between Sellvia and Alidropship
Below are some of the similarities between Sellvia and Alidropship:
1. Both are Dropshipping Platform:
Sellvia and Alidropship are both dropshipping platforms that allow merchants to sell online without having to purchase or hold inventory.
They both offer features that can help automate the process of dropshipping and make it easy for sellers to manage their businesses including inventory management and tracking software.
As a beginner, you can use the tools provided by both platforms to quickly set up your store and start selling.
2. Easy to Use Software
Both Sellvia and Alidropship offer software that is easy to use. You can easily set up your store and manage your inventory with either platform without having any prior knowledge of how eCommerce works.
Both platforms also offer extensive training and support to help you get started. You can read blogs and review videos to learn how to use the software, as well as contact customer service if you have any questions or issues that need resolving.
3. Order Fulfillment
Both Sellvia and Alidropship offer a full order fulfilment service. This means that they will handle all aspects of taking an order, processing it through their system and shipping it out to the customer on your behalf. This can save you time, money and effort when setting up an online store.
However, Sellvia and Alidropship differ in the way that they approach order fulfilment.
4. Owned by the same Company
Sellvia and Alidropship are both owned by the same company. This means that you can use both of their services in conjunction with each other without having to worry about their systems not working together in any way.
Many drop shipping companies don't offer this kind of flexibility, so it's a huge bonus if you do decide to go down this route.
Conclusion
Both Sellvia and Alidropship are great platforms for dropshipping, and they each have their strengths.
Sellvia is best for sellers who want to try their hand at selling products only within the United States, which is one of the largest markets. They also have a fast shipping time, which means you can get your packages shipped out quickly and get them in the hands of your customers as soon as possible.
Alidropship has no country restrictions and works globally, so it's great for anyone who wants to start selling internationally without having to worry about finding new suppliers or setting up a whole new system.