Convesio Review 2023: Best WordPress Hosting (Features Pricing & Alternatives)
Convesio is a managed WordPress hosting service. It offers the best features you can't find in any other hosting service provider.
If you are looking for reliable and affordable WordPress hosting, you have come to the right place. We have reviewed every aspect of Convesio Hosting service so that you can make an informed decision before signing up with them.
This article will cover all aspects of the Convesio Hosting review, including the pricing plans, features and other important information you need to know before signing up.
What is Convesio?
Convesio is a WordPress-managed hosting provider that frees you from dealing with the technical details of server management so that you can focus on your business.
Their Scalable infrastructure provides you with the flexibility and features to deliver Enterprise-grade performance, from your small business to your large enterprise.
Convesio uses Docker containers as a scalable method for managing WordPress Hosting services. Depending on your business needs, these containers allow you to scale up or down quickly. They also allow you to customize your infrastructure by adding different components best suited for your project's needs.
Convesio offers a variety of features, including automatic updates and development-friendly features. Convesio also provides 24/7 support and security monitoring.
Additionally, Convesio taps into the power of global CDN to send your website's content at lightning speed. No matter where they are, all your clients will experience impressive loading speeds.
Their easy-to-use dashboard gives you the power to set up complex server environments quickly. Deploy a WordPress site with load balancers, database clusters, and redundant file systems in just minutes!
No need to worry about server administration, security concerns, performance issues or uptime monitoring.
Who should use Convesio Hosting?
Convesio is perfect for a variety of industries. If you're looking for WordPress hosting that's affordable, reliable, and easy to use, Convesio Hosting is the perfect solution.
Convesio is excellent for:
Individual or Small Business: If you're a small business or an individual looking for a robust hosting solution, Convesio Hosting is a great choice. With unlimited bandwidth and storage space, you can host all of your projects without worrying about running out of room.
Startups: Startups need to focus on their business, not hosting. Convesio Hosting has a Docker-based solution that runs WordPress in a minimum of 9 containers, so you can get back to what matters: growing your business.
eCommerce websites: WooCommerce store owners can now focus on their business, not their hosting. Convesio's hosting service is specifically designed to support high-traffic, high transaction volume WooCommerce stores.
Agency: Convesio Hosting is a hosting service that caters to creative agencies and marketing agencies. We work with our clients to help them grow their brands by building functional and practical websites. We're passionate about helping agencies succeed in their business goals, and we believe our partnership makes us stand out from other hosting providers.
Convesio Hosting is designed to scale with your business, so you don't have to worry about outgrowing it. If you want the highest standard in WordPress hosting and focus on growing your business, Convesio Hosting is a great option.
Unique Features of Convesio Hosting
Convesio is a managed WordPress hosting platform that uses container-based technology to provide you with the market's market's most efficient, secure, and easy-to-use platform.
Unlike other managed WordPress hosting providers, Convesio does not use virtual machines. Instead, Their stack utilizes Docker containers to host your files, databases and applications with enhanced security and performance.
What makes them unique? Their platform has been designed with the following features:
Auto-scaling: Convesio can automatically scale up to meet demands and then downsize when the extra resources are no longer needed
Resilient by design: If one component fails, it's instantly replaced. The new component stays running in a container and does not affect traffic flow to your website.
It's swift: Docker containers are known for their efficiency, and Convesio has designed its stack to minimize bottlenecks, so your site loads quickly.
SysAdmin-free: They've made their backend very accessible. Anyone can set up auto-scaling and other features of their platform because it's automated, so you don't have to be technically minded.
Pay-For-What-You-Use: Because you pay only for the resources you use, there is no need to plan for peak usage and buy more than you need.
Features Of Convesio WordPress Hosting
Convesio offers innovative management tools, ground-breaking features, and scalable infrastructure, which means that your site will always be available and fast, regardless of how many visitors it gets.
Convesio's features are designed for busy people who need time-saving solutions. They include:
1. User-Friendly Dashboard
Convesio gives you a user-friendly interface that makes it easy to manage your site, whether you're a beginner or a seasoned developer.
This feature-rich hosting dashboard is designed to help you focus on creating great websites without having to worry about the technical details of managing a server.
You can create your new site easily by selecting your preferred PHP and WordPress versions and watching the rest handled by the Convesio deployment console.
After your site has been deployed, you'll have access to the IP dashboard. This will provide A records allowing fast domain propagation across multiple registrars.
There are also various other features for your convenience, including enabling caching and configuring backups with a single click.
In addition, you can monitor crucial metrics straight from the database, including WordPress container status; Traffic by country; Issues slowing down your website; Caching status; Backup status; SSL installation status; SSL certificate renewal status.
2. Auto Scaling
Convesio WordPress Hosting offers auto-scaling to provide the best possible performance for your website.
This is an excellent feature if you have sudden spikes in traffic or want to ensure that your website is always running at optimal performance.
Your plan can determine the number of assigned containers. The more containers you have, the more resources will be used to maintain balanced website speed.
Auto-scaling works by distributing containers across servers so that they can take over when one server becomes overloaded and then move back to other servers when it is no longer needed.
When traffic increases, new containers are created and distributed across all servers; when traffic decreases, excess containers are destroyed until only those necessary remain running at total capacity again.
3. Backups Automation
Convesio is the first WordPress hosting service that allows you to configure your backup automation according to your need quickly.
As soon as you enable the backup tool, Convesio will automatically deploy a system that has already been scheduled to ensure your backups are performed at regular intervals.
You can choose between having daily backups—that's 24 hours and deciding how long these should be retained; this could range from just one day (the default setting) to 15 days.
You can also choose a monthly backup option, which automatically occurs once every 30 days and retains backups up to 360 days.
After you've set up this automation, anyone on your team with access to an account can restore files without risking a previous WordPress version.
This is a great way to ensure that you always have a backup of your WordPress site and can quickly restore it if something goes wrong.
4. Database Access with phpMyAdmin
Convesio WordPress Hosting offers many features, but one of the most important ones is its database access with phpMyAdmin.
You might be wondering what that is. The short answer is: that it's a tool that allows you to manage your database. That might sound like a pretty simple thing, but when you're running a website, it's essential!
Without phpMyAdmin, you'd have to do all your database management through the command line, which can be difficult for beginners or people without much computer experience; you can import, export, and run SQL queries right in the browser window—it's super easy!
This is just one example of how Convesio goes above and beyond to ensure their users get what they need from their hosting service.
5. Enterprise-Grade Security
With Convesio, you get enterprise-grade security, including a fully managed web application firewall and automatic patching for your WordPress site. This means your website is always protected from the latest vulnerabilities — even if you don't have time to keep up with them yourself!
But that's not all! Convesio also provides deeper scanning of your website, breach detection and remediation options. They can help you implement and configure security plugins like WordFence or WebARX on your front-end. That's right: no more worrying about security vulnerabilities in your WordPress site — let Convesio take care of it!
And if there are still any loopholes left? Don't worry — Convesio monitors customer websites 24/7, so they'll be able to spot malware before it affects your business. If they find anything suspicious, they'll get on the case straight away!
In addition to all these great security technologies, Convesio also partners with solution providers at the cutting edge of WordPress security.
Convesio works with other companies that provide the latest WordPress security solutions to ensure vulnerability or threat is addressed before it can harm your website.
Patchman is a server-level solution that detects and fixes vulnerabilities and malware. It runs behind the scenes; it detects security vulnerabilities in applications and fixes them by extracting and backporting patches from new ones.
It also automatically detects and quarantines virtually any piece of malware. You stay protected at all times, without having to do anything. Patchan will alert Convesio when a security issue is detected, and Convesio will check that the problem has been resolved.
Human Presence's behaviour analysis engine is another layer of protection for Convesio users. It eliminates 99% of malicious bot spam. It remains invisible to website visitors, unlike other solutions like Recaptcha or Akismet Anti-Spam Human Presence's anti-spam technology extends to your website forms, comments and reviews. It catches bots before they can submit spam or steal data like addresses that could be used for malicious purposes such as account creation or phishing emails protect you from analytics spam, too—a standard method for hackers to gain access to sensitive information about your website's visitors, like their email addresses or payment details.
Letsencrypt: Convesio partnered with Letsencrypt to provide free SSL to all the users. This means that your website is safe and secure. It also means you can use Convesio's hosting without paying for SSL certificates, which can cost a lot of money. You'll be able to rest easy knowing that your site has been secured by one of the most respected certificate authorities in the industry.
Cloudflare helps protect you from DDoS attacks, which can devastate your business. As a result, you save costs and still get the same level of protection that other hosting providers charge more for. In addition, they also use CloudFlare's global content delivery network (CDN) to reduce the time it takes visitors from around the world to load your site. This means that no matter where a visitor is located, they will see your website load quickly and without any problems.
In addition to making your site load faster, the CDN will keep it safe from attacks by hackers. If you are hacked and decide to switch over to Convesio, They'll even repair your website for free.
In addition to making your site load faster, the CDN will keep it safe from attacks by hackers. If you are hacked and decide to switch to Convesio, we'll even repair your website for free!
6. Fast Caching
Convesio's intelligent caching algorithms deliver fast, reliable performance without needing an external cache plugin. This means that we can deliver a speedy website with no expensive plugin add-ons!
The feature cache ensures that your server is running efficiently by purging unnecessary storage space from your server and increasing CPU usage
When WordPress sites slow down, it's usually due to a plugin issue. That shouldn't be the case with Convesio because all content is stored locally, helping preserve virtual CPU processing power
7. WooCommerce Hosting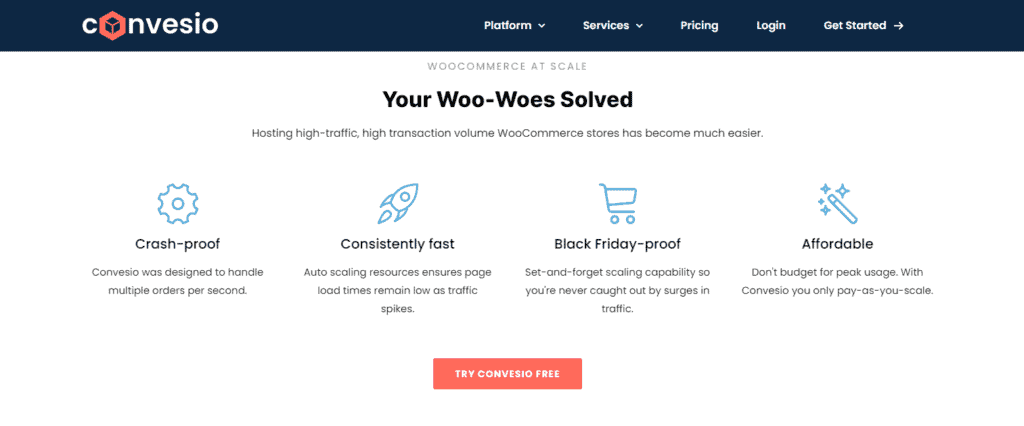 Convesio is a WooCommerce-friendly hosting platform that offers a range of features to help you grow your business and focus on what's important.
The team at Convesio has built the platform from the ground up with one goal: making hosting for WooCommerce sites as simple, intuitive, and affordable as possible.
WooCommerce is an incredible eCommerce platform, but it can be challenging to set up and requires a lot of maintenance. That's where Covesio comes in! They offer a range of features that help make your life easier to focus on growing your business, not maintaining your site.
How does it work?
Crash-proof is designed to handle multiple orders per second without hiccups, even if you're getting slammed by Black Friday shoppers!
And our auto-scaling resources ensure page load times remain low as traffic spikes during the holidays.
We also have "set-and-forget" scaling capability, so you're never caught out by surges in traffic; we'll keep costs low no matter how much traffic your site gets!
All of this comes at an affordable price: there are no hidden fees or commissions, just pay-as-you
8. Docker Containers
Convesio WordPress Hosting is the most advanced WordPress Managed hosting platform on the market. It's powered by Docker, which means you can enjoy the following benefits.
The most crucial feature of Convesio is the Docker container, which includes all the code, libraries, environment variables, and configuration files needed to run an application.
Each container can be considered a virtual server, each with its dedicated resources and isolated from other containers.
Convesio relies on Docker, the leading containerization software, to provide its customers with various benefits, including ease of installation and migration.
9. 247 Customer Support
When choosing a new provider for your blog, one of the first things you should check out is their customer service.
Convesio's customer service representatives are available 24 hours a day by live chat, email, and phone.
Whatever the issue may be, Convesio will address your questions or concerns within 24 hours via live chat, email and phone.
Is Convesio the best WordPress hosting?
Convesio is a year-old company that offers the best WordPress hosting on the market, but does it?
Their features are all industry-leading and tailored to developers
They have a team of experts who monitor everything 24/7 to ensure your website stays secure.
You can choose from two hosting plans: one for newbies or one for pros.
So, Conversio undoubtedly is among the top hosting providers to build your WordPress sites on.
Read Also: Best Free Minecraft Hosting Server
Benefits Of Using WordPress Hosting Convesio
WordPress hosting Convesio is fast and reliable. Convesio offers the best WordPress hosting services, making it easy for you to build a website or blog. You can also choose from different plans based on your needs. One of the benefits of using Convesio is that it offers 24/7 support in case you have any problems with your website or blog.
Another benefit is that they offer a free trial so that you can test their service before deciding on purchasing one of their plans.
You will also be able to enjoy all these benefits when using WordPress hosting Convesio:
Easy to use
Secure environment
Application Monitoring
Fast Caching
Free Migration
Speed Optimization
Flexibility
Money-back Guarantee.
Alternatives To WordPress Managed Website Convesio
Convesio is an excellent option for high-traffic WordPress websites. Here are some other hosting options that might be a good fit for your business:
1. Convesio Vs BlueHost
Bluehost is popular among first-time website owners and bloggers for its user-friendly interface and affordable rates. However, as your traffic grows, you may need more advanced features that Bluehost doesn't offer, such as unlimited storage space and automatic backups. That's where a managed WordPress host like Convesio comes in.
A managed WordPress host offers a higher level of service than a traditional web host because they are specifically designed to cater to the needs of WordPress users.
This means that they will often have features that are not available on other types of hosting plans, such as one-click installs, staging sites, and auto-updates. In addition, most managed WordPress hosts will provide 24/7 customer support, so if your site goes down, there will be a staff member available to help you troubleshoot the problem.
2. Convesio Vs Cloudways
Convesio focuses on managed WordPress hosting and aims to provide a more straightforward solution for website owners looking to focus specifically on their site's content.
While Cloudways offers many of the same features as Convesio, it isn't strictly dedicated to providing solutions for WordPress website owners. As a result, Cloudways can offer other types of hosting plans, such as VPS and dedicated servers, as well as managed Magento and WooCommerce hosting.
Cloudways offers additional features that Convesio doesn't include in its service packages, such as one-click installs, staging sites, auto-updates, free SSL certificates, and free backups.
Read also: Cloudways Review and Features
3. Convesio Vs Ionos
Ionos is a managed WordPress hosting company that offers a free trial and a free domain name. It is an alternative to Convesio, but it does not have the same level of support or features. The feature set for Ionos is fundamental. You can get everything you need from Ionos, but if you want more functionality or better support services, then Convesio might be the better choice.
4. Convesio Vs WPengine
WPengine is a premium WordPress hosting service for high-traffic websites. It's not cheap, but it offers some serious advantages over other managed WordPress hosts if you have the budget.
WordPress is a great hosting provider and can provide so many premium features. However, it doesn't have the same level of support or features as Convesio. If you need more functionality or better support services, then Convesio might be the better choice for you.
5. Convesio Vs Godaddy
People new to website design might find Godaddy easy to use and a good option for building their site. However, this domain registrar might not be the best choice if you want help from someone else in designing your site. Convesio, on the other hand, handles the tasks perfectly.
6. Convesio Vs Hostgator
Convesio, a managed WordPress hosting provider, offers a variety of options that can be customized to suit your needs.
Hostgator, on the other hand, while it also offers a variety of options, is not managed WordPress hosting. While you can host your site on Hostgator, you'll still need to manage any upgrades or updates yourself.
7. Convesio Vs Siteground
Siteground is an excellent option for beginners and experienced WordPress users alike. They offer great customer support, and the company has excellent uptime.
The speed of their servers is also excellent, making it a perfect option for those who want to get their site up as quickly as possible. However, convesio comes up top in terms of features.
Convesio offers a WordPress staging environment, which allows you to test out changes on your site before making them live. This is an invaluable tool for anyone who wants to ensure they don't break their site when making changes.
Convesio Review: Pros and Cons
Pros
Here are some of the advantages of Convesio WordPress Managed hosting.
You don't have to worry about server maintenance.
You get a fully managed cloud platform for your WordPress website.
You get 24/7 support and monitoring for your site.
You can focus on what you do best, like content creation and marketing, while we care for the rest.
You can easily add new domains, databases, and emails to your account—meaning you'll never have to pay for more than you need.
Offers free SSL certificates, so you can rest assured that your data is safe from hackers.
Cons
The following are some of the shortcomings of having your WordPress hosting managed by Convesio;
Managed hosting is more expensive than other types of hosting and requires some knowledge to set up your site.
Convesio doesn't support add-ons. You'll have to do it yourself if you want to use any third-party plugins or apps with your WordPress site.
It doesn't support a staging environment.
Pricing Of Convesio
Convesio is a premium hosting service, and they are known for its reliability, security, and speed. However, the pricing of Convesio is quite expensive compared to other web host providers in the market.
Their monthly plan costs at least $50 per month, which might be too much for small-scale startups who want to build their business with a low budget.
Convesio's pricing is structured in three tiers as follows:
Starter Plan (Level 1) – $50 per month
Business Plans – There are three levels in a Tiered structure as follows:
Level 2 – $150 per month
Level 3 – $300 per month
Level 4 – $600 per month
Enterprise Plans – The plan is further broken down as follows:
Level 5 – $1,000
Level 6 – $1,600
Level 7 – $2,400
In addition to the above benefits, each plan also comes with a variety of essential support services, including:
Free Basic Migrations
Basic WordPress Troubleshooting
Chat / Ticket Support
Malware Cleanup
24 / 7 Expert Support
Performance Reviews
Proactive Monitoring
Additionally, the pricing plan depends on how much your website is expected to grow and which essential resources and services are included.
Is Conversio Worth It?
Convesio is a top-notch hosting service that is worth every penny. It is the best WordPress hosting service for beginners and seasoned professionals alike. It's also an excellent choice for small businesses but shines with larger companies that need a lot of storage and security features.
Conclusion
Convesio is a top-notch WordPress hosting provider. It has been around for just a year and is well known for its quality services. The company offers very affordable prices for their plans, but don't be fooled—they are still one of the best options out there when it comes to WordPress hosting.
In its short history, the company has built a good reputation. They understand what customers need from their hosting provider. This means that you will get nothing but top-notch services when you choose convesio as your host.
The company offers various hosting plans that you can choose from depending on your needs and budget. All plans come with different features depending on your choice, but they all offer great value for money!