Cloudways Review 2023: The Best Managed Cloud Hosting
Are you considering using Cloudways to host your website? If you've never used cloud hosting before, it can be a bit confusing at first.
In this Cloudways review, we'll give you a thorough look at everything this highly-lauded hosting provider has to offer. We'll also explain how to choose the best hosting for your website, and help you decide whether Cloudways is the right option for your site.
Here's everything that we'll cover in this Cloudways review. Let's talk about what cloud hosting is in general.
What is Cloud Hosting?
In traditional shared hosting, your website shares a server with several other websites. A cloud host will use multiple servers to host your website, which has some important benefits:
Redundancy: if one server goes down or starts performing poorly, the others can pick up the slack without causing downtime.
Scalability: As your site grows and needs more resources, you can allocate more resources to it easily.
Dedicated resources: when using traditional shared hosting, you may have problems if a site on your server suddenly starts receiving huge amounts of traffic and hogs all of the system's resources. With cloud hosting, this will not happen because each site gets its own dedicated resources that it doesn't share with others.
What is Cloudways?
Cloudways is a managed hosting provider that lets you host your website on multiple cloud platforms including DigitalOcean, Linode, Vultr, Amazon Web Services, or Google Cloud Platform.
They offer managed WordPress hosting and WooCommerce hosting plans, as well as other managed cloud hosting options for Magento, Drupal, Joomla!, Laravel, PHP/MySQL applications, and even custom apps that you build yourself.
Cloudways Review: Who is Cloudways For?
Cloudways is an incredibly powerful hosting provider that offers lightning-fast servers, excellent uptime, and loads of features—all while simplifying the process of managing your server.
But if you're just starting out with building a website, it might be more difficult than you need. That's why in this section, we'll walk through whether or not Cloudways is a good fit for your needs.
Cloudways Is Best for:
Website owners who want to run their sites on a sophisticated server without having to spend time optimizing them
Site owners who want access to advanced tools and features that can improve their site's performance
Website owners who are willing to pay a premium for reliable uptime and fast servers
Cloudways Is Not Ideal For:
Beginners who are new to using websites or are just getting started with building them (we recommend one of these beginner-friendly hosts instead)
Users who want email included with their hosting plans
Cloudways Features
Here are some of the great features that make Cloudways the best choice for your managed cloud hosting needs!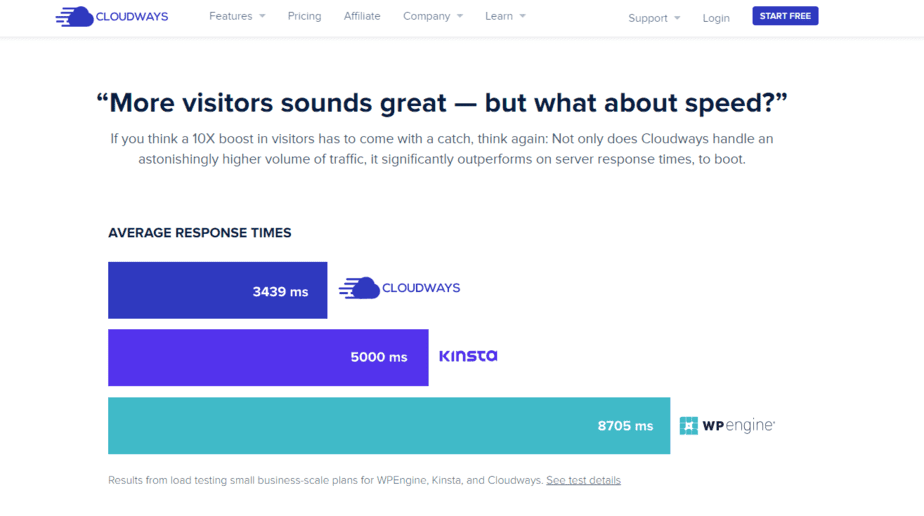 When it comes to e-commerce websites, there are numerous factors that affect the success of a website. Speed is one of the most important ones. It can make or break an eCommerce business for several reasons:
Speed affects a user's experience on your site
Search engines take speed into account when ranking results
Speed can affect user conversion rates
Cloudways hosting service provides a fast server and CDN (content delivery network) so you can host your online store without worrying about speed. As you will see in this article, setting up a CDN with Cloudways is easy and smooth.
2. Caching
Cloudways has several caching features that help to speed up your website.
The Cloudflare Enterprise plan lets you set up page cache, object cache, and even full-page cache.
Page caching can significantly reduce the loading time of any website.
Object caching can speed up the data transfer between your server and its database.
The full-page cache is essential for speeding up your website so that it loads faster, especially if you have a lot of traffic.
In addition to these features, Cloudways also offers preloaded WordPress with the W3 Total Cache plugin. This will let you set up browser caching as well as other optimizations to make your website run faster!
3. Support
When it comes to supporting, both Cloudways Premium and Standard come out on top. The standard support of a managed hosting service makes Cloudways the #1 choice for many developers.
Cloudways offers 24/7/365 support through their ticketing system, chat, and email. Every request is responded to by a trained member within minutes which helps resolve any issues with your server, restart services or create backups in case of emergency.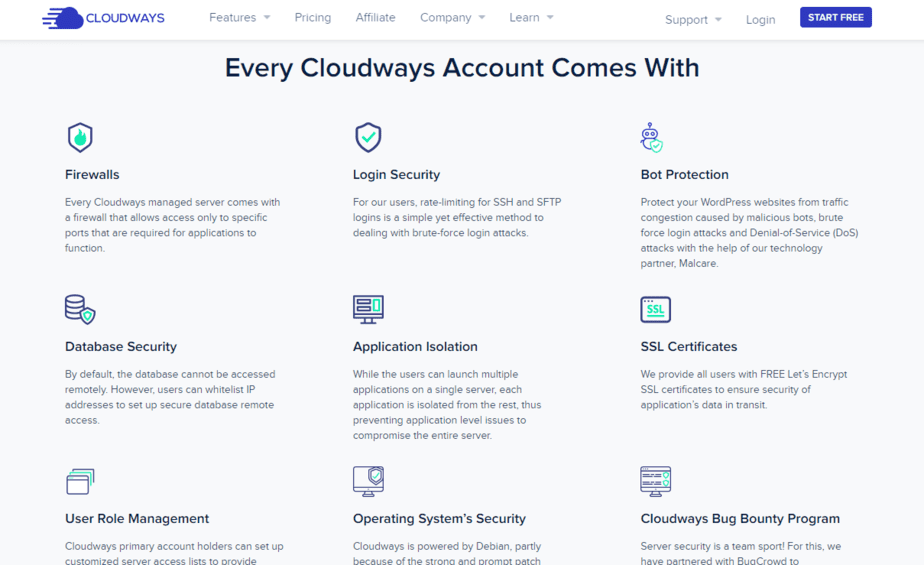 Cloudways Premium plans offer:
Daily backups of your website and database are stored on a different server than the one hosting your main site.
Free Let's Encrypt SSL certificate, which encrypts all traffic between the visitor and the server.
Implemented firewall to prevent malicious attacks against your site.
DDoS protection protects against Distributed Denial of Service attacks that overload a server by sending thousands of requests at once. These types of attacks are very common and can bring down an entire website with ease if not protected against.
IP whitelisting for database access, so only the IP addresses you specify can access the database where all data is stored (e.g., posts, pages, plugin settings). This ensures that even if someone does gain access to your WordPress admin account, they will still be unable to change or modify any database content unless they also have access from an IP address added here.
Two-factor authentication for extra security when logging into Cloudways servers; this requires both "something you know" (e.g., username/password) and "something owned" (e.g., phone number). If someone tries logging in without providing all required information correctly then access will be denied — including brute force attempts where hackers try every possible combination until they find one that works!
5. Built-in performance features
Speed is one of the most important factors when it comes to user experience and SEO. While building sites, you should ensure that your users don't have to wait for long durations. The speed results in a good user experience and improves site engagement metrics.
To ensure that you get optimum performance while using Cloudways, the platform has bundled some exclusive features including built-in caching, PHP-7 ready servers, and Redis.
These features will enhance the speed of your site by keeping all the dynamic elements such as images, scripts, and CSS files on CDN servers. In addition to this, Cloudways also provides some handy tips on speeding up your website.
Furthermore, the Cloudways expert team has integrated multiple technologies for optimizing server response time including Nginx, Apache, Varnish, and Memcached which will help you achieve an A+ rating from the Google Page Speed Insights tool.
You can choose different combinations of these technologies according to your needs from Advanced Settings in the Server Management area of your application dashboard.
CloudwaysCDN is another important feature available with both Premium and Standard packages of Cloudways Platform which helps in improving website loading speed by storing static content in multiple locations around the globe instead of one central location.
Cloudways Hosting Reviews
So you've heard about Cloudways and are wondering if it's the right solution for your website needs. We get it. Everyone is different, and what works for one person might not work for another.
That's why we've compiled a list of pros and cons so you can decide for yourself whether or not Cloudways is a good option
The Good
As a hosting platform, Cloudways offers the following features:
Fast Speed: The speed of Cloudways hosting has been praised by most reviewers. In fact, many have noted that their websites load more quickly than ever before after switching to this platform.
Easy to use. Any website owner can set up WordPress on Cloudways without technical knowledge. You can also choose from a range of cloud providers, including DigitalOcean and Amazon Web Services.
Has good support. The 24/7/365 support team is available through live chat, email, and ticketing systems. It's well-trained in common issues that arise with WordPress sites hosted on Cloudways.
Security: Cloudways uses an enterprise-level security system from Cloudflare to protect your website against malicious attacks like DDOS attacks and SQL injections. You can read more about this feature here.
The Bad
In this review, we've mostly talked about the perks of Cloudways. But it's only fair to mention the features that you don't get on Cloudways as well.
Cloudways does not support email hosting: You will need to use a third-party service like Google Apps or Zoho Mail for your emails. Although there's nothing wrong with using them—and they're free for up to 5 users—you still have another account to manage and payments to make anyway! This can be quite inconvenient if you prefer having everything in one place, like me.
Not Beginners Friendly: Cloudways is a bit more complicated than traditional shared hosting but the support team is there to help you.
Pricing isn't as good for high-resource servers: If your website needs a higher amount of resources then there are other web hosts out there which offer cheaper rates than what CloudWays provide
Cloudways Pricing
When it comes to pricing, Cloudways simplifies the equation. They don't have a complicated pricing structure with tiers and add-ons. Instead, they use something they call a "Pay as You go" model.
That means that what you pay for depends on two things: the cloud hosting provider you choose and your server's resources.
| | | | |
| --- | --- | --- | --- |
| Tier (RAM) | Total Price | DigitalOcean Price | Implied Cloudways Free |
| 1 GB | $10 | $5 | $5 |
| 2 GB | $22 | $10 | $12 |
| 4 GB | $42 | $20 | $22 |
| 8 GB | $80 | $40 | $40 |
Cloudways supports five different cloud hosting providers: DigitalOcean, Linode, Amazon Web Services (AWS), Google Cloud Platform (GCP), and Vultr. Each one offers different pricing options based on its business model.
For DigitalOcean, Linode, and Vultr, prices are set per gigabyte of RAM (GB) used. For AWS and GCP, prices are set by the hour based on various resource usage rates. AWS offers fixed rates per hour for each type of server instance that is created, but GCP uses a formula centered around resource usage to determine the price.
But no matter which cloud provider you choose, Cloudways charges one price for their services $10, and that includes all the features listed above. You don't need to pay for any add-ons or extra items to get things like security protections or free migrations.
Which Cloud Hosting Provider Should You Use?
When you are trying to choose the best cloud hosting provider, the number of factors to consider can be overwhelming. These factors include performance, pricing, and the level of support available.
When it comes to performance, Vultr is at the top of the list. While their prices are higher than those of other providers, when it comes to vital functions like page loading speed and uptime, Vultr offers excellent results.
As for pricing, Vultr offers an hourly rate that includes CPU, RAM, storage space, and bandwidth. You also get a free trial period so that you can test out the service before you commit to paying for it.
Cloudways Hosting Alternative
Cloudways is a great hosting service and works very well for most people. However, Cloudways is not the best option for everyone out there. Many people find its pricing too steep, especially if you are just getting started with your e-commerce business or hosting a WordPress site.
In this blog post, we will cover some of the top Cloudways alternatives that you can consider to power up your online store or website presence.
Since its founding in 2013, Kinsta has built a name for itself with speed and pricing. They have servers all over the world, developed on the Google Cloud Platform.
Kinsta Hosting caters exclusively to WordPress websites, making them a managed WordPress host. This means that they take care of all the server management for you. In addition to this, they offer automatic scaling, so your website can handle huge traffic spikes if necessary.
They also provide free automatic backups, 24/7 support, free migrations and so many more features that make Kinsta an excellent choice for any webmaster.
The main advantage Kinsta has over other services is the fact that it is built on the Google Cloud Platform's infrastructure. This sets the bar high when it comes to performance metrics: sites load fast, uptime is strong, and security is well-maintained – allowing people using Kinsta a better overall experience than most other providers offer.
Like Cloudways, WP Engine is a popular choice for managed WordPress hosting. It offers a content delivery network, a proprietary cache system, and everything else you need to run your website in the most optimal way possible.
WP Engine provides developers with a friendly environment by offering the latest versions of PHP, Varnish caching, Nginx, and Apache servers.
In addition to this, it provides SSH Gateway access where users can manage their websites from Git version control. You also get 24/7 customer support with every plan you purchase from WP Engine.
Lastly—and this is important for webmasters who are still testing out different hosting providers—the company offers a 60-day money-back guarantee as well if you're not fully satisfied with the service provided.
The company boasts of a team of specialists who are available at your beck and call, 24/7. This customer support comes in the form of live chats, phone calls, tickets (email), and knowledge base articles.
In addition to this customer support, HostPapa also offers its users a variety of knowledge centers when it comes to choosing an ideal web host for your website.
Security is one area where HostPapa shines as well. The hosting provider uses advanced firewalls and DDoS mitigation technologies to protect its customers from cybersecurity attacks.
Lastly, the company offers free SSL certificates with all hosting plans which means you can install industry-standard security measures on your website with ease.
HostPapa has excellent features but they are not as high-end as Cloudways alternatives. For example, free site migration is only offered on VPS packages which means if you have a large number of websites, you can't easily switch to HostPapa without paying an extra cost for migration services
If you're on the hunt for a Cloudways alternative, DreamHost is well worth your consideration. Launched in 1997, this premium web-hosting provider offers a range of web solutions, including managed WordPress hosting as well as VPS and dedicated server hosting.
When it comes to pricing, DreamHost plans start at $2.59/month—a bit more expensive than other providers on this list but definitely not unreasonable.
When it comes to customer support, DreamHost receives marks across the board for its round-the-clock support (which you can access via phone or live chat), extensive knowledge base resources, and informative blog articles offering helpful tutorials and advice.
Liquid Web is an alternative to Cloudways with similar features but a much more expensive pricing plan. Liquid Web offers managed VPS hosting and dedicated hosting.
The main difference between the two is resources: dedicated hosting gives your site its own server, while VPS splits a server between several sites, giving you fewer resources.
Liquid Web's managed VPS starts at $29/month and their managed dedicated hosting plans start at $99/month. So it's very clear that their pricing is much more expensive than Cloudways.
Aside from this, though, Liquid Web does have some pros:
They offer 24-hour support across the board for all of their plans
They have a great uptime record of 99.999% (the same as Cloudways!)
They have good security, including DDoS protection and SSL certificates
They offer both cloud and dedicated servers
You can choose from 11 data centers around the world (Cloudways only has 4!)
Cloudways Free Trial
If you are new to Cloudways, there is a trial period for you! It is for 3 days – long enough to understand the usability and benefits that the platform offers. A credit card is not required to use the free trial.
With a Cloudways trial, you can do the following:
Try out this cloud hosting platform for free.
Move your site over to the platform. You can do this as an experiment or if you're planning on switching providers in the future and want to see how your website works on Cloudways first.
Create a new website and launch it right away through one of the managed cloud providers. You can try out some of the newest technologies under development that you may have not been able to try yet or have limited experience with. Your project will be hosted on an isolated server with optimal resources so that you can experiment and ensure that it's running exactly as you want it to before going live.
Set up a staging area for yourself when making changes to your existing site, whether they're structural, functional, or visual changes. This allows you to test things out in a sandbox environment before exposing them (and possibly breaking them) for all your visitors to see.If there are unexpected consequences from what you've changed, users will continue having a positive experience while you work on fixing things behind-the-scenes and before pushing those fixes live once they've been tested and approved by yourself (or whoever else needs approval).
Upgrade to a full account
After the trial period, a charge of $1 will be made, upon which you will be prompted to enter the card details. This transaction is only for verifying and confirming your credit card. The amount will be refunded immediately in your credit card account and won't affect your free trial period at all.
Billing starts after the end of the free trial period. Cloudways bills you on a monthly basis on or about the same date each month (the "Monthly Billing Date"). For example, if you start using Services on the 15th of January, then next month i.e., February, billing will occur on the 15th of February (or the nearest working day).
Cloudways Frequently Asked Questions
How is Cloudways pricing different from other cloud providers?
Different cloud providers have different pricing models, which may vary in complexity. While Cloudways pricing is simple, it is dependent on the cloud provider you choose.
Cloudways offers its managed services on three different server types: DigitalOcean, Linode, and Vultr. The cost of your managed VPS at Cloudways is determined by adding the price of the server resources you use (RAM/vCPUs/Storage) with the cost of Cloudways Managed Services. You are charged only for what you use, as opposed to traditional cloud providers that charge for the entire instance regardless of how much you utilize their resources. The main difference between Cloudways and other cloud providers lies in our simplified billing structure that provides complete transparency around what exactly goes into your monthly bill from us. We believe simplicity is the ultimate sophistication!
In which countries Cloudways server location available?
They have data centers in the following locations:
North America: US East Coast (New York City), US West Coast (Los Angeles, Silicon Valley), Canada (Toronto).
Europe: UK (London), France (Paris), Netherlands (Amsterdam).
Asia Pacific: Singapore, India, Hong Kong, Japan.
Australia: Sydney.
South America: Brazil. And more....
Can I host a Facebook App on Cloudways?
Yes, you can host a Facebook App on Cloudways in one of the following ways:
By creating an app on one of the supported PHP platforms (Magento, PrestaShop, Joomla, Drupal, WordPress, and CodeIgniter) and then install it in the webroot of your domain.
By uploading your Facebook App's source code to the webroot of your domain if it was built using any other PHP platform.
What kind of support does Cloudways provide to the users?
Cloudways provides 24/7 live chat, email and ticket support to the users. In case you have any further support related questions, you can also visit our community forum on Cloudways.
Additionally, we have extensive documentation along with video tutorials available at our Knowledge Base for every application available on Cloudways.
How to add new server on Cloudways?
1. Click on the Launch button on the top right corner of the Cloudways panel.
2. Select your cloud infrastructure and click on the Select button.
3.Select your server size and click on the Select button.
4. Choose your server name and click on the Launch Server button.
Is there any limit on the number of servers that I can host on Cloudways?
If you're looking for a simple, high-performance solution that can scale in seconds, there is no limit on the number of servers you can host on Cloudways. You can add as many as you want and you only pay for what you consume. Whether it's hosting one server or hundreds, Cloudways makes it easy for you to launch new servers without leaving your control panel. With Cloudways, there are no hidden fees - with our simple pricing model, you know exactly how much your next cloud server will cost before launching it!
Does Cloudways offer backups for the servers?
To provide data safety and security for your website, Cloudways provides you with automatic backups. The frequency of these backups varies according to the server that you are using. You can also create manual backups of your servers at any time. For example, if you want to take a backup right before installing a new plugin or theme on your WordPress website, then you simply need to go to Applications > Details > Take Backup > Enable Custom Backup Frequency. You can choose the backup schedule as per your preference by selecting Daily, Weekly or Monthly from the Select Backup Frequency drop-down menu. You can also select the number of backup files that you want to store in the Number of Backups drop-down menu.