8 Best Managed WordPress Hosting 2023 (Reviewed and Ranked)
You have a lot of choices when it comes to choosing the best-managed WordPress hosting, but if you don't find a good one, your site will suffer.
WordPress powers over 35% of all websites and almost 30% of all online stores. It's free and open-source software that allows you to create websites, blogs, and eCommerce stores easily.
It is used by some of the biggest brands globally, including BBC America, Bloomberg Professional, The Walt Disney Company, TechCrunch, Mercedes-Benz USA, Vogue magazine, etc.
It would be best if you had a managed WordPress host that can keep your site secure, perform well, and is always on hand to help you should any issues arise. But there are so many options that it can be hard to make the right choice.
Luckily, we've done the hard work for you. We've tested all of the top-managed WordPress hosts and found the best ones for you.
Best Managed WordPress Hosting 2023
We've compared all the best-managed WordPress hosts and narrowed it down to our top 10. These are the best-managed WordPress hosts for large sites:
1. WP Engine
WP Engine is a managed WordPress hosting provider that provides outstanding customer service and tech support with over 100,000 customers worldwide. Jason Cohen founded the company in 2010; it is one of the leading managed WordPress hosting providers.
WP Engine is a great hosting solution for beginners. However, its pricing may not be the most cost-effective option for larger websites. They offer an incredibly robust set of tools and settings ideal for developers and website owners.
WP Engine is a cloud-based service that gives you access to powerful features like page caching, content delivery network (CDN), one-click SSL certificate installation, etc. It's easy to get started with their simple setup process and intuitive interface.
It also offers 24/7 support if you run into any problems along the way. Their team of experts can help walk you through any issues that may arise so you can keep your website up and running at all times.
The only downside of WP Engine is its pricing structure: it's expensive at $29 per month for one site or $249 annually (when paid upfront). But if you want an easy way to manage your WordPress website without worrying about server maintenance or updates, this might be worth the cost!
WP Engine Features
WP Engine is an ultra-reliable WordPress hosting that comes with great features.
WP Engine offers a plethora of features, including:
Fast Speed – With WP Engine, you get all the benefits of Google Cloud infrastructure, custom caching, and a CDN.
There is no need for any cache plugins – WP Engine's EverCache technology uses Varnish and Memcached to optimize your WordPress site.
Daily Backups – WP Engine keeps your site backed up regularly, so if there's an issue with the site, theme, or plugins, we have it on record and can easily restore it to the last working version.
Free fully-managed CDN – The WP Engine CDN delivers your website's static assets (CSS, JavaScript, images) across data centers worldwide to provide faster load times for your website visitors.
24/7/365 Premium Support – All WP Engine support staff undergo a rigorous training before talking directly with customers, so don't worry about getting offshored support or anything like that when dealing with WP Engine.
Malware scans — WP Engine provides malware protection and performs regular security scans. If your site gets hacked, our team will work with you to quickly repair the damage.
Free Migration Service – Migrating from one host to another can be quite time-consuming, so any time we can save while doing this process is always appreciated.
Staging area – Your staging area is a copy of your live site. It lets you test themes and plugins on a copy of your site, so you don't need to worry about breaking the real thing during testing.
Custom dashboard – WP Engine's custom hosting dashboard provides all the information you need to keep your site running smoothly.
60-day Money Back Guarantee – Almost all premium web hosts offer a 60-day money-back
WP Engine Hosting Pricing
Name
Startup
Professional
Growth
Scale
Price per month (paid yearly)
$25
$49
$96
$242
Visits per month
25,000
75,000
100,000
400,000
Local storage
10GB
15GB
20GB
50GB
Bandwidth per month
50GB
125GB
200GB
500GB
No. of sites included
1
3
10
30
More information
Try WP Engine without risk for 60 days
Pros and Cons Of WP Engine Hosting
Pros:
Managed WordPress Hosting
Expert WordPress Support Staff
Hacked Sites Fixed at No Charge
WordPress Updates Automatically Installed
Free Data Backup and Restore
Development, Staging, and Production Environments
Free 60-Day Trial
Cons:
More Expensive
Not Applicable for Non-WordPress Platforms
Some Plugins and Themes are not allowed
Exceeding the Set Number of Visitors and Storage will Result in Additional Charges.
2. Flywheel
Flywheel hosting is an excellent option for anyone looking to launch a new WordPress site. They're particularly good if you're launching your first website and aren't sure what you need yet.
Flywheel offers an easy-to-use interface, and they have an extensive knowledge base to help answer any questions you may have.
They also make it easy to get started by offering a free migration service, meaning they will migrate your current site for free so that you can start using their services immediately.
Flywheel is perfect for anyone looking to launch a new WordPress site and agencies and freelancers who want to manage multiple sites from one central dashboard without worrying about technical details such as server maintenance or security updates.
Features of Flywheel Hosting
Free WordPress site migration: You can migrate all the WordPress sites you want to Flywheel within minutes using the Flywheel WordPress plugin. The plugin allows you to install, back up, and migrate your WordPress site to another server with just one click. If you need additional support, their 24/7 customer service is more than willing to assist you with the free migration of your site.
Nightly Backup: Flywheel handles all backups, so you don't have to worry about anything. Your site is automatically backed up every night, and these backups are stored on a remote server for 30 days. Plus, if you want an on-demand backup (say, before you make some major changes), we've got your back there too! You can quickly and easily back up your site with the click of a button.
Daily malware scans: You'll be notified right away when any malware is detected. You can also run a manual scan anytime by going to your Site Admin and choosing Malware Scan. If there are files on your site that need attention, you'll see information about what actions to take in the box at the top of the screen.
Updates: Flywheel's automated backups mean you can rest assured knowing your sites are safe, secure, and backed up regularly. Flywheel also handles all updates (whether WordPress core or plugins) on your behalf, so you don't have to worry about updating anything!
Security: Flywheel's security-focused managed WordPress hosting system has been designed to protect your site from hackers, viruses, malware, and brute force attacks. A web application firewall or WAF protects each site on FlywheelF. This will keep your site safe by filtering out malicious traffic before reaching your server.
Blazing fast speed: Flywheel's managed WordPress hosting is distributed across multiple data centers and cloud-based servers, so your site will load quickly no matter where it's being accessed. This feature is essential to ensuring a good user experience for your visitor and improving your site's SEO.
SSH Gateway: SSH Gateway is available on select plans. With SSH Gateway, you can use the command line to manage your WordPress site remotely. WP-CLI is a set of command-line tools that lets you create posts, users, and many other things without visiting the WordPress admin dashboard!
Global availability: Flywheel offers global availability by hosting your website in multiple locations worldwide. This means that your website will load faster for visitors from different parts of the world and will be able to handle more traffic without slowing down.
Agency partner: Become an Agency Partner and start reselling hosting, and cash in on our generous commission structure. It only takes a few minutes to sign up, and it's free!
FlyWheel Hosting Pricing
Names
Tiny
Starter
Freelance
Agency
Price per month (paid yearly)
$13
$25
$96
$242
Visits per month
5,000
25,000
100,000
400,000
Local storage
5 GB
10 GB
20 GB
50GB
Bandwidth/month
20 GB
50 GB
200 GB
500 GB
No. of sites included
1
1
10
30
More information
Try FlyWheel without risk for 14 days
Pros and Cons Of FlyWheel Hosting
Pros:
Expert WordPress Support
Fast page load times.
Free Data Backup and Restore
User-friendly Dashboard
Agency feature
Free 14-demo trial
Cons:
Does not support email hosting
3. Kinsta
Kinsta is a managed WordPress hosting provider, which means they handle all the hard work of managing the servers and keeping everything up and running so you can focus on what you do best: creating awesome websites.
Their engineers are on staff 24/7, so you can always get your questions answered or get help with a technical issue immediately when you need it. You don't have to wait a few hours for an email response—or even worse, spend several days trying to fix it yourself!—when there's someone there to help you out.
Kinsta uses the Google Cloud Platform for everything behind the scenes at their data center. You get access to all of GCP's speed and security innovations right off the bat—all at a fraction of other providers' costs! That includes access to Cloudflare Enterprise (Cloudflare's newest product) at no extra cost.
Features of Kinsta Managed WordPress Hosting
We know you're busy, so we put together some talking points in a handy list form.
DevKinsta: Design, develop, and deploy WordPress sites from the comfort of your local machine.
Powered By Google Cloud: Say goodbye to slow page load times and degraded user experience with the power of Google's Cloud Platform behind it.
Global Content Delivery Network: Take advantage of 200+ locations worldwide to deliver blazing-fast pages and serve your cached assets from your website visitors' closest location.
MyKinsta User-friendly dashboard: Manage your site from one simple dashboard and never worry about your hosting again with our free unlimited basic migrations from any host.
Time-saving site tools: Take care of tedious tasks with a button in MyKinsta. Manage the cache, debug your site, set up redirects, geolocation, switch on the CDN, etc.
Free Cloudflare Enterprise:  All of our plans come with  Tcloudflare enterprise; you'll have enterprise-grade protection against your website's DDoS attacks and data leaks.
30-day money-back guarantee: If you aren't 100% satisfied with your Kinsta experience, we'll refund every penny of your first month's payment, no questions asked—no hoops to jump through—no forms to fill out.
Kinsta Hosting Pricing
Names
Starter
Pro
Business 1
Business 2
Price per month (paid yearly)
$30
$60
$100
$200
Visits per month
25,000
50,000
100,000
400,000
Local storage
10 GB
20 GB
30 GB
50GB
No. of sites included
1
2
5
10
More information
Try Kinsta without risk for 30 days
Pros and Cons Of Kinsta Hosting
Pros:
Fast page load times.
Free Data Backup and Restore
User-friendly Dashboard
247 Support
Free 30 days money-back guarantee
Cons:
Expensive in the entry plans.
4. Bluehost WP Pro
Bluehost is one of the largest web hosting companies globally,d with more than 2 million websites hosted. WordPress has officially recommended Bluehost since 2005.
They offer a variety of WordPress managed-to-host plans designed to meet any budget and scale with your business needs. Each plan comes with a free domain name, free SSL certificate, and free CDN access (see below). You can easily find an affordable plan that meets your needs, whether you're just starting or need a high-performance solution for your existing site.
Their dedicated servers are still equipped with custom-built caching technology that does much of the same work as your typical managed host (we'll go over what this means later on).
Another huge perk to working with Bluehost is that they're one of the few hosts we've come across who offer a free domain name when you sign up. This means that you won't have to pay for your domain name separately, as you will with most other hosting companies out there.
Features of Bluehost Hosting
24/7 WordPress Support: All Bluehost support staff go through rigorous training before they can take orders or talk to any customers. As a result, you'll never get offshored support from Bluehost.
Free SSL Certificate: SSL Certificate by Let's Encrypt and comes pre-installed on all Managed WordPress plans.
Malware scanning and removal – Bluehost will check for malware and remove anything it finds.
Unlimited Resources: There are no limits to the number of sites or storage space on managed WordPress hosting.
1-click WordPress installation: If you are an existing WordPress user and want to set up a new site, the Bluehost WordPress Managed Hosting package comes with installing WordPress with a single click.
Enhanced cPanel: 
Free Jetpack Premium: You get free access to Jetpack Premium or Jetpack Pro, depending on your plan.
Staging sites – Get staging sites to test changes and updates before applying them to your live site.
Pros and Cons Of WP Engine Hosting
Pros:
Cheaper Plans when compared to others.
No monthly traffic limits.
Access to premium Jetpack features.
Free Data Backup and Restore
Development, Staging, and Production Environments
Allows unlimited sites
Cons:
Bluehost WP-managed hosting is better than shared hosting.
Poor customer support system.
Bluehost Hosting Pricing
Names
Basic
Plus
Choice Plus
Pro
Price per month (paid yearly)
$9.99
$13.99
$18.99
$28.99
Visits per month
Unlimited
Unlimited
Unlimited
Unlimited
Local storage
50 GB SSD
Unlimited
Unlimited
Unlimited
No. of sites included
1
Unlimited
Unlimited
Unlimited
More information
Try Bluehost without risk for 30 days
5. SiteGround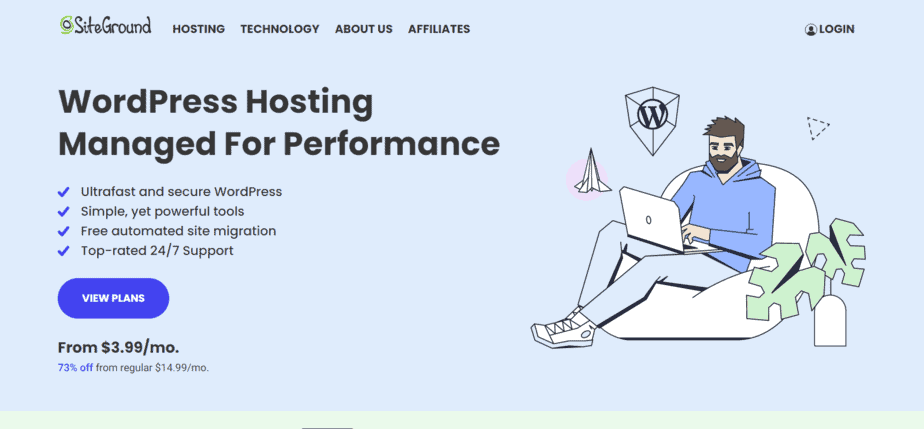 SiteGround, one of the tops Managed WordPress hosting companies, offers various plans. They're dedicated to providing top-notch service and maintaining fast loading times with their WordPress-optimized servers.
Their managed WordPress hosting plans offer outstanding customer support, free SSL certificates, fast loading times, a 30-day money-back guarantee, and a 99.99% uptime guarantee. The extended version of SiteGround Optimizer comes with WP Offload S3 and other useful features.
Transferring your site is quick and worry-free! They offer a free and easy-to-use SiteGround Migrator plugin and a professional website transfer service done by experts.
Plus, SiteGround has a convenient migration tool so that you can transfer all your files to your new site with ease.
Key SiteGround Features
Your website is the most important marketing tool for a small business owner. It's how you reach out to new customers and keep your current ones coming back for more. You want it to be as fast and easy to use as possible. This is why we at Site Ground Hosting have created a feature that includes the following:
Fast load times: Site Ground servers have been built from the ground up to provide lightning-fast performance, which means that visitors to your site will have an excellent experience every time.
Fast SSD disks: SSD drives store data using integrated circuits that contain no moving parts—making them faster and more reliable than traditional hard disk drives (HDDs).
SuperCacher technology allows you to store the most commonly viewed pages on our servers, so fewer people visit your site each day. You can make it through even the highest traffic hours without experiencing any downtime.
Powerful security features that allow you to run a secure site without having to worry about hackers or outside intrusions
A backup service that stores your files in multiple locations, so they're not all lost if something unforeseen occurs to one of our servers
Outstanding customer support, available 24/7, 365 days a year
Pros and Cons Of SiteGround Hosting
Pros:
High Reliability and Uptime
Excellent Site Loading Times
Top-Notch Security
24/7 Help Center
30-Day Money-Back Guarantee
Free Website Builder
Cons:
High Renewal Prices
None of the Plans Comes With a Free Custom Domain
SiteGround Hosting Pricing
Names
Startup
GrowBig
GoGeek
Price per month (paid yearly)
$14.99
$24.99
$39.99
Visits per month
10,000
100,000
400,000
Local storage
10 GB SSD
20 GB
40 GB
No. of sites included
1
Unlimited
Unlimited
More information
Try Bluehost without risk for 30 days
6. A2 Hosting WordPress Hosting
A2 Hosting is an unrivaled WordPress hosting service that offers a 99.9% uptime guarantee, free domain registration, a free SSL certificate for the first year of use, and a money-back guarantee. They have been at the forefront of the WordPress hosting industry since their founding in 2012, and they have taken their expertise and experience to create a better type of hosting service than their competitors offer.
They also provide free SSL certificates with your account so that all of your website traffic is encrypted and secure. This will help protect your business's reputation online and keep your sensitive information safe from cybercriminals.
You can try out A2 Hosting's services for 30 days before signing on as a paid customer, during which time you can cancel at any time without penalty. If you are unsatisfied with their services within the first 30 days, A2 Hosting
Key Features of A2 Hosting
SSD Drives enhance speed and performance
Cloud Hosting increases reliability
Cloudflare CDN improves site loading time
Multiple back-ups
Unlimited storage and data transfer
24/7 support on all hosting plans
A 99.9% uptime guarantee
A range of SSL certificates to keep your site secure
Advanced technology to make your site load 20 times faster
Pros and Cons Of WP SiteGround
Pros:
High Reliability and Uptime
Excellent Site Loading Times
Top-Notch Security
24/7 Help Center
30-Day Money-Back Guarantee
Free Website Builder
Cons:
Limited Datacenter
Slightly more expensive than other hosting plans
Limited hosting plans
A2Hosting Pricing
Names
Turbo Run
Turbo Jump
Turbo Fly
Turbo Sell
Price per month (paid yearly)
$23.99
$33.99
$48.99
$61.99
Visits per month
Unlimited
Unlimited
Unlimited
Unlimited
Local storage
50 GB NVMe
25 GB NVMe
Unlimited
Unlimited
No. of sites included
1
5
Unlimited
Unlimited
More information
Try A2hosting without risk for 30 days
7. WPX Hosting
WPX Hosting is a powerful managed WordPress hosting service. It's not the biggest name in the business, but it still offers support and performance that can compete with the big names. WPX might even be able to save you some money, too.
WPX Hosting can be more affordable than other managed WordPress hosts when your site needs to grow. It accepts multiple sites at its entry-level plan, which is rare among the higher-end services we've tested, making it easy to scale up without jumping through hoops or breaking your budget. Because you won't have to pay an arm and a leg for your sites' bandwidth usage either, you can confidently build out new projects as they're needed without worrying about hosting fees eating into your profits.
The user interface of WPX Hosting is clean and simple. However, it includes all of the standard features we expect from a managed WordPress host: free backups every day; staging environments; free malware removal and protection; access to Cloudflare CDN; and DDOS protection. Throw in WPX's live chat support that promises a response in under 30 seconds on average, 24/7/365 (we were generally connected within minutes in our testing). You have everything you need from a capable server management platform for most websites' needs.
Key Features of WPX Hosting
If you're looking for a new hosting company, we'd be delighted to tell you more about our top-quality services. Here are five of the most exciting features of WPX Hosting:
99.9% Uptime Guarantee: Our servers are among the fastest in the business, and our 99.9% uptime guarantee ensures that your site will never go down.
High-Speed Performance: We have a wide network of servers located throughout the United States, so no matter where your target audience is located, they'll be able to access your site quickly and smoothly.
Top-Quality Developer Tools: Their developer tools include everything you need to make your site a success. including in-house applications that help you stay on top of digital trends so you can focus on what matters
Top Customer Satisfaction: Whether you're an individual looking for a personal website or a corporation with multiple sites to maintain, we pride ourselves on offering our customers solutions.
Pros and Cons Of WPX Hosting
Pros:
WPX Hosting is an awesome hosting service. Here's why:
Their performance is great!
They allow email hosting, so you can get an account if you want to use your domain.
Even their cheapest tier allows you to host multiple sites, which is great for small business owners who want to have a blog and a website for their business.
No arbitrary traffic limits!
Top customer satisfaction ratings, in case you wanted to make sure they're not going just to take your money and disappear on you like some other hosting companies
Cons:
Their dashboard isn't as nice as other hosts.
WPX Hosting Pricing
Names

Business

Professional
Elite
Price per month (paid yearly)
$20.83
$41.58
$83.25
Bandwidth 
100 GB
200 GB
Unlimited
Local storage
10 GB
20 GB
40
No. of sites included
5
15
35
More information
Try WPX hosting without risk for 30 days
8. Pressable
Pressable is one of the best-managed WordPress hosting providers on the market. It powers over 100,000 websites and offers a wide range of solutions, including dedicated WordPress hosting, managed WooCommerce hosting, and enterprise hosting.
Automattic, the company behind WordPress, owns pressable. Since a behemoth like Automattic backs them, you can rest assured that your site will perform at its best speed and uptime.
Pressable features automatic server caching and CDN integration to improve your website's speed. Its servers are optimized for scalability, too – so you can focus on growing your business without worrying about bandwidth limitations or poor performance due to rapid traffic spikes.
Pressable Hosting is the best-managed WordPress hosting service for your website. We're so sure about that; we offer a 30-day free trial on all of our plans!
Key Features of Pressable Hosting
Here are some of the ways we make Pressable the best option:
Built-in CDN: We use a Content Delivery Network to ensure your site loads fast, no matter where it is accessed.
Daily backup: If something happens to your site, we'll have a backup ready and waiting to go.
SFTP access You can transfer files securely to and from your account without worrying about an outside party snooping around in your data.
SSL support: Let your customers know they're protected by installing an SSL certificate on your site!
Malware scanning and removal: We scan your website every day for malware and remove it if we find any. Don't worry about hackers ruining your business—let us take care of them for you.
Pros and Cons Of WP SiteGround
Pros:
Cheaper than similar hosts like WP Engine and Kinsta.
Pressable limits are also higher than those of hosts.
Cons:
Pressable doesn't offer email hosting
Pressable Hosting Pricing
Pressable's website hosting pricing requires that you pay monthly or annually.
You must pay every month if your website receives 5,000 visits per month and requires 5 GB of storage.
The website must be hosted at the Pressable data center in Dallas, Texas. You will also need to pay for one additional domain registration.
Conclusion
After much deliberation, we've concluded that the best-managed WordPress hosting services are WP Engine, Flywheel, Kinsta, Bluehost WP Pro, SiteGround, A2 Hosting, WPX Hosting, and WPMU DEV Hosting. These are all excellent choices for hosting your site with a provider that specializes in WordPress-specific plans and packages.
We also named Pressable our Best Value WordPress Host because they're great for small businesses and give you access to enterprise-grade infrastructure at an affordable, pay-as-you-go price.
While all of these options are exceptional in their ways—and many of them will be suitable for your site—the choice does come down to what features matter the most to you and how much you want to spend on those features.