How to Start a Blog In Nigeria 2023 And Make Money Online (Easy Steps)
So, you want to start a blog, huh? Great idea! As little as I can recall, the best career choice I've ever made is to learn how to start a blog in Nigeria, and am glad that you are about to do the same.
There is too much info out there on the web, telling you this and that about starting a blog.
But the fact that you continued searching and landed here shows that you aren't satisfied, maybe because their guides are confusing or full of grammar that gets whole issues complicated.
Just forget about them I got you covered.
My Little Blogging Story…
Way back in 2016 when I launched my first blog, I was a newbie I knew less than nothing about blogging.
I was searching for how to make money online, and I came across a popular Ponzi scheme in Nigeria called MMM.
MMM is a money pyramid scheme, which exists at the expense of investors.
How do MMM works?
Here you purchase a virtual currency called Mavro from a member of the MMM community, over one month, your Mavro will increase by 30%, and you sell it to another participant and make a profit.
For example, you invested ₦10,000 in exchange for Mavro. After one month, your Mavro will increase by 30%, and you sell them to another member of the system and get back ₦13,000. That sounds good, right?
After some time, MMM crashed and held so many Nigerians to ransom, which am a victim of the incident.
I went to research other ways to make money online in Nigeria. This time around am more interested in legit and long-lasting means of making money online in Nigeria.
On my quest for a greener pasture, I met a friend who introduced me to the world of blogging and how I can make money from it.
Then I decided to start my blog, guess what, I failed woefully, and do you know why?
I was very impatient, and I was only MONEY-oriented without providing valuable content for my readers. After some time, I felt like this blogging of a thing doesn't worth the time given to it, and I quit.
Luckily for me, I came across Mathew Woodward's income report, which motivated my spirit, and with little more research, I discovered the cause of my previous failure.
I learned from my previous mistakes, and now I can boast of so many things when it comes to starting a blog.
You don't need to be tech-savvy to start a blog in Nigeria because I'm not one.
You don't need to know how to code or design a website to build your blog, I still don't know how to.
These are my plans for you… I don't want you to make the same mistakes I made that nearly ruin my blogging career. I started this blog, applying all the things I learned these past years.
The guides in this post are step-by-step instructions with Do It Yourself (DIY) easy-to-follow screenshots that will light your path toward launching a new blog in Nigeria and making money from it.
To launch a profitable blog in Nigeria in 2023, I have further categorized this guide into eight distinct sections guide you.
How To Start A Blog In Nigeria 2023
Choose A Domain Name
Setup A Web Hosting Account With Free Domain
Install WordPress As Your CMS
Customize Your WordPress Blog
Create Essential Pages
Write Your First Blog Post
Promote Your Blog/Site
Monetize Your Blog And Make Money
How much does it cost to own a blog in Nigeria?
How to create a free blog in Nigeria?
How to monetize your blog in Nigeria
Disclosure: I will get a little commission when you purchase through any link on this site, it won't cost you any extra money!
Choose A Domain Name
Choosing a domain name is similar to choosing a business name, and it is one of the most important things you can do for your website. Also, your domain name will communicate important information to both human visitors and search engine bots.
In case you don't know what a domain is, a domain name is your identity on the web, e.g., my domain name is mackiestdon.com, so make sure you choose the right domain name.
The first step to finding the right domain name is by choosing your blog, Niche. If you're not sure what to blog about, there are a few ways to find a good blog topic:
Hobbies & passions. Hobbies or other interests you are passionate about are a great place to start. Cooking, travel, fashion, sports, and cars are all classic examples. But even blogs about more obscure hobbies can be successful since your audience is anyone in the world with the internet.
Life experiences. Everyone has lessons they have learned through life experience. Sharing this knowledge can be incredibly helpful to others in similar situations.
A personal blog. It is a kind of blog that talks about things you like doing. This will include a variety of topics, from things you do daily, to random thoughts and musings. This is a great way to share your opinions with the world without having to stick to just one topic.
Once you find a good topic for yourself, choose the right domain name that suits you. Try to incorporate some of the keywords related to your blog topic in your domain name.
Again you can use your name as your domain as I did and still focus it on a particular topic.
Take note of these few things while choosing a domain name:
Choose an easy-to-remember domain name.
Choose an easy-to-pronounce domain name
Make sure your domain name is from the range of 6-12 characters
Do not include special characters such as @#$%
Go with the popular domain extension such as (.com, .net, .org) and so on.
Once you come up with an idea of what your website will answer, you can go ahead and search it below to know if it's still available.
If the domain name you searched for is not available, there are a few things you can do:
Try a different domain extension. If the .com version of the domain is already registered, you may still be able to get the .net or .org version of your blog name.
Add small words. Words like "a," "my," or "the." For example, themackiestdon.com or mymackiestdon.com
Setup A Web Hosting Account With Free Domain
We have completed the domain name search quest, I believe at this point you suppose to have your domain name ready.
Now that you have gotten a domain name, we will go ahead and buy a web hosting plan.
I know this may sound awkward, but you need a web host and we can't do without it.
So let's continue…
What Is A Web Hosting?
A web host is a company that stores all your blog file, keep them online, and make them accessible to the user when they search for your domain name.
Getting a web host is a must-do aspect of these blogging setups.
For your blog to be up and running, there are two main things required, and they are domain name, which we earlier talked about, and hosting plan, which we will discuss here.
These are the only two things that you will spend on while starting a blog.
There are thousands of web hosting companies today, but out of these companies are a few selected ones that are performing well, and I will recommend them in this post.
Many cheap web hosts overload their servers, which in turn, results in a slow website.
However, speed can also affect rankings indirectly, by increasing the bounce rate and reducing dwell time.
The hosting company I recommend for beginners is Bluehost. Here are my reasons and what you are to benefit from them.
Free Domain name
Free SSL certificate
99.9% Server Uptime
Beginners-Friendly.
24/7/365 Customer Support.
30 days Money-Back Guarantee.
Hosting Discount: Get 63% off 1st yr Shared Hosting With A Free .Com Domain From Bluehost! For a LIMITED TIME only!
So to get started with purchasing the domain name and web hosting plan, we have to head straight to Bluehost.com. From the homepage, click on "Get Started."
The next step is to choose a hosting plan.
Putting into consideration the kind of website you are about to set up, which is a blog, the basic plan is very much okay for you when getting started. If there is a need for a higher project in the future, you can still upgrade, but for now, I recommend the basic plan.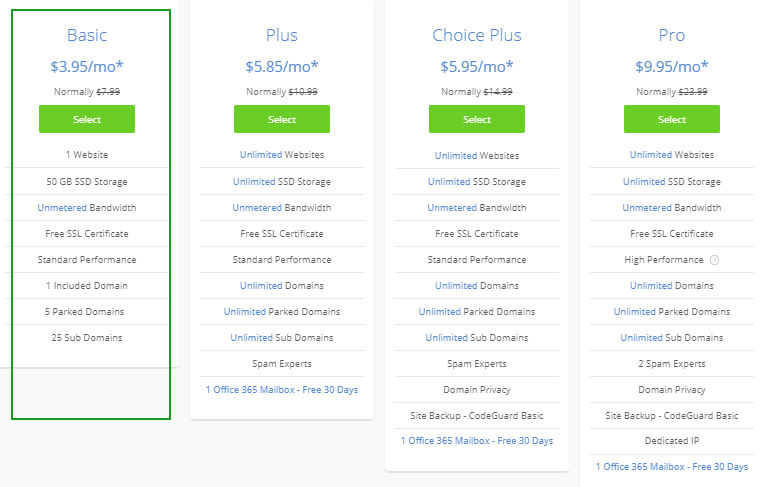 After choosing a hosting plan, the next step is to select a domain name for your blog.
You will see two boxes on your screen; the first box demands you to choose a new free domain name while the second one allows you to add an already existing domain you have with another registrar.
I recommend you choose a new domain name that is at no additional cost to you, free kinds of stuff always feel good.
Therefore input into the text-box the domain name we have chosen earlier.
Once you are through with these steps above, then you will be required to enter your details to create an account with BlueHost.
Fill in the form with your correct details.
Your account plan ranges from 12 months, 24 months, and 36 months subscription, you can choose from any of them depending on your budget.
It is advisable to uncheck all the boxes to avoid additional charges.
The next step is to fill in your payment details; you can pay with any of the payment methods available on the site. Check the terms and conditions option and submit.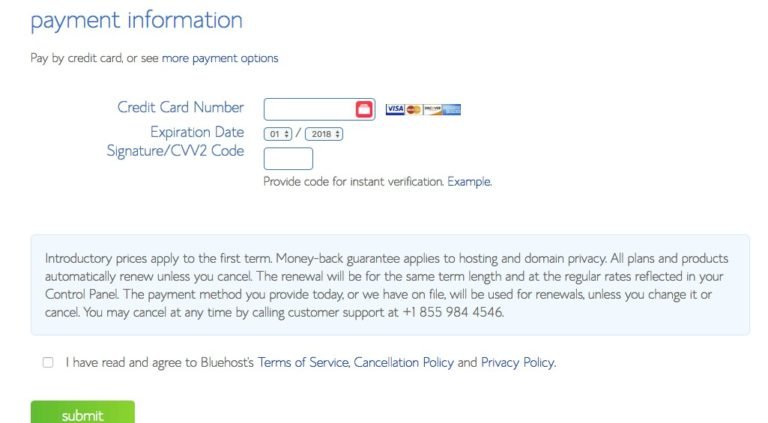 Congratulations!!!
If you have gotten to this stage, you are now a certified blogger. If you get your domain name from Bluehost, you'll receive an email notification asking you to confirm or verify your domain name. If you don't, your domain name might get cancelled.
Now let's tidy up some things together by moving to the next step.
Install WordPress As Your CMS
For complete newbies, the whole process of picking a blogging platform could be confusing with so many choices out there.
A blogging platform is a type of software or service that helps you to create a blog without having any knowledge of programming or web development.
WordPress is the go-to platform for bloggers. Why? Because WordPress is free software, i.e., it cost you nothing to use WordPress (No credit card, no payment method)
With WordPress, you can also create any kind of website.
Why You Should Create Your Blog With WordPress
User Friendly
It is free software for everyone.
WordPress is Easy to Customize with free Themes and Plugins.
It is easy to manage.
It is SEO-friendly.
Reasons Why You Should Not Start a Blog On A Free Platform
A free blogging platform is a website that allows you to register with them, get a free domain name, and set up a blog without spending a dime.
However, if you want to start a blog, become a famous author and make a stack of money from it, Then we have to do things the right way to increase your potential success in the industry.
Below are the significant flaws suffered by most popular free blogging platforms such as Blogger.com, WordPress.com, Medium, and Tumblr
No Custom Domain Name – If you are using a free blogging platform, you are going to have an ugly-looking domain name in the form of http://yourname.wordpress.com or http://yourname.blogspot.com.
Poor Customization – A free platform alternative only grants you access to a handful of themes and functions, which will only result in less engagement.
Limited Monetization – Using a free blogging platform, you will be provided with limited bandwidth, and memory space for videos and images, and as well your ad displaying option is limited.
Loss Of Content – If the company feels you are violating the terms of the service agreement, they can wipe you off without warning.
If you have the ambition to start a successful blog in 2023, then you must pick a solid foundation.
According to builtwith.com statistics, it has it that 27,021,750 live websites are using WordPress.
Over 90% of pro bloggers recommend WordPress and are using it for their blogs. And I advise you to give it a try!
Luckily for you, Bluehost will automatically install WordPress on your domain, so you don't need to worry about that.
Therefore you are required to log in to our Bluehost hosting account with the details you created during the checkout stage.
Do make sure your password is very secure.
The next page will notify you of the successful creation of your password.
You can then click the login button to continue.
After you've login, Bluehost is going to show you some free WordPress themes you can choose.
Please ignore it, feel free to skip them by clicking the skip button under the page
On the next page, which is your WordPress dashboard, you are going to see a welcome message with a question asking if you need any help.
Kindly click "I don't need help" I'm here to help you
Congratulations if you can see this page, your site is now up and running. Cheers!
Customize Your WordPress Blog
At this point, you have launched your new WordPress website, it is available for the world to see.
Therefore we need to customize the new blog to look attractive and professional.
So go ahead and click on My Sites > Log in to WordPress
Note: Alternatively, you can log in to your WordPress with admin dashboard by typing (www.yourdomain.com/wp-admin/) from any browser.
Once you've logged in, you will see the welcome page of the admin dashboard.
If this is the first time you are using WordPress, at first, you may feel intimidated by the WordPress dashboard environment, but with time you will get used to it.
Before we proceed, let me give you a rundown of the WordPress admin area:
Updates – This is where to update your WordPress, Plugins and Themes when new versions are released.
Posts – Here, you can create new blog post, edit existing ones and also create categories and tags .
Media – This section contains everything that has to do with media such as images, videos, documents etc
Pages – In this section you can create and modify existing pages, such as About-us page, Contact-us page etc
Comments – Here you can manage your comment, approve all pending comments, delete spammy comments and reply to comments.
Appearance – This section is where you design your blog, it determines how your blog will appear to your readers.
Feedback – This section allows you to manage your feedback from your reader. This is mostly through the contact form page.
Plugins – Here you can easily add and remove plugins. Plugins adds additional functionality which by default does not come with WordPress to your WordPress
Users: This section allows you to manage your WordPress users and assign different roles to existing users such as Admin, Editor, Author etc
Settings – As the name sounds, here is where you manage all the settings related to your blog such as writing settings, reading settings, media settings, etc
Now we are familiar with some of the features on your WordPress admin dashboard, let's go ahead and continue with our customization
Installing WordPress themes
Now we are going to install a WordPress theme.
Here are points to take note of while choosing a WordPress theme:
Consider Responsiveness: Make sure that the themes adjust their layout across different screen sizes and devices.
Strive for Simplicity: Look for a theme that has a design layout that helps you support your goal.
Speed Optimized: Ensure that the themes loads fast when a visitor comes to your site
SEO Friendliness: SEO optimized themes help your site's performance on search engines.
There are thousands of free WordPress themes you can use, bear in mind that customer support is a significant factor to consider when choosing a theme.
Free WordPress themes do not come with guaranteed support and updates.
How To Install WordPress Themes
To install a WordPress theme, from the WordPress admin dashboard go to Appearance > Themes > Add New
On this page, you will see different free WordPress themes; just glance through them to know the one that best suits your need. Hover the mouse on it to get a live preview or install and activate.
However, After activating the themes, navigate to Appearance > Customize and tweak some things like logo, colour & fonts easily.
Again if you are looking for themes that have all the above-listed qualities that will make your blogging journey awesome, I recommend that you download my themes here.
Changing Your Blog Permalink Structure
What is a permalink? A permanent link or permalink is the part of a web address that is added after the domain name.
For instance, the URL of this blog post is https://mackiestdon.com/how-to-start-a-blog/. The domain name is mackiestdon.com, and the permalink is how-to-start-a-blog.
Making changes to your permalink is a major undertaking when customizing a WordPress blog for the first time, An optimized permalink structure can potentially have an impact on your SEO.
To change your permalink, navigate to Settings > Permalinks
Change it to post name.
Installing The Necessary Plugins
While creating a WordPress blog, installing themes is quite easy, but you need to be very careful while adding the plugins.
Plugins are a small set of software tools that you can use to enhance the functionality of your WordPress site.
You can install many plugins to add additional features to your site without any coding skills.
WordPress offers thousands of plugins with different functionalities, including email marketing, and enhancing the SEO of your site.
This can help the website owners as well as the readers to navigate through the website correctly. Most plugins are developed for multiple purposes, while some are designed only for specific purposes.
You should add only the plugins that are necessary and would help with your blogging journey while starting your blog.
Installing too many plugins on your website is not advisable because they are bound to slow down your site, which in turn affects your blog performance for your visitor and search engines.
In the following list, we have collected many best plugins for blogs in WordPress to make sure that the quality of your blogs is ace. These plugins are tested with their latest version and are proven to work quite well to enhance blogs.
Yoast SEO:
If you start blogging, you're not going to go very far without a good search engine optimization.
Yoast SEO
is one of the most used and best plugins for blogs regarding search engine optimization.
Akismet:
Using Akismet will help you a lot to omit the spams out of your entire blog website. It automatically analyzes the website and drops out the contents that might occur as spam.
Classic Editor:
I'm not a huge fan of the new Gutenberg editor and find the Classic Editor much easier to use and more error-free.
Easy Social Sharing:
This a social media plugin that enables your readers to share the contents of your website in their social media. This is one of the best plugins for blogs when it comes to sharing the content on social media.
WPForms: This plugin help you to add Contact Us Form to your websites so that your readers can easily contact you. Contact forms seem like a ubiquitous feature that every website should have.
Thirsty Affiliates: ThirstyAffiliates is a WordPress affiliate link management plugin. It allows website owners to add, manage, and easily insert affiliate links into their posts and pages.
As you know that most affiliate links are lengthy and look like this:http://www.example.com/index.php?productid=xxxxxxx&affiliateid=xxxxxxx&blah=trueUsing ThirstyAffiliate, you can use your domain name with a prefix of your choice, and it will seamlessly redirect your users to the affiliate link. For example, you can convert a lengthy affiliate link into something like:http://www.mackiestdon.com/refer/product
WP ROCKET.WP Rocket is an all-in-one site speed plugin that can do everything from minifying HMTL, CSS, and JavaScript, integrate with your CDN, reduce database bloat, and more. I've tried other speed plugins like Autoptimize and had some issues with it. WP Rocket is the best, in my opinion. You can get started with WP Rocket for $49/year.
Now you are done with the customization, and all your settings are correctly configured, I assume you have a clear idea of what your blog will be talking about therefore you will go ahead and create your essential pages like:
About
Contact
Privacy Policy
Disclaimer
To create these, go to Pages > Add New. Give your page a good title because that's what a visitor will first look at before reading the content of the page
Then write the content of the page below your page title, It mustn't be superb at the beginning you can edit it and make changes any time.
Don't forget to publish once you finish writing your post.
Write Your First Blog Post
You have reached the most exciting part of the whole process of starting a blog, and now, stage you will be writing your first blog post.
Putting together blog content can be daunting times.
Firstly, you'll need to learn more about your audience and what works well for other bloggers in your niche.
And lastly, remember to make it conversational and engaging.
If you picked a niche that you care about, remember why you care about it.
People want to hear your voice and your take on some things.
Once you come up with an article for your blog, do your research and know what keywords to target in your post.
Now it's time to write your post.
First, you have to log in to your WordPress admin dashboard (yourdomain.com/wp-admin) then go to Posts > Add new
You will land yourself on a page like the one below
Title Area: Write a catchy title that will explain the content of the post.
Image Area: Use a clear image that will add meaning to your post.
Article Area: Put down your mind and remember to make it engaging and easy to read.
Publishing: Use the publish button to make your post available for everyone to see.
Other: Create a relevant category for your post or upload a featured image. If you don't know what tags are, then don't worry about them.
I understand how important it is to promote a blog. I have seen many bloggers quitting and telling others that Blogging is not worth trying.
I spend 30% of my time creating great posts, and 70% of my time promoting them after all your job is nothing if it doesn't reach the right audience.
Subscriber List: Your subscribers are your real followers, they are the ones who genuinely benefit from your posts, and so they come back.
Social Media– Social media helps to promote any kind of content, whether a blog or an e-commerce website. You need to select 2–3 platforms according to your niche, where you'll get most of your targeted users.
Share Your Content On Other Platforms – Use platforms like Medium and LinkedIn Pulse, and add a link back to the original post. You'll get a chance to promote it to a different group of people who might be interested in your content.
Answer Questions On Quora– Don't think Quora is just an answering platform, but it's a lot more than that. Answer relevant questions and give a link back to your website, if you've something related to it.
Guest Posting– Find websites that allow guest posting, excluding the ones who are having less than 30 DA. Now create a post related to your niche and get published; this will enable you to engage with new audiences.
Blog Commenting– Easiest way to promote a blog. All you need to do is find websites of your niche, pick an article that is related to any of your posts, and comment with your post's link. Don't be a jerk about it, and just comment on relevant posts only.
PPC Marketing– The most effective way of Promoting a blog. Use ads from Google, Facebook, LinkedIn, or whatever platform you prefer.
And now, the essential point is to create great content. Without quality content, none of the above tips would work.
Monetize Your Blog And Make Money
Ads: Ads are the most popular way to earn money from your website or blog. Some most popular ad platforms are Adsense, Propeller Ads, Adchoices, Native ads, etc.
Affiliate: Affiliate marketing is like refer and earn money-making scheme. More people you refer to buy a product, the more money you make. Find and join an affiliate program that is related to your blog niche.
Merchandising: Sell your product through your blogs like eBooks, Online Shopping Gift Cards, or kinds of stuff.
Sponsored Posts: These are posts that a blogger or website owner is paid to publish on their sites by companies, businesses, and brands related to that site's niche or topic,
I think these are some popular ways to grow and earn higher for your blog
Conclusion
And that's the end of it! I am very sure that your blog is up and running, and the first blog set up is damn easy (unlike my first time, lucky you!).
I will like to hear from you before you leave, feel free to drop a comment using the comment section below.
If, by some unfortunate circumstance, you get stuck or have any questions for me about how to start a blog, just get in touch with me or leave a comment below.
FAQs Frequently Asked Questions
How much does it cost to own a blog in Nigeria?

The cost of starting a new blog in Nigeria depends on the hosting provider chose and the plan you have with them. If you are using Bluehost, you will get a free domain name and a hosting plan of 59.40 ($4.95 for 12 months)

How to create a free blog in Nigeria?

To create your free blog in Nigeria, visit blogger.com. Login to your Gmail account or create one if you don't have one already. Once you logged in you will see create a new blog>>> Enter your blog name. Next, your blog URL, the address of your blog

How to monetize your blog in Nigeria

"There are so many ways you can monetize your blog in Nigeria. The two most popular ways are by placing Ads on your website and by promoting affiliate offers