10+ Best Google AdSense Alternative For Publishers 2023
Was your AdSense application rejected, or were you banned from the Google AdSense program?
If any of the two lines above are related to what brought you here today, then you are not alone.
In this article, I have covered some of the best Google AdSense Alternatives in 2023, which you can use to earn real cash to your bank account even with little traffic.
So, rise, be proactive, and act professional!
There's no time to waste.
Every day, hundreds and thousands of AdSense accounts are banned from the system. The reason is often the most "unknown." of course, the most frequent basis is that of "Click Fraud, "or that of "Announcement placed strategically to make the user/ad click by mistake too close to the text…".
The truth is that you will never be told the exact reason why your site was banned by AdSense (as well as when you receive a penalty for "unnatural links," Google will never tell you what links it thinks unnatural).
NOTE: If your Adsense account was banned, knowingly or unknowingly, know that you've violated one of the rules of the TOS (Term of Services) of Google AdSense.
The frustration that comes with AdSense Account banning is indeed a bad one to experience; In fact, you will start thinking you've lost the only chance of making money on the internet.
In reality, the web is full of alternatives that you can try (yes, tests are essential to find the network that works best for you); there will be networks that will perform better for you while others will not.
Probably, in many sectors, if you want to make money on a pay-per-click basis, unless you have a massive number of visits, you will not find any network that beats Google AdSense (pay-per-click). 
But do not forget that, in addition to Pay per click, there are online affiliations that still pay very well.
In this article, I will give an overview of some of the best Google AdSense alternatives that work best in 2023 for Nigerian bloggers and other bloggers in other countries as well.
Best Google Adsense Alternative in 2023
Let's take a look at some of these Google AdSense alternatives to find out more about how you can further monetize your website or blog: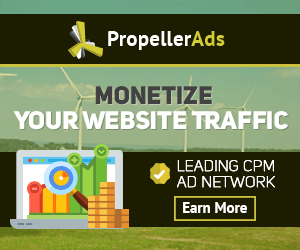 Propeller Ads is an online advertising media platform and an excellent alternative to Google Adsense; they focused on delivering Ads across multiple channels. It offers a flexible and transparent bidding model that provides real market value to both publishers and advertisers. It uses different Advertising cost models such as CPA, CPL, and CPM to enhance what they offer to advertisers and, in turn, what they pay its publishers.
Unlike Google AdSense, Propeller Ads is a CPM ad network; what it means is that you will get paid for every 1,000 ad impressions you generate. Therefore it does not matter if your website visitors are clicking your ads or not. And that's why large publishers prefer CPM networks over CPC ad networks (like AdSense, Bing Ads, etc.).
AdMaven is another well-known Push and Popunder ad network, CPM ad network that pays publishers per impression. This means that you receive money whenever your ad is served, regardless of whether or not it is clicked.
The ads company monetizes every single user and ad impression. So there is a higher chance of getting more ad revenue. AdMaven calculates the best price for 1000 impressions (ECPM), which only increases earnings.
The user interface of this Ads network is one of a kind, which will help new users master the option without any external guide.
Ad-maven provides various payment methods and a minimum threshold of $50 payout, which will benefit websites with little traffic.
Media.net.com is one of the oldest and contextual ad networks, and It is arguable the best Google Adsense alternative for bloggers in Nigeria and other countries.
This Ads Network uses a CPC (Cost Per Click) and CPM (Cost Per One Thousand Impression) monetization, model
One thing you need to know about the Media.net Ads network is that they don't approve blogs or websites with low traffic; only blogs that have at least 3K to 6K Pageviews every day are usually approved.
Other than this, there are plenty of other criteria a publisher needs to meet before getting approved for Media.net. Such the primary traffic source countries should be the USA, UK, and Canada. Also, the content of the website should be in English.
The average Media.net CPM rate is USD 1-2. Also, the average RPM for the 10,000 pageviews is around $10.
Infolinks ad network is another Google Adsense alternative in 2023, currently serving targeted ads on over 125,000 websites. They work best on sites that contain large amounts of text-based content.
IA pay-per-click network allows you to earn through contextualized ads inserted directly on specific keywords (keywords) present on your website. Your pages are indexed, and the text on your pages automatically adds hyperlinks when there are keywords related to the advertisers.
These payments are made through PayPal, Bank Transfer, and Payoneer to reach the payout of $50. It is recommended for websites that work in English, Spanish, French, and German.
Infolinks will not approve a site if the content on the website is not long enough, so you are expected to have high content with targeted keywords.
Taboola is a content recommendation program it can also serve as  Google AdSense Alternative in 2023 as your primary ad program.
The content recommendation means it sends traffic from your site to the advertiser site using personalized related posts on your blog posts. These can be placed after blog posts, on the sidebar, or wherever you think fit.
You are likely to earn more from Taboola if your blog is a sort of News blog or Gossip Blog due to the kin
Taboola uses a net 48 mode of payment, and their payment method is Payoneer only.
Adsterra has seen tons of success within the few years that it's been operational up to now. The network was launched in the European nation and is currently increasing worldwide. It's presently serving quite ten billion distinctive ad impressions monthly.
They offer a nice variety of ad types, including They focus on the website and mobile advertisement as their platform for advertisers and publishers. Their primary ad varieties are CPA, CPC, and CPM.
Adsterra specializes more in pop-under ads, and their Minimum Payout is $10, which is the starting point for small blogs with low traffic. Join Adsterra

Bidvertiser is a cost-per-click CPC ad network that also offers conversion incentives to publishers.
Bidvertiser offers a referral program that pays for referrals of both advertisers and publishers.
They pay publishers after 30 days from the month-end, and their payment method is PayPal with a minimum payout of $10.
EvaDav is a performance-based ads network that specializes in push notifications and native ads.
Using EvaDav, you can choose from CPM, CPA, or RevShare models monetization depends on the one that meets your target.
EvaDav provides you with a personal account manager that will help you manage your account to ensure you get the best out of it.
They offer a 5% affiliate program when you refer someone to register with them and a minimum payout of $25 weekly.

They are also used in Italy. If you want to enter the market of direct sales of advertising space within your website and you do not know how to find customers, BuySellAds can do for you (even this system works very well in the US / UK and is still little exploited, in my opinion, in Italy). BSA (BuySellAds) pays 75% of the revenue generated by each advertising space.
Clicksor is also a popular performance-based Ads network and an excellent alternative to Google Adsense.
It allows you, like many other networks, to take your banners in different formats (including pop-ups) and place them on your website.
It offers a different mode of advertisement, which includes CPC, CPI, CPM, CPV, and 247 international  customer service to help assist you
Payments are made upon reaching $50 via Check, PayPal, Wire Transfer. For the bank transfer, on the other hand, the 500 dollars of commissions must be achieved.
We hope this article helped you find the best Google AdSense alternatives to monetize your website. Tell us the Ads network that works better for. you