10+ Best Jasper AI Alternatives 2023 (Jarvis AI) Free & Paid
Jasper AI, previously known as Jarvis AI, is widely recognized as a top-tier copywriting tool. However, the market offers other impressive free alternatives that rival Jasper.ai regarding features, pricing, and functionality. This article will shed light on these alternatives and their unique offerings.
As many already know, Jasper.ai employs Artificial Intelligence to tackle a range of content writing and copywriting tasks. This powerful tool has proven invaluable for numerous small businesses seeking to cut costs without compromising the quality of their work. Moreover, using these AI-driven tools saves significant time and cost, as they can complete tasks within minutes.
If you're interested in exploring options beyond Jasper.ai, there's an array of alternatives worth considering.
This article will discuss ten noteworthy alternatives to the Jasper.ai tool, giving you a comprehensive overview of the AI-powered copywriting landscape.
10 Best Jasper AI Alternatives (Free And Paid)
CopySmith
Automatic Script
Closercopy
Peppertype AI
Headlime
Zyro AI
Copy.ai is a well-known artificial intelligence software. It has extensive expertise in a variety of activities. The copy.ai tool, on the other hand, is recognized for producing excellent outcomes with digital ad copies, sales copies, eCommerce content, and blog/website content. Copy.ai uses GPT-3 software to generate human-like and effective copies.
Copy.ai is a Jasper.ai alternative that has many benefits. We will discuss some of the copy.ai features and prices in this section so that you can make an informed decision when choosing among competing tools.
Features Of Copy.ai Copywriting Tool
This tool provides terrific features and elements to complete various tasks. Catchy Intro, ad copies, blog posts, and other content services are handled by copy.ai. You are also assured of plagiarism-free content with this tool. One of the critical features of copy.ai is its Templates.
Templates
Copy.ai has over 60 templates available; however, some of the most popular templates are listed below:
Blog Ideas: You can create a list of promising blog ideas people will likely search for. These blog ideas will ensure that you produce contents that will engage your target audience.
Product Description: You can also use copy.ai templates to produce compelling product descriptions for Amazon products or another eCommerce store
Instagram Captions: One of the strongest sides of copy.ai is its ability to generate social media captions. If you are short on ideas on what to put on your Instagram posts, Copy.ai is there to help you.
Blog content: Copy.ai is also a good content generator tool as you can create blog content. You need to give your request in a bullet point, and copy.ai will do the rest.
Ad copies: Ad copies for Facebook, Google ads, and others can be completed by copy.ai.
Copy.ai Multilingual feature
Copy.ai is also effective in creating content in Over 25 different languages. So, if you need content in Japanese, Portuguese, Chinese, and other languages, copy.ai can do the job.
Pros and Cons of Copy.ai
Pros
Quick and reliable customer support team which is available 24/7
Easy to use
Different people can use it: markets, bloggers, affiliate marketers, and ad experts can effectively use this tool.
Sales copies have excellent quality.
It is multi-lingual and hence works with over 25 languages
Cons
It cannot complete long-form blog posts
Difficulty in assigning specific keywords to target in your content
Copy.ai Pricing
Copy.ai offers a 7-day free trial for anyone looking to test their services. This free trial period does not require a credit card from you. If you want to upgrade to the paid version, here is a breakdown of the pricing system of copy.ai;
$49 per month is the price of the 'Solo version,' which gives you access to unlimited runs with the fantastic features of copy.ai.
Small businesses can opt for a custom subscription which is around $119 per month.
Writesonic is another effective alternative to the Jasper.ai copywriting tool. Within seconds, you can generate topic ideas and content intro of about 100 to 150 words. All you have to do is input some vital information, and Writesonic will generate different content ideas and intros for you to choose from.
It also gives you the luxury of editing and tailoring the content to your taste. Here we will highlight some of the features of the Writesonic tool.
Features of Writesonic AI Copywriting Tool
Multi-purpose copies
Bloggers, digital marketers, and other small business owners can use this tool for different purposes. Writing songs can help create ad copies, content ideas, and copies for eCommerce websites. This feature makes it favourable to vast areas of businesses and niches.
Different tools and templates
In the digital space, Writesonic can also help YouTube channels with titles, script templates, and many other services. With Writesonic, you can also generate a food landing page that will increase your leads.
An amazing fact about Writesonic is that it gives you up to 5 variations of your content. This will ensure that you have the right and suitable content for whatever purpose you are willing to achieve.
Pros And Cons Of Writesonic
Pros
With Writesonic, you get a 7-days money-back guarantee
They are a free trial available
Writesonic is cheaper to subscribe to
It has a user-friendly interface
Writesonic can assist writers in avoiding the familiar foe of 'writer's block.'
Cons
It does not do well when it comes to deeply researched content. This is also the case for many other artificial intelligence tools.
You cannot excel when you need to write about topics that are not popular.
The Writesonic tool works on a credit basis model; this is used to complete different tasks.
For instance, you will need one credit if you want to write a Google ad copy. For a blog post, 1-7 credits are required, and so on. If you upgrade to the paid version, you will receive several credits depending on the plan.
As we said earlier, the Writesonic tool is affordable compared to other Jasper.ai alternatives. The starter plan costs only $11.60/month, including 75 credits and some basic features.
For the business plan, you will pay $39 per month, and it comes with 150 credits with some advanced features.
Lastly, the business plan costs about $199.60 monthly, giving you 1200 credits.
Before you join any of these versions, you should try the free version. This will help you evaluate the tool and decide if it fits your purposes best.
CopySmith is also an excellent alternative to the Jasper.ai copywriting tool. This tool effectively provides product descriptions, email copies, and many other similar tasks.
Copysmith is a good software for marketing agencies, bloggers, freelancers, and eCommerce websites looking to produce content.
There are so many features that Copysmith has, and we will highlight some of its key features below.
Features of Copysmith.ai
Templates
The Copysmith tool has a lot of awesome templates as it offers over 20 of them each in marketing, Instagram, LinkedIn, and Google. All you have to do is; type in your keywords and briefly describe your product. Copysmith will handle the rest of the job for you within a few seconds.
Blog Post Generator
Copysmith is capable of producing an engaging article for your blog posts. This feature helps bloggers generate grammar error-free and plagiarism-free content. With just a few keywords and a short introduction, Copysmith will generate a blog post for you.
Google Chrome Extension
Easy access to Copysmith is another vital element of this tool. Copysmith can be accessed through your chrome webpage.
You can do this by downloading an extension on your Chrome browser.
Pros & Cons Of Copysmith
Pros
Below are some of the strong sides of the Copysmith tool
Copysmith has an easy user interface and is easily navigable
Uses Google Firebase to protect users' information
A quick customer support team that you can easily reach via Facebook or Email
Cons
A notable weak link of this Copysmith tool is that;
Copysmith cannot effectively create a long-form blog post
Pricing
The starter plan of Copysmith comes for as low as $19 per month.
The professional cost $59 per.
The Enterprise plan costs $499 per month.
These plans come with some discount if you subscribe annually instead of monthly.
Rytr is another top-notch artificial intelligence content creator and copywriting tool that helps ease creating content.
With Rytr, you get to save time, money, and effort as it helps you complete tasks that you would have spent on hiring people.
Features of Rytr
Below are some of the unique features of this copywriting tool
Tones
The tones of a language are fundamental in creating content as they help to speak effectively to various types of audiences. This is one unique attribute that Rytr thrives with very well. With over 20 language tones, you can create content that reaches the reader's emotions and engage them in reading more.
If you want your piece to be humorous, humble, formal, informative, passionate, and casual, Rytr can do the job.
Templates
Rytr has a lot of different templates that can solve your content creation problems. Emails, Sales copies, blog posts, and other writing tasks can be completed in no time.
This software can also create interview questions for you if you want to interview a group of candidates. You must enter the interviewee's biography, and Rytr will generate questions from the details in the candidate's bio. Cool, isn't it?
Customer Support
Rytr offers an excellent and responsive customer support team via Email. You can also chat with customer support personnel if you have any issues with the tool.
In addition, Rytr has an active online community where you can get information. Rtyr also has a Resource and guide page to get informed answers on FAQ (frequently asked questions.
Affiliate Program
Rytr offers referral links to its users, and its commission rate is very high compared to other tools. With Rytr, you get a commission of 30% whenever a new user purchases the tool with your referral links.
Pros & Cons Of Rytr
Pros
Some of the strong sides of the Rytr copywriting tool include;
It has a good user Interface
It supports close to 30 languages
quick response support team via Email and live chat.
Inbuilt grammar and plagiarism checker
Amazing landing page templates
Magic command tool
60-day refund policy
Cons
On the other hand, this tool could be found wanting in the following ways;
Its credit system offers only 50 000 characters per month, which could sometimes be limiting.
Limited input options when writing SEO meta descriptions
Blog intro not available
inconsistencies in the use of language tones
Pricing
Rytr has a monthly subscription of $29 per month, and this paid subscription offers unlimited characters. There is also a free version where you can get up to 5 000 and 50 000 characters per month, but it is pretty limited.
Snazzy.ai is another tool that automatically generates unique content or copy. Just like other AI software, you must put some details or descriptions in the Snazzy tool and watch it generate content for you.
So, what does snazzy.ai offer? In the next paragraph, I will give some key features of the Snazzy.ai software.
Features of Snazzy.ai
Here, we have highlighted some of the critical features of this tool
i). Landing Page Copy
Snazzy has unique qualities capable of generating a landing page for your products. You can also be assured of a remarkable landing page headline, landing page copy, and descriptions.
With Snazzy.ai, you will get a good landing page and templates of a landing page builder.
ii). Content Expander
This feature of Snazzy helps you specify the direction of your content. Just as the name implies, 'content expander' allows you to give a summary of the content you want to create. This will help the software understand the tone and direction of the type of content you want.
You can use Snazzy.ai to create blog post intros, landing pages, and product descriptions.
iii). Content Templates
Snazzy has many other content templates you can use for various writing styles. It has close to 30 templates that are all effective for different purposes.
Email copies, Google ads copies, website copies, etc., are some of the content templates available on Snazzy.
Other notable features of Snazzy.ai include the Remix feature (paraphrasing), Chrome extension ( login from your web browser page), Training course, and excellent customer support services.
Pros & Cons Of Snazzy.ai
Pros
Snazzy offers some special and amazing unique attributes, which we have listed below;
Offers a free plan
Chrome Extension feature, which allows you to use the tool on Google docs and WordPress.
A built-in paraphrasing tool
A friendly UI (User Interface)
Cons
Snazzy.ai comes short in the following ways;
Only six languages are available, which is very small compared to other tools of its kind.
No plagiarism checker
Cannot effectively create a long-form article or a full-blown blog post article
Pricing
Although Snazzy has a free plan, it also offers a monthly plan if you want more access to the features. The paid subscription costs $49 per month with advanced features compared to the free plan.
6. Automatic Scrip
The automatic script is another excellent software for generating sales copies and copywriting content. This tool has many sales writing formulas that you can utilize to generate different types of content.
These writing formulas can be used to create many copywriting contents, including; Letters, headlines, Facebook ad copies, Call to action, testimonials and reviews, Email subject lines, and Email series or campaigns.
Features of Automatic script
some of the notable features of Automatic scripts are;
A prompt call to action that increases your conversion rate
Creates full-blown Email series and campaigns
Facebook Ads copy and Google Ads copy
creates sales letters and testimonials
Pros
Some of the advantages of Automatic scripts are as follows;
Provides resource and guide pages
Easy-to-use Interface
You can create a script template to add to the already available content templates.
Available training videos on how to use the tool
Cons
The automatic script AI copywriting tool also has some shortcomings, which include;
This tool might be expensive as the least price is $39 per month
Your scripts can sound all too familiar to other copywriters
Pricing
The automatic script has two plans; the standard and enterprise plans. The standard plan costs $39 per month. However, you can get it for $20 if you subscribe for a year.
On the other hand, the enterprise plan is $69 per month and $20/per month for annual subscriptions.
7. Closercopy
Closercopy is also another good alternative to the Jasper.ai copywriting tool. This tool generates original and compelling sales copies that can be used for different purposes.
Closercopy also features many templates and other packages like; over 1 000 power words lookup, step-by-step copy wizard, and so on.
Features of Closercopy
Here are some of the notable features of Closercopy;
The Megatron feature helps you create long-form content, just like the Jasper.ai copywriting tool. This feature is notable because not all AI tools are capable of this.
With Closercopy, you can effectively create full-blown content that reaches up to 3 000 characters in one run. You can also edit the heading outlines in the content and tailor it to your taste.
With over 24 languages available, Closercopy can create content in different languages with the same quality. So, if you are looking to generate content in Bulgarian, Finnish, Dutch, German, and many other languages, Closercopy is a good fit.
Closercopy offers a variety of templates with different expressions, styles, and tones. These templates can quickly generate a persuasive copy for your product and services.
Pros
Here are some good sides of the Closercopy copywriting tool;
You get a 30-day money-back guarantee
Annual plans come with a discounted price
Designed Emails and scripts
Cons
A notable weak link of this tool is that;
Its artificial intelligence is not very efficient
Pricing
The freelance plan is available at $39.99 per month, while the Professional plan costs $49.99 monthly.
Closercopy also has a lifetime deal which is a better package if you do not want the monthly subscription.
Closercopy Lifetime Deal
This plan gives you access to unlimited features of the Closercopy software alongside unlimited access for life.
The professional deal is $97 ( no monthly charges required). On the other hand, the Unlimited plan costs $167 with no other monthly costs.
It is important to note that the Closercopy lifetime deal is only available for a limited period.
8. Peppertype AI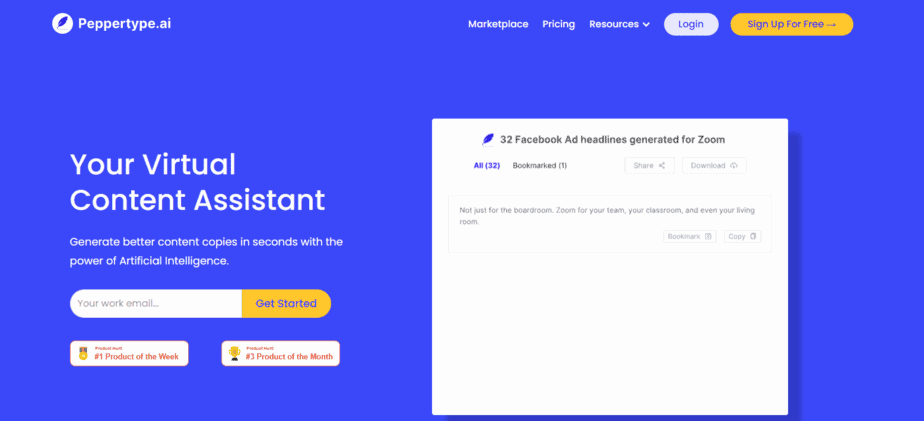 Features of Peppertype AI
There are lots of unique features that Peppertype AI offers, and we are going to highlight them below;
Different templates available on this tool are suitable for various use cases. The templates you can access with Peppertype include Copywriting frameworks, Social media content, Content marketing, Emails, eCommerce, and others.
AI Writing Assistant Features
with AI writing assistant features; you can get sentence formatting, engagement metrics, and sentence rephraser.
Pros And Cons Of Peppertype
Pros
Below are some of the good attributes of this tool;
Easy-to-use Interface
You can save the copies created
Regular Notification of updates
Generates content for blogs, Facebook, and SEO meta description
Cons
Peppertype AI has some shortcomings, including;
A free version is unavailable
Offers fewer templates
It sometimes provides vague suggestions
Pricing
The price for the Peppertype AI is $25 per month. Although they do not offer a free version, a free trial is available.
9. Headlime
Headlime copywriting tools help you generate a vast range of content like blog posts and social media content. Captions, and even articles. This tool makes your work cost-efficient as it saves time and money. If you are looking for an alternative to Jasper.ai, Headlime could be your answer.
Headlime uses AI to interpret input and generate contents that look as though humans did it. There are a lot of unique features that this tool has, and we will talk about them in the next paragraph.
Features of Headlime
Below are some of the features of Headlime
AI Blog Writing Assistant
This feature of the tool can help you write blog posts very quickly. All you have to do is enter some information, and Headlime will do the rest. You will also get a good introductory paragraph and headlines when Headlime generates your blog posts.
Headlime has awesome templates, which include a landing page. These templates help you structure how you want to make your landing page. If you want to generate a landing page for your business, you can do this with Headlime's page builder.
This feature helps in creating content like books and whitepapers. All you have to do is provide the information to Headlime, which will handle the rest.
This tool is also very suitable for companies that work with a team. With Headlime, you can assign different tasks to a team and generate content as a group.
Other features of this tool include; Multi-lingual ( accepts 11 languages) and content creation for CSV files.
Pros And Cons Of Headlime
Pros
The advantages of the Headlime copywriting tool include the following;
Easy to use

has a lot of templates

Content generation from CSV files

Good documentation and help centre
Cons
Headlime copywriting tool is found wanting in some attributes, which include;
Its AI is not perfect

There is no API integration
Pricing
Headlime has a 7-day free trial; you can easily cancel it if you are not interested. However, the paid version offers access to a lot of advanced features.
The pro plan is available at only $29 per month with access to unlimited templates and 500 credits; The Business plan goes for $49 per month with 1250 credits with lots of templates.
The Agency plan is available for $89 per month. You also get 3 000 credits for this plan and permission to add up to five members. However, you will need to pay an extra $15 for each member.
10. Zyro AI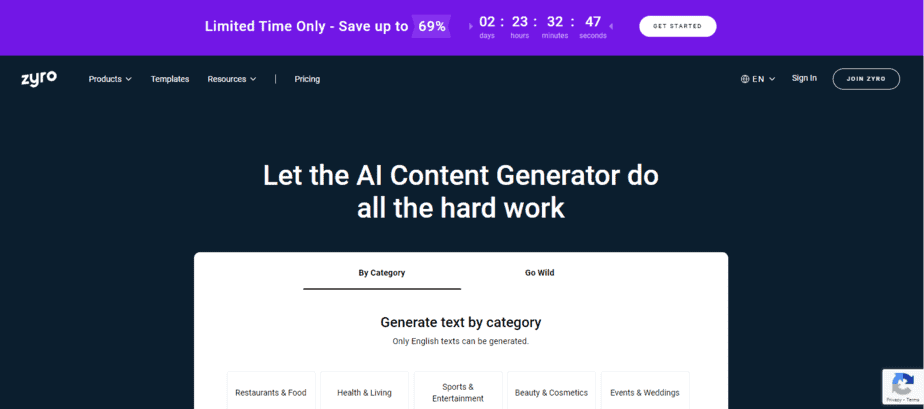 This is another solid alternative for the Jasper.ai tool. Zyro is an effective copywriting tool that generates high converting content for your businesses and brands.
One good thing about Zyro AI is its ability to generate SEO-friendly copies that describe your products or services.
Features of Zyro AI
The Zyro AI tool has an in-built website builder tool to help you build your business website from scratch. It has a fantastic template that would help you guide any website without coding experience. With Zyro website builder, you can also access some brand and marketing tools.
Zyro AI content generator is a fantastic feature of this tool as you can quickly generate content. You will also get the luxury of generating SEO-optimized content that will rank on search engines and eventually get organic traffic.
Pros And Cons Of Zyro
Pros
It is very affordable
It generates SEO-friendly content
It saves time and money
Cons
AI Software is not perfect
Pricing
Zyro AI is the only tool available for free, as you do not need to sign up to access the software. This tool is suitable for start-ups with an insufficient budget for paid tools.
Conclusion
Here are our top 10 picks for Jasper Ai alternatives. We hope this list will give you some new ideas on how to improve your copywriting job and provide solutions that meet your needs. Which of these have you tried? Let us know in the comments below!
Jasper Al doesn't have any free version. Instead, you can only get a free 10,000-word trial.
Yes, Jasper AI was formerly known as Jarvis AI. Therefore, they are the same.