10 Best Free Text To Speech Software With Natural Voices
Are you looking for the Best Free Text To Speech Software With Natural Voices in 2023? Well, the search is over!
In this article, I will give you a list of the top 10 best free texts to speech software online that you can use on both desktop and mobile devices.
If you're like me, you probably have a bunch of audiobooks in your library. I know I do! I sometimes don't have time to read all the books I have collected. So I like to listen to them in audio versions.
Well, if that sounds familiar, then let me tell you about free online Text-to-Speech generators platform.
What is Text To Speech Software?
As the name suggests, Text To Speech software is a tool powered by Artificial Intelligence (AI) to convert text into natural-sounding speech. This way you can Listen to your eBooks or any other piece of writing without having to read it yourself.
The best part about this Text-to-Speech software is that some are online and available for free, that is you can access it with any device. And some even come with additional features like the sound studio to merge and enhance audio results, custom pronunciation, playback speed, etc.
So basically, you can feed any text document to this software and they will read it out loud for you!
Text to speech apps is a great way to create voiceovers for your videos and presentations. They can also be used as an educational tool, where students can input their texts and hear them spoken back in a voice that sounds like a real person.
Teachers can use this software to help students with reading difficulties or learning disabilities.
Students can use them to practice pronunciation while they're learning a new language or as part of a project such as a narration or presentation where they have to read from prepared notes rather than speaking off the cuff.
Businesses and other organizations can use text-to-speech software for their own presentations, including sales pitches and training videos for employees who aren't available at all times (like those working from home).
Text-to-speech generators are pretty cool because they've made it easier than ever before to convert texts into speech.
Instead of having to record large amounts of voice samples, these tools can now do it all for you right on your computer or mobile device.
So if you're looking for an easy way to get started with converting your favourite books into audiobooks without having to record them yourself check out the best 10 texts to speech software (TTS) below.
10 Best Free Text to Speech Software With Natural Voices
While there may be many free text to speech online on the today's market, there are several that stand out from the crowd with a natural sounding voices. Here are the Best free text to speech online?
Voiceley is one of the Best Free Text To Speech Software Online With Natural Voices you can find today. If you need a text-to-speech converter for different purposes, Voiceley comes as a handy tool.
This AI-powered software creates over +840 realistic voices across +135 languages & dialects. Whether you want to convert a text to a voice or add a voice to a video sales letter, Voiceley.com is an efficient tool.
Voiceley is powered by Google, IBM, Amazon, and Microsoft. They also come with a lot of other unique features. These include;
Over 135+ languages and accents: Voiceley can generate great text to speech in over 70 languages and accents using AI-powered software.
Over 840+ realistic voices: You can pick from Voiceley's library and get access to human-like text-to-speech voices.
Various Audio Formats: Voiceley allows you to generate text to audio speech and download them in different formats, including MP3 and WAV formats.
Voice Effects: The voice effects and customization tools are also fantastic. You can edit the voice by adjusting the speed, volume, pronunciations, pitch, and even the tone of the speech.
Powerful Sound Studio: Voiceley TTS allows you to merge and enhance audio results. You can add background music, sound effects, and more to your recordings. It's like having a whole studio at your fingertips—and it's FREE!
The amazing and efficient features that come in handy with Voiceley make it stand out from the others. Also, it is affordable to purchase.  Its pricing is between $15 and $30.
2. WellSaidLab
WellSaidLabis an online text-to-speech platform that allows you to create voiceovers for all your digital content. With it, you can create a voiceover for any text in less than a minute.
It's simple: just copy and paste the text you want to read, upload it, and then pick a voice from WellSaid's library of over 24 languages. You can even add effects like "echo," "louder," or "softer" if you want!
Once you've finished editing your voiceover, you can share it on Facebook or Twitter for all to hear.
With WellSaid, you and your team can create voiceovers for all your digital content—quickly and easily.
Features:
Build a phonetic library
Export your library to WAV files or MP3s
Create a list of words and phrases for easy access
Share your phonetic library with your team
WellSaidLab is a platform that connects you with the best live chat agents. The pricing is very expensive ranging from $49/mo to $199. This pricing is not for everyone. But, if you are looking for a more professional and personalized experience, then this is the right product for you!
3. Murf.ai
Murf.ai is another amazing voice-over generator that comes with studio-quality and human-like voices. It is also suitable for use in professional applications. This software offers over 100 unique voices in 15 languages.
They also have an integrated grammar assistant that edits your scripts. Murf.ai can also help you customize videos, audio, and images.
Below are some of the features of this tool;
Generates human-like and natural-sounding voice-overs
A subscription gives you access to their voice library
Online team collaboration
The prices of this tool come at $13, $26, and $83 for the basic professional and enterprise packages, respectively.
4. Play.ht
Play.ht is a web-based voice generation software. One of the attributes that make it stand out is its user-friendly interface. This tool is easy to use as you can easily access it on your web page.
On the home page, users can find a textbox where they can fill in their text, language, gender, voice style, and speed. The software then generates a natural voice-over with the details you enter.
With over 500 voices across 60 languages, play.ht is undoubtedly one of the best voice-over generator software.
Some of its major features are;
Allows users to customize their voices with many options
You can also preview the voice styles and the speech style
5. Lovo.ai
Lovo AI is a new text-to-speech service that allows you to use your own voice for anything: making an audiobook, creating a voice for your business, or even just recording yourself reading a bedtime story for your kids.
Lovo AI can clone your voice in just minutes, so you don't have to worry about syncing up audio files or editing them together. Just download the app, record yourself saying something once, and use that recording forever—no more worrying about getting the right recording!
Lovo AI also has a marketplace where you can buy and sell custom voices created by other users. This means you can search for an AI voice that has your exact voice characteristics—or just listen to samples of all the different options available!
If you're looking for something even more unique than what's already available on Lovo AI's marketplace, we offer custom voices made from scratch with our expert team of sound engineers.
You'll have access to premium voices from top voice actors around the world. And all of this comes at an affordable price: $34.99 USD per month for unlimited conversion and listening, or $49 USD per month for unlimited conversion and listening plus premium voices.
5. Resemble.ai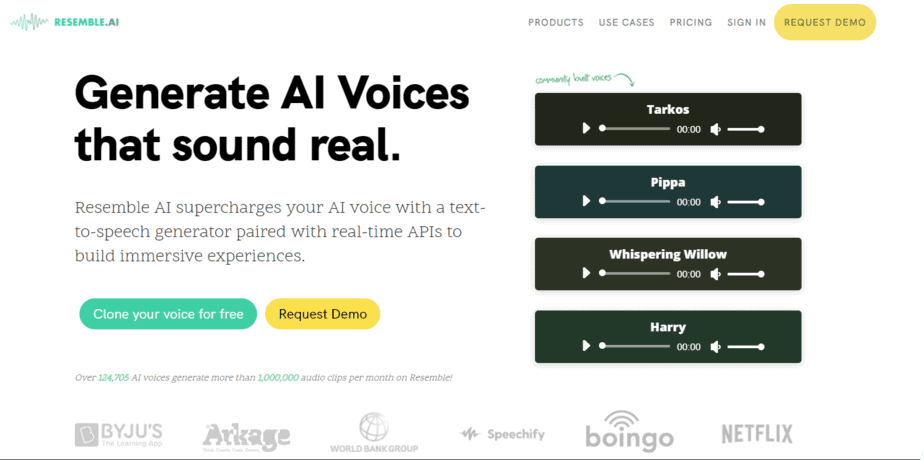 Resemble AI is the best way to create dynamic, iterable, and unique voices that can be generated in real-time.
With this text-to-speech generator paired with real-time APIs, you can supercharge your AI voice with a deep learning clone of any voice. You can also create new clips and even build voices on the fly.
Resemble AI makes it easy to build production-ready integrations with modern tools. Use Resemble's Custom Voice API to fetch existing content, create new clips and even build voices on the fly.
This software gives users four options to craft voices. So, you can generate using any of the following ways;
API
Recording samples
Pick from their list of voice over actors
Upload raw audio files.
With some of the best features for commercial services like advertisements, Resemble.ai costs just $30 per month.
6. Voicebooking
Voicebooking is another excellent voice to audio software that allows you customizable features. Users can change the speed and pitch of the voices and also apply some other amazing effects. A good advantage of this tool is that it offers a free version where you can get a free trial.
Although the free version is amazing, purchasing the tool comes with better features. Subscribing gives users access to over 300 voices across 60 languages.
The pricing is available depending on the packages or voice over a generation. You can find their voice over rates here.
7. Voiceovermaker.io
Are you a Youtube video creator? Then this video is suitable for you. Voiceovermaker is another fantastic software that can help you perform different voice generation tasks, from video editing to TTS (text-to-speech).
This software also allows you to edit a video if you want to use the voice-over. Additionally, you can get about 600 human-like voices across 30 languages and accents.
Although their paid versions offer more features, the free plan is also handy for text-to-speech.
8. Text2voice Over
Text2voiceover is a great software that helps you convert text into audio files automatically. You can edit and download the file clips even with a free plan.
Generating a voice over with this software is one of the easiest, as you can generate voice-over files individually. However, the paid version can offer features such as merging and editing the voices into videos.
With as low as $3, you can enjoy full access to Text2voiceover.  And this feature includes 15 voices across 13 languages.
9. Natural Reader
Natural reader online is among the best and most simple voice-over tools. It is available on your chrome extension to access the software on a webpage.
This tool is also affordable as it provides users with a free plan. Although the paid version gives you complete access to their features, the free one has some limitations.
100 voices in 16 languages are certainly a good number many users would want to utilize. So, you can explore the different pricing and packages they offer.
The use of voice-over generators cannot be overemphasized. The voice-over generators we have discussed reveal this software with various features. There is another handy voice over software that you can explore, but these are some of the best.
Why Should I Use a Text To Speech?
Although people with disabilities mostly use this software, businesses are now leveraging it for various purposes.
Voice-over software can help you create content ideas with hundreds of libraries.
An AI voice over generator also eases the time, money, and stress of getting voice-over actors. One of the amazing features of this technology is how fast it can execute the TTS action.
So, it is important for various reasons why using a voice-over generator is a valuable decision.
Conclusion
Voice over software has become very popular in the last few years. The Versatility of the tools for different purposes has seen different software built to carry out similar activities. These tools have found their way into helping advertisers, Youtube content creators, and e-learning platforms.
The list in this article contains some of the best voice over generators you could have today. Voiceley, the number one on the list, is one unique software you should not overlook. Powered by AI, it supports the best voices on Google, IBM, Amazon, and Microsoft. Other software on this list also comes in handy with their amazing features and pricing.
Found this article helpful? Please share it with your friends and families.