LongtailPro Reviews & Pricing 2023: Best Keyword research tool
LongtailPro Review and pricing 2023: This is my honest review of the Longtail Pro long-tail keyword research tool.
Keyword research is pivotal to any SEO (Search Engine Optimization) strategy. It allows you to drive more traffic to your site and, therefore, more revenue. It was previously a tedious process because it has to be done manually, but now it has been made a lot easier by using some automated tools.
One of the most exciting of these automated systems is Long Tail Pro. But is it worth buying? What are its features?
Here is an in-depth LongTailPro review; I cover everything you need to know about LongtailPro, including the pros and cons.
LongTailPro Review
LongTailPro is an automatic keyword research tool that you can use to find profitable niche keywords. Since its launch in 2011, it has been consistently improved and is now used by many website owners to find the perfect keywords that rank well, drive traffic, and generate higher revenue. You can use it on both Windows and Mac operating systems as it runs on Adobe Air.
It covers the entire spectrum of users on the SEO proficiency scale, from those who have no idea what it is to the experts. That allows it to be as helpful to a user running a full-fledged website as it is to a person thinking of starting a niche website.
It does all the heavy lifting so that a website owner can focus on the other aspects of the business.
LongtailPro Pricing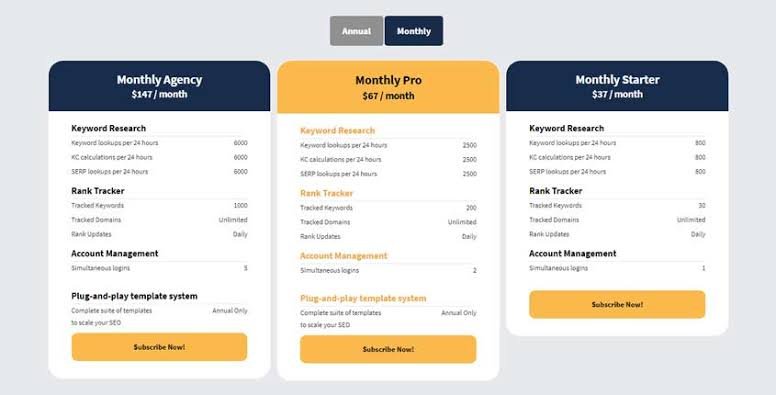 A deal-breaker when it comes to most optional online tools for website owners is pricing. Luckily, LongTailPro seems to have the perfect pricing.
It might not be the cheapest tool you will find out there, but it is worth every penny. There are three plans you can pick from, which are billed monthly:
LTP Monthly Starter: $37 per month
LTP Monthly Pro: $67 per month
LTP Monthly Agency: 147 per month
You can also opt for the annual plans, which enable you to pay less as follows:
Annual Starter: $25/month
Annual Pro: $45/month
Annual Agency: 98/month
The plans come with a ten-day money-back guarantee so that you get refunded just in case you don't like the tool.
You can also enjoy a 30% discount on the Monthly Starter and Monthly Pro packages.
There is also a 7-day free trial that you can use to assess if the keyword research tool will work for you.
Features Of LongTailPro
One of the outstanding features of this tool is the array of features that it offers. These features include the following:
Use of seed keywords to generate niche keywords.
Importing of keywords to LongTailPro
Ability to export keywords in an Excel Spreadsheet
Handle different campaigns for different websites
Longtail high-CPC keywords finding
Search engine ranking of the keyword on Google, Yahoo, and Bing
Keyword competition checker
Find niche keyword domain names available
Ability to favorite best keywords
As you can see, the extent of features gives it value for money.
Among the most outstanding of these features are the Keyword competitiveness and the keyword rank checker features.
They are the real game-changers that will enable you to work your way to the top. They are the secret tools to industry leadership in your niche.
Keyword Competitiveness Checker
Having the right keyword is not enough; how many other sites are using the same word matters.
LongTailPro gives the average keyword competitiveness (Avg. KC) to pick the ultimate keyword for your website.
The average KC ranges from 0 to 100, with 0 being the lowest competition while 100 stands for the most extreme competition. It will be easier to rank higher with a keyword with a lower competition than a higher one.
Keyword Rank Checker
Search engines allow customers to search for a particular service or information to find the most suitable sites at the top. They decide which sites come at the top through keyword ranking that based on a set of algorithms.
LongTailPro has a keyword rank checker to establish your keyword ranking on major search engines like Google, Yahoo, and Bing. You can, therefore, find the words that will rank higher and enable your site to be more visible.
How to Use LongTailPro Keyword Tool
Designing this tool took into consideration that users don't have all the time in the world and therefore made it straightforward. It has an intuitive user interface that is easy to use. Here is how you get to use the tool for your optimization strategy.
Click on start a new project and enter the seed keyword.
Filter keywords based on CPC in the filter section where you specify minimum and maximum CPC.
Select the Words section and input the number of words to search in case you need to find long-tail keywords.
Click the 'Generate Keywords' button, and you have the results.
Sort your results either by CPC, local or global searches
Filter out irrelevant results by clicking on the X.
Click on the keyword of choice, which leads you to the Competitor Analysis Page.
Click on 'Export' to export the results into an Excel file.
You can use unique features like keyword competitiveness by checking the Avg. KC column on either Keyword Research or the Competitor Analysis pages.
You can also favorite the keywords you like from the results, which will then show up under 'Favorites.'
Longtail Pro Review (Pros and Cons)
It's challenging to find the perfect system when doing your keyword research. Every tool will have its good and bad points. I do my best to discover these issues. Keep in mind, the pros and cons of the Longtail Pro keyword research tool are based on my personal experience and expertise. These may or may not be points of interest to you as an individual.
Pros
Get bulk keyword suggestions.
Accurate keyword rank checker.
Excellent Keyword Competitiveness score.
It has a competitor analysis feature which is vital in understanding your competition
Affordable plans which offer value for money
Easy to use
Great customer service
History of proven results
Cons
A lower limit on manual keyword input
A lower limit on seed keywords
Conclusion
Overall, LongTailPro is quite a powerful keyword research tool whose functionality and ease beats most of the other tools available today.
It allows you to find profitable keywords by giving you the perfect keywords whose competitiveness and search engine rank can transform your business.
There are a lot of features at your disposal, and judging by the number of users who have successfully used them to grow their businesses, it is worth buying.
The pricing may be higher than some of the tools available today, but the results are worth it. You can access a 7-day free trial or a 10-day money-back guarantee on all plans to find out if it works for you.