Swagbucks Review 2023: Is it legit, are they Paying?
Are you considering increasing your passive income? Swagbucks is only one of several options.
The internet is rife with offers that promise to make anyone wealthy and famous. Many of these are scams, and it can be very consuming to comb through the tens of thousands of websites, sign up, and figure out which ones pay you and which ones don't.
Swagbucks is similar to other well-known paid survey sites worth your time, such as Survey Junkie, Inbox Dollars, Daily Rewards, Pinecone Research, etc.
Note: This Swagbucks review addresses the most common concerns that new users have, such as whether Swagbucks is secure, legitimate, or a scam; how it works, whether it is free; and how much you can earn using Swagbucks.
Continue reading to learn how to make money with Swagbucks by monetizing your spare time.
The Content of This Article Includes The Following: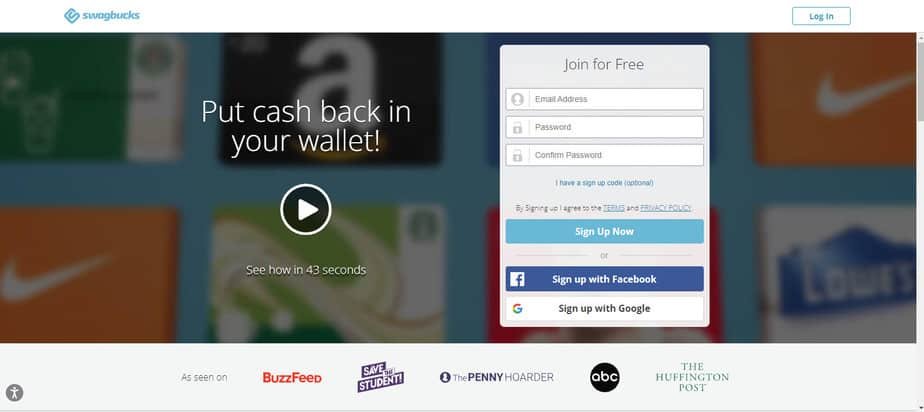 What is Swagbucks?
Swagbucks is one of the most well-known and cost-free online rewards programs available. When users sign up, they earn digital points for doing easy activities. Swagbucks, or SB, are rewards that may be redeemed for various gift cards or cashed out through Paypal.
Swagbucks is a website that rewards users for performing simple online chores such as exploring the web, watching videos, and taking paid surveys. Since 2005, Swagbucks has been a subsidiary of Prodege, LLC. MyPoints and ShopAtHome are two of Prodege's other brands that you're surely familiar with.
Swagbucks has gained in popularity for a reason: they are a reputable company that has given out over $575 million in rewards to its users as of July 2022. Members receive an average of 7,000 gift cards per year, according to its website.
How to Sign-up for Swagbucks
It's simple to sign up for a Swagbucks account. This link is directed to Swagbucks sign-up page:
Fill in the blanks on the registration form. It's simple and quick, and you'll be earning SB points in no time!
How Swagbucks App Work?
You can start collecting Swagbucks after signing up for a Swagbucks account via the mobile app or Swagbucks.com (SB).
There are two ways to redeem these points:
1. PayPal:
Swagbucks can be deposited as cash into your PayPal account, which you can then use to shop online almost anyplace, or it can be transferred to a checking account (PayPal will charge a transfer fee).
2. Gift Cards:
Swagbucks can be redeemed for Amazon gift cards, Visa gift cards, or gift cards to popular merchants such as Target, Starbucks, Walmart, Home Depot, Old Navy, Kohl's, etc.
Swagbucks allows users as young as 13 to start earning points, but most competitors demand users to be at least 18. When you sign up here, you'll also earn a $20 bonus:
Ways to Redeem Your Swagbucks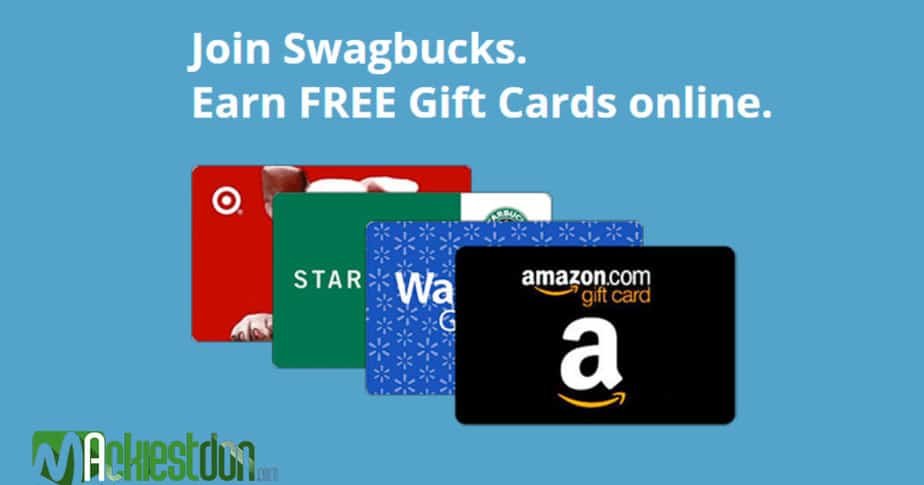 When it comes to redeeming your SB points, you have two options:
You may exchange your points for gift cards at major merchants like Amazon, Walmart, and others. The gift cards are available in various values (small and large) and make it simple to redeem points regularly.
You can exchange your SB points for cash and have the funds transferred to you via Paypal.
Save The Children, Wounded Warrior Project, Doctors Without Borders, and UNICEF are charities to whom SBs can be donated.
Gift cards are frequently discounted, so you might get even more bang for your buck. 2,500 SB, for example, is equal to $25. However, they frequently provide a discount, so 2,200 SB will get you a $25 gift card at a 20% discount!
Legit Ways on How to Make Money with Swagbucks
Swagbucks (SBs) can be earned in various methods, providing you with the freedom to choose which ones you want at any given time. These are some of them:
1. Watch Videos:
You can earn SB points by watching videos at your leisure. These movies cover various topics, including food, politics, health, movie trailers, and more. The points awarded aren't as exciting, but that's not a big concern because you can let the videos play while you do other things.
2. Contests
There are always ways to get additional SB points. Contests (Swago), Spin and Win, and sweepstakes (Swagstakes) give up to 25,000 SBs.
Swag Codes, which are occasionally accessible on their website and social media pages, can also gain SB points.
3. Play Games on Swagbucks
If you enjoy playing games, you can do it on Swagbucks while earning points. Swagasaurus Run, Swag Jump, and Swag Memory are all free Swagbucks games.
In-game purchases are available in other games. If you typically play or pay for these games (via Game Show Network), you can earn extra SBs with Swagbucks for every dollar you spend.
Super Plinko, Tetris Burst, Dynomite, Bejeweled Blitz, Wheel of Fortune, Solitaire Rush, Bingo Bash, and other games. When there are so many free options, I prefer not to pay for games.
4. Answer Surveys
Swagbucks has a plethora of polls and surveys where you can voice your thoughts while earning SB points. These surveys differ in the amount of time they take and the amount of SB they supply.
5. Search the Web
You can earn SB points just by going online and conducting your normal browsing. Use Swagbucks (powered by Yahoo!) as your search engine to earn SBs.
6. SB Answer Receipts
You can earn SB points by using the SB Answer app to upload images of your supermarket receipts. Earn 2 SB with each new grocery receipt from stores including Walmart, Shopper Drug Mart, Applebee's, Best Buy, CVS, Burger King, and more.
7. Shop Online Through Swagbucks
When you shop at your favourite online merchants, such as Amazon, Walmart, Target, Macy's, Sephora, and many more, Swagbucks will reward you with SB points.
The monetary rebates you get in points (i.e. SBs for every $1 you spend) might be as high as 25%. You must access the retailer through the Swagbucks website to earn SB points for shopping.
8. Earn money by referring Swagbucks to your friends.
Referring friends and relatives to Swagbucks using the personalized referral link they send you when you join up is a terrific way to boost your SB points.
9. Offers and Deals
Swagbucks provides an area where you can look through all of their partners' discounts and offers. If you come across an offer on a product you were planning to buy anyway; you can earn free SB points.
When you sign up for the Scotia Momentum Visa Infinite Card through Swagbucks, for example, you will receive 4,500 SBs.
10. Buy Gift Cards
Swagbucks owns MyGiftCardsPlus, and when you buy standard gift cards from them, you earn SB points, which may then be redeemed as usual. Gift cards can earn you up to 30% in rewards!
11. Swag IQ
Swagbucks owns Swag IQ, a live trivia game app. Brands may engage with a player base of over 50,000 by using the app. Players have presented trivia questions, and if they correctly answer all of them, they are entered to win the grand prize.
Is Swagbucks legit and Safe?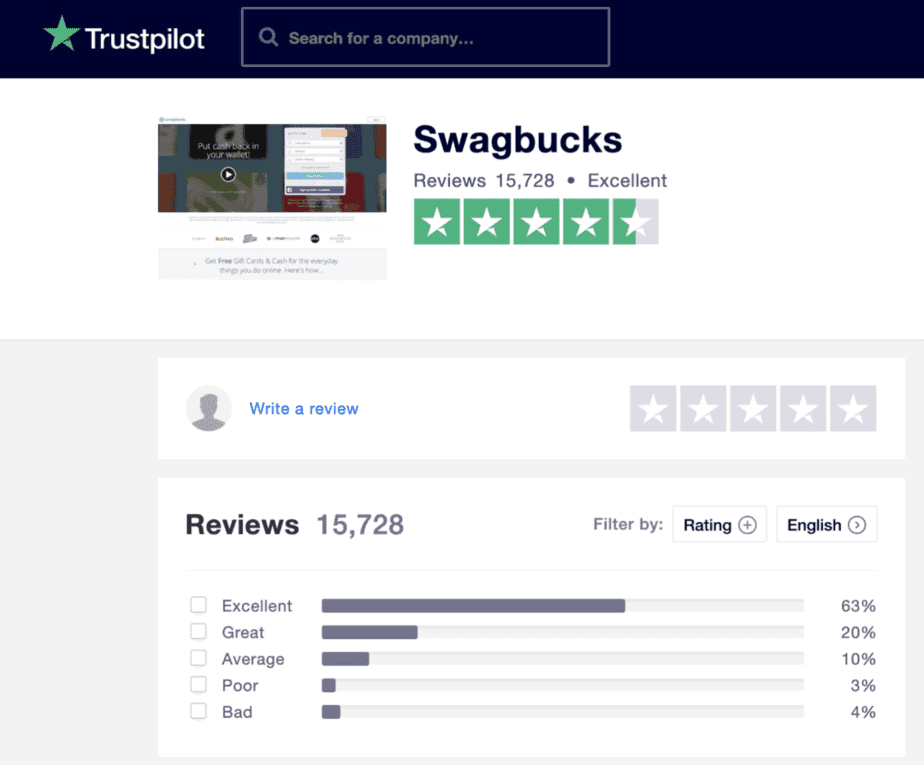 "Yes!" is the short answer.
Swagbucks is a legitimate company that has given out over $500 million in rewards to its users. On, where they have an 8.4 Trust Score, you can read thousands of evaluations from other people. The Better Business Bureau has given Swagbucks an A+ rating.
Some may believe it to be too good to be true. They are perplexed about how you may earn free money or a free Visa or Amazon gift card simply by shopping, conducting surveys, or viewing videos.
Yes, this concept contradicts our long-held beliefs about exchanging our time and abilities for money.
The following are some of the reasons it is effective: When you see an ad or are driven to an online shopping site and make a purchase, money exchanges hands all the time online. Swagbucks gives you a portion of their earnings.
Swagbucks is a legitimate way to earn money online while also saving money when shopping. (It's just not a lucrative method to generate money online.)
Swagbucks also offers a customer support section that responds to questions via the Activity Ledger ticketing system. Anticipate a 10-day average response time from Swagbucks, so don't expect a speedy response.
If you're ever unsure whether anything is a scam, ask yourself this question: Does it need you to part with any of your own money, for any reason, before you may join? If that's the case, it's almost certainly a con.
Swagbucks may be joined for free by anyone with an email account. Therefore it passes the scam test!
Swagbucks Reviews (Pros & Cons)
Swagbucks users have awarded the site a 4.3/5 trust rating after reviewing it over 16,500 times on Trustpilot. The site has an A+ rating with the Better Business Bureau.
Swagbucks Pros
Users have listed the following Swagbucks pros:
The website has a good reputation.
Your prizes can be redeemed in a variety of ways.
Payouts are made quickly, and it's a great method to supplement your income.
There are a lot of intriguing surveys on this site.
Gift cards and rewards come at a discount.
Swagbucks Cons
The following are some of the Swagbucks complaints on Trustpilot and the BBB:
They're having trouble resetting their password.
Not being able to participate in a lot of surveys
Bonuses are not being given
Customer assistance is slow.
Account deletion without cause
You can submit a ticket on their website if you have any questions about your account—Monday through Friday, between 9:00 a.m. and 5:00 p.m. Pacific Time, their customer support department, is open.
Read Also: Timebucks Review: Complete Money Making Guide
Alternative Sites & Apps to Swagbucks
It's no secret that Swagbucks is one of the greatest sites for people trying to make some additional money online. It's completely free to join, and members can earn money in a variety of ways.
Furthermore, the tasks you must accomplish on the Swagbucks website are rather routine and require no prior skill or significant effort. Other services pay you to take surveys, watch videos, purchase online, play games, and cruise the internet, similar to Swagbucks.
We've compiled a list of some of the greatest Swagbucks alternatives that we think are worth your time.
1. Opinion Outpost
Opinion Outpost allows you to earn money by participating in surveys in your leisure time. Opinion Outpost is a terrific method to earn incentives, with over 2 million active users and 3 million surveys per month.
Members, who complete surveys, watch video advertising, and test products get paid more than $520,000 per month.
PayPal, iTunes, and Hudson's Bay gift cards are all accepted as payment methods and a Virtual Visa Prepaid card.
The minimum payout is $10.
Canada and the United States have it.
4 out of 5 stars rating
2. Daily Rewards
Daily Rewards is a loyalty program offered by Prodege that pays users actual money for completing surveys, watching movies, and playing games.
PayPal and popular gift cards are accepted as payment alternatives.
The minimum payout is $30.
Canada and the United States have it.
Bonus for registering: $5
4 out of 5 stars rating
3. Pinecone Research
You must have a specific invitation link to join Pinecone Research, making it an elite panel.
Members receive at least $3 for each completed survey, and you can have a significant impact on what items are manufactured and what services are provided by well-known firms. This Pinecone review will tell you everything you need to know.
Payment options include PayPal, check, or Visa. Prepaid credit card
The minimum payout is $3.
Available in Canada and the United States.
4 out of 5 stars rating
4. Harris Poll Online
This market research firm is one of the oldest globally, having been in operation since 1975. The Harris Poll is free to join and admits individuals as young as 13 years old.
When you complete surveys on the site, you will earn points redeemed for various gift cards. They will also pay you to take part in focus groups.
Gift cards are accepted as payment.
The minimum payout is $10.
Canada and the United States are the only countries where this product is available.
4 out of 5 stars
5. Survey Junkie
This service, like Swagbucks, rewards members for sharing their ideas and answering short surveys. Each survey you complete earns between $2 and $50, and you may start earning right away.
Survey Junkie is one of the best reputable survey sites on the internet, with over 10 million members worldwide.
PayPal, Amazon gift cards, and other payment options are available.
The minimum payout is $10.
Canada and the United States are the only countries where this product is available.
7 out of 5 stars
6. LifePoints
This online community has over 5 million members and is similar to Swagbucks. When you sign up for LifePoints, you will receive ten free points and will be able to earn additional points by completing simple surveys.
LifePoints is run by Litespeed, one of the world's top market research and analysis companies. In the last year alone, the site rewarded customers with more than $20 million, and you can learn more about them in this LifePoints review.
PayPal and gift cards are accepted as payment alternatives.
The minimum payout is $10.
Available in Canada and the United States.
10 points as a sign-up bonus
5 out of 5 stars rating
7. Rakuten
Rakuten is not a survey site; nonetheless, it is comparable to Swagbucks regarding online purchases and cashback benefits.
They are linked with over 2,500 businesses, and when you shop online at these stores through the Rakuten website, you can earn up to 30% cashback.
In addition, when you sign up here and make your first $30 purchase on the site, you will receive a welcome bonus of up to $30.
PayPal and checks are accepted as payment methods.
The minimum payout is $5.
Available in Canada and the United States.
$10-$30 as a bonus
8 out of 5 stars rating
8. PrizeRebel
This online market research panel is one of the best sites similar to Swagbucks in many ways. Since 2007, more than 10 million PrizeRebel members have received more than $21 million.
When you take surveys, you earn points that you can quickly exchange for cash or gift cards. More information can be found in this PrizeRebel review.
PayPal, Visa Prepaid Card, and different gift cards are accepted as payment methods.
The minimum payout is $2.
Available in Canada and the United States.
4 out of 5 stars rating
9. Nielsen Homescan
Would you like to get rewarded for scanning barcodes on your food purchases? Consider using the Nielsen Homescan panel.
You get compensated for scanning your shopping purchases with a smartphone app. The information gathered is used for market research, and you will be rewarded.
Nielsen Homescan is only available in Canada; residents of the United States can instead use the Nielsen Mobile Panel.
10. Caddle
The Caddle app is a shopping cashback app that also provides paid surveys and video advertisements.
When you sign up, you will receive weekly offers with 30% off normal food goods. They will also send you brief surveys that you may complete on the app.
A cheque is the payment method.
The minimum payout is $20.
It is available in Canada.
$1 more with coupon code S9EL0HJGVY
4 out of 5 stars rating
These sites are excellent complements to Swagbucks and can help you make extra money in addition to your regular payout. They are all free to join, and once you've mastered Swagbucks, you should try them all out.
How to Gain Swagbucks Gift Cards
There are numerous apps available that will pay you in gift cards or cash. Most of these cashback applications do not pay enough to be considered a part-time job. However, they are particularly useful for augmenting the "fun money" portion of your budget.
These are the simplest methods for earning 100% free Swagbucks gift cards! These are all legitimate, from surveys to reward apps!
Through Branded Surveys
By filling out surveys through the Survey Junkie app
The use of the Drop app to redeem points for free
Using Rakuten to shop online and also to buy Swagbucks gift cards
Is Swagbucks Worth it?
Swagbucks, as previously said, will not make you wealthy. It can, however, become one of many additional sources of passive income you generate every month. It's not possible to string together enough surveys or assignments to provide a consistent stream of cash.
Swagbucks is particularly appealing because it allows you to earn money while doing things you already do, such as browsing the web or making online purchases.
You might spend a few minutes reading about a survey before realizing you don't fit the demographic and hence don't qualify. Or, if you do qualify for a study, it may be full before you begin. Both of these are popular complaints among Swagbucks users. In either case, that's time lost in terms of earning potential.
All of this adds up to a low return on your time investment. You might only make a dollar an hour… or less.
Final Thoughts
There are numerous methods to generate passive income online, and Swagbucks is one feasible alternative for monetizing your spare time.
To get the most out of your time, sign up for multiple "get paid to" and rebate/cashback sites, then narrow your list down to those that work for you.
Other free sites for making extra money online include:
Survey Junkie: One of the greatest paid survey sites in the United States and Canada. Participate in Survey Junkie.
Drop ($5 Bonus): With this app, you will be rewarded with cash for your daily purchases. There is no need for you to put in any effort. Drop can be downloaded.
Daily Rewards ($5 Bonus): Earn money by answering surveys, watching movies, playing games, and shopping online. This Daily Rewards review will tell you everything you need to know.
Rakuten ($10 Bonus): Earn real cashback when you shop online at your favourite stores. Read my in-depth Rakuten Review.
Caddle: Earn cash back on supermarket purchases by completing short surveys and viewing films. Check out my Caddle Review.
LifePoints: Earn money by taking paid surveys on this platform. Participate in LifePoints.
What is the value of one Swagbuck?
"100 Swagbucks or points are worth $1 and can be redeemed for gift cards (Amazon, Walmart, Visa, Starbucks, and iTunes) or cash.
How do I earn 1000 Swagbucks in a single day?
"When you sign up with a legitimate Swagbucks referral link, you immediately receive 500-1000 Swagbucks after completing the eligibility conditions. If your welcome incentive is $5, you can additionally complete one or two surveys to earn 1000 Swagbucks.