Writesonic Review 2023: Is it the Cheapest AI Copywriting Tool?
I'm excited to give you an honest Writesonic review. I purchased the software a while back and have been using it on my sites ever since, so I can give you a first-hand account of how it performs and if it's worth the money.
If you're looking for a way to generate content for your article marketing and social media campaigns, then Writesonic is your tool. As a writer and blogger, I often find myself in content ruts where I can't think of anything to write about. But this all changed when I started using Writesonic.
This AI copywriting tool analyzes your business goals and automatically creates a custom strategy that helps you build on those goals with content creation. If you'd like to take control of your blog or article marketing efforts, I suggest giving this tool a try.
Writesonic is the best tool for writers, bloggers and content creators. If you're looking for a way to generate content for your article marketing and social media campaigns, then Writesonic is your tool. As a writer and blogger, I often find myself in content ruts where I can't think of anything to write about. But this all changed when I started using Writesonic.
If you are finding this tool interesting, I encourage you to read my detailed review of Writesonic so that you can get a better idea of what it can do for your content creation efforts.
What is Writesonic?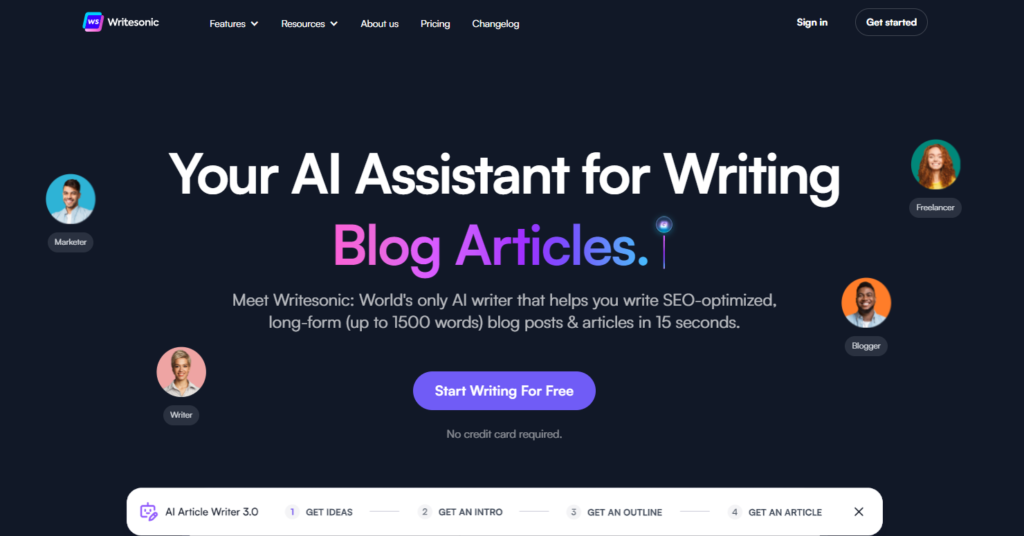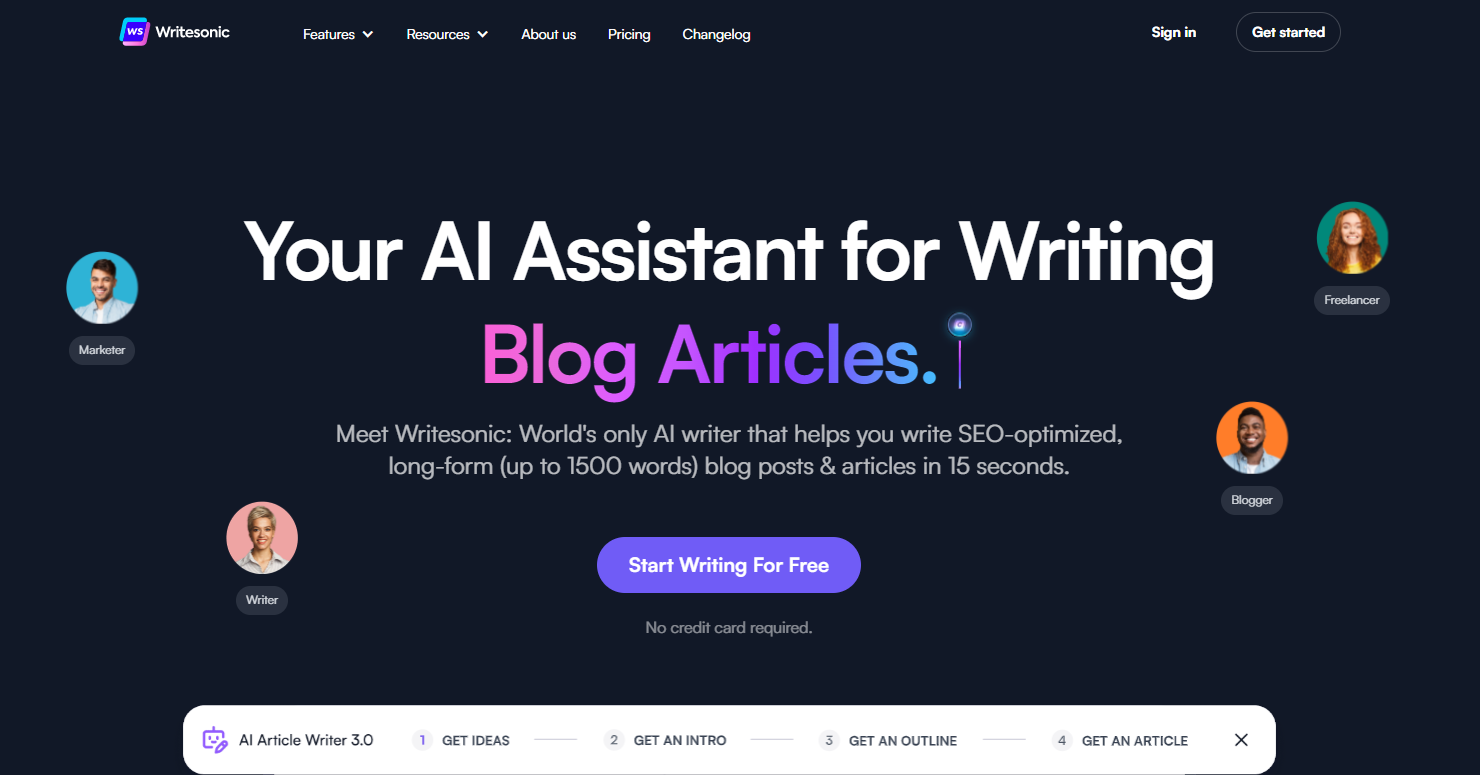 Writesonic is an artificial intelligence tool that generates content for your business. With Writesonic, you can create highly engaging ads by using its advanced text generation engine—Facebook Ads campaigns are a breeze!
In addition, it can also be used to write amazing sales copy for your sales page and landing pages.
With a tool like this, you no longer need to hire an expensive copywriter for your business.
If you write yourself, you no longer have to worry about writer's block because with this software sporadically increasing your content production is as simple as converting your audience.
Writesonic was founded by Samanyou (CEO) on January 2021 and since then, the company has been gaining a lot of attention, especially in the content writing industry.
It has been featured in many magazines and newspapers, including Forbes and Entrepreneur. Writesonic has also been awarded as one of the "The Best AI Copywriting tools of 2021" by Techradar.
I have used Writesonic personally and found it effective in helping me solve the following problem:
Overcome writer's block
Uniquely rewrite old content
Create compelling email newsletters
Create a title that grabs the reader's attention
Write blog posts that are more than a few paragraphs long.
Create a script for your video content.
Reduce expenses while increasing efficiency.
And many others
How Does Writesonic Works?
Writesonic is a revolutionary AI-powered content generation tool that can write up to 1500 words in 15 seconds. It can help you create unlimited content for your website, blog and email newsletters.
The process for generating content is as simple as describing your content—including the keyword you want to target in the post—and clicking on the generate button.
Writesonic will then create a unique piece of content that is optimized for SEO and can be used as a blog post, email newsletter or social media post. It's super simple, and it will save you hours of work every month.
Writesonic uses GPT-3 technology created by OpenAI which is similar to the one used by Google's AlphaGo and DeepMind. The technology works by first understanding what it is that you are trying to say and then producing a coherent sentence based on this understanding.
It has been designed based on a set of algorithms that are powered by artificial intelligence. It uses predictive analytics to predict the next word in any sentence that you write.
Writesonic does not require any technical knowledge or coding skills, this makes it very easy for anyone with basic computer literacy to use it.
Who is Writesonic For?
Writesonic is for anyone who wants to create their own website. It is an excellent tool for beginners and experts alike, as it helps you create a high-quality website without any coding skills or technical knowledge required.
Here's how each can benefit from Writesonic's AI copywriting tool:
1. Bloggers: You need to write a lot of content, but you don't have the time or energy to do it all yourself. You need a tool that can help you create amazing pieces of content quickly and easily.
That's where Writesonic comes in! You can use this AI-powered tool to generate blog posts that are 100% unique and ready-to-publish—no more boring posts about how you're going to make money online with your blog!
2. eCommerce business owners: You're busy running your business and trying to keep up with the constant stream of new products that come out every week. Your biggest struggle is staying on top of trends and knowing what people want before they even know they want it.
But don't worry—I've got your back! With our AI-powered tool, you'll be able to generate product descriptions that sell like hotcakes! Just sit back, relax, and let this AI copywriting tool handle the heavy lifting for you.
3. Social Media Marketers: You need content for your social media accounts but don't have the time or resources to write all of it yourself. You want to create engaging and shareable content that will help you grow your audience but don't know how.
Well, that's where Writesoniccomes in! With our AI-powered tool, you'll be able to generate content that will get your audience engaged and excited about what you have to say.
4. Ads and Marketing Agency: You want to create compelling ads and marketing campaigns for your clients that will get them more clicks and conversions, but you don't have the time or resources to write all of it yourself.
You need a tool that can help generate unique and engaging content in no time at all so that you can take on more clients while still delivering quality work.
Writesonic is the perfect tool for you. With our AI-powered content generator, you'll be able to create thousands of unique articles in no time at all.
Features Of Writesonic
Writesonic is a very powerful tool for anyone who wants to create content for their website. It has many different features which are listed below: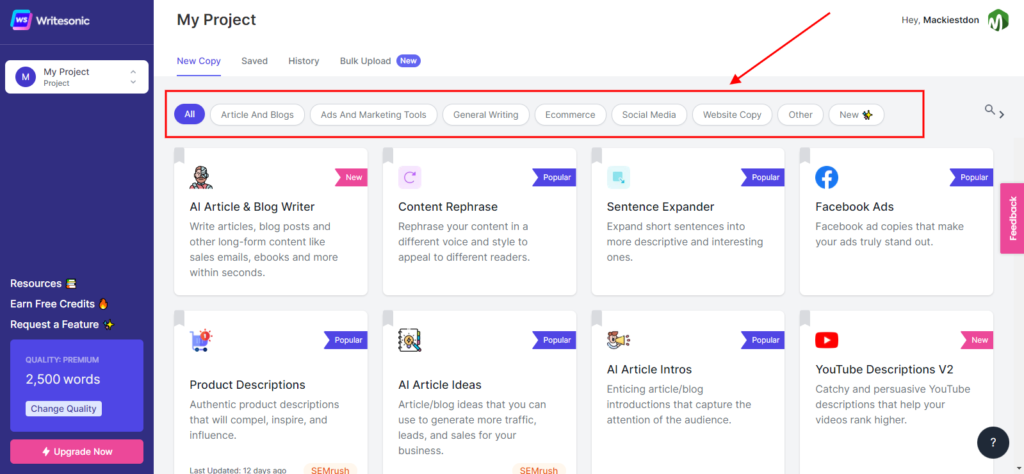 1. Ease of Use:
First, the software has a clean and easy-to-use interface that makes it suitable for both experienced users and beginners.
The dashboard features over 20 unique writing templates which makes it easy to find the one you need and start creating. Ranging from articles, blog posts, web pages and landing pages, the software has everything you need to create content for your website.
Just ahead of the template, you'll see a tab that will enable you to streamline your work by seeing only templates intended for your niche.
2. Website Copy Generation:
The software also enables you to create high-quality website content with the click of a button. This is done by first inputting your ideas into the system and then letting it do its magic by providing you with well-written copy that can be edited or used as is.
The software can generate content for your website in a number of different formats, including articles, blog posts, landing pages and web pages. There are different article writing templates that you can choose from.
3. Digital Ads Copy
Digital ad copy is one of the most important elements of your marketing strategy. It's what you use to convince people to click on your link or buy your product or service.
Writing good digital ad copy takes time and a lot of research. You need to know what words will make people want to click on your ad, and how to present them in a way that makes people want to pay attention.
Writesonic AI Copywriting tool can help you with all of that. It has a database of more than 100 million keywords, phrases and sentences that it uses as inspiration for creating your ad copy. It also uses auto-correction algorithms so that you don't have to worry about spelling or grammar errors.
4. Article/Blog Copy
What if you could write a blog post in seconds? And what if it was so good that your readers would want to read it, share it, and comment on it?
Writesonic AI is a tool that helps you do exactly that. It's an AI-powered copywriting tool that writes blog posts for you. You just tell Writesonic what kind of content you're looking for—a listicle about [topic], for example—and it will write the post for you.
Blogging can be a lot of fun, but it can also be time-consuming, especially when you're trying to juggle other responsibilities. If you're looking for a way to write more blog posts in less time and boost your earning potential, Writesonic is the solution you've been waiting for.
With this AI-powered tool, you'll be able to create high-quality content that will help grow your online presence and boost your earning potential by driving traffic and engagement with your audience.
5. eCommerce Copy
Writesonic AI copywriting tool is one of the most helpful software you can use for your eCommerce business. It can write product descriptions and other types of content within seconds. The whole process is very simple. You just have to upload your images, select your target audience, and then click on the "generate" button.
It's a great way to save time and money by not having to hire a professional writer or develop content yourself. If you don't have any idea about what kind of content should be written for your products, then this is the perfect tool for you.
The best part about Writesonic AI copywriting tool is that it can generate different kinds of content based on different parameters like gender, age group, location etc. This means that if you want to target specific groups of people with different kinds of content, then all you need is a few clicks away from getting it done!
6. Copywriting Formulas
Writesonic AI Copywriting tool boasts a variety of different formulas that can help you write the perfect articles.
AIDA: AIDA is an acronym for Attention, Interest, Desire and Action. The AIDA formula is a copywriting technique used to describe how to write persuasive content that encourages people to take action. The aim is to get your reader's attention so they are interested in what you have to say, then convince them that they need or want your product or service and finally get them to act on it by buying into your offer.
PAS: PAS stands for Problem – Agitate – Solution. It's a method of writing content that identifies a problem and then uses language which agitates the reader into feeling negative about the problem before providing them with a solution at the end of the article.
PAS offers an alternative way to write persuasive articles because it doesn't just tell readers what they should do but also makes them feel as though they need help with their situation before providing that help in an effective manner.
7. Zapier Integration
The Zapier integration is a powerful tool that allows you to link your Writesonic account with other apps and services. Once set up, you can use it to create automated workflows in order to make your content creation process easier and more efficient.
For example, if you want your blog posts automatically posted on Facebook when they're published then this feature can help automate that process for you so all you have to do is write the post and hit publish.
8. Photosonic AI image generator
We're excited to announce that Writesonic has added a new AI image generator to the suite of tools we offer. This feature is available for free on all accounts, so even if you're on a budget, you can start using it today.
The new tool allows you to upload text descriptions of what you want an image to look like and then get back an image that resembles it. It's super easy to use: just type in your description, hit "Generate," and let the tool do its magic.
For example, if you want an image of a cat eating ice cream, just type "cat eating ice cream" into the text box and hit "Generate." You'll get back an image of a cat eating ice cream!
The results are pretty amazing—sometimes they're completely accurate, sometimes they're really close, and sometimes they're just plain weird. But I think that's part of what makes them so fun.
Writesonic Pricing Review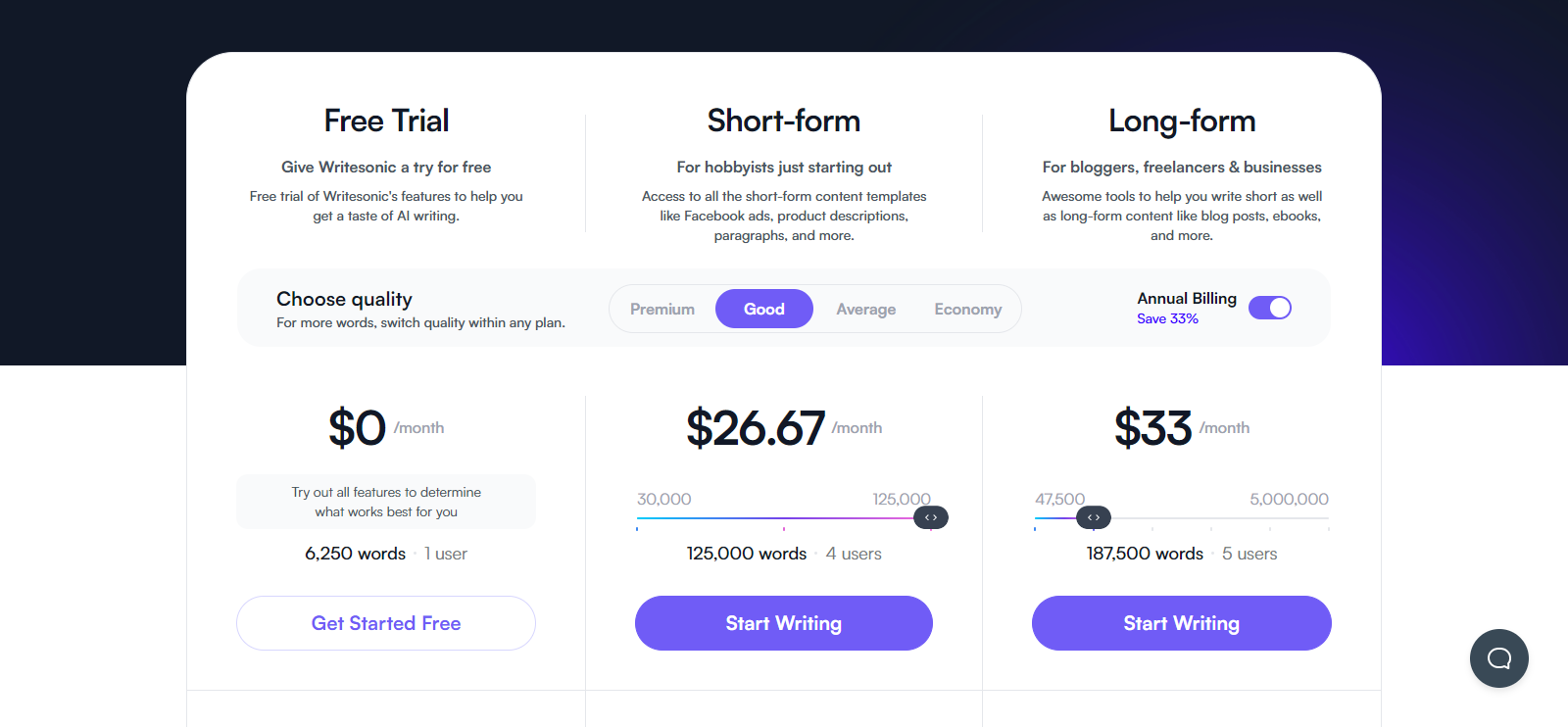 Writesonic offers two paid plans, the Short Form Plan and Long Form Plan. New users can take advantage of a free trial to try out this platform before making any commitment.
| | | | |
| --- | --- | --- | --- |
| | Free Trial | Short Form Plan | Long Form Plan |
| Pricing | $0 | $10/month | $13/month |
| Number of Words | 6.25k Good words | 30k Good words | 47.5k Good words |
| Languages | 25 | 25 | 25 |
| AI Templates | 70+ | 70+ | 70+ |
| Landing Page Generator | Yes | Yes | Yes |
| Sonic Editor | Yes | No | Yes |
| AI Article Writer | Yes | No | Yes |
| Integrations | Yes | Yes | Yes |
| Browser Extensions | Yes | Yes | Yes |
| Plagiarism Checker | Yes | Yes | Yes |
With the Long Form Plan, you can add up to 10 users. The pricing keeps on increasing according to your added employees. WriteSonic also had an AppSumo lifetime deal that is no longer active now; however, it's possible they might offer a similar one again in the future.
Writesonic Pros and Cons
Writesonic Pros (+)
Writesonic Cons (-)
Writesonic Alternatives Free
Below we've compared several options to Writesonic. We think that Jasper AI is the best option because it provides the most robust features at an affordable price.
1. Jasper AI (Formerly Jarvis)
Jasper helps companies generate stories, company bios, Quora answers, and marketing ideas using artificial intelligence.
Writesonic and Jasper are similar in many ways: both target small marketing teams, marketers, solo entrepreneurs, and freelancers.
While Jasper does well with creating long-form content. Also, Writesonic has an enterprise solution that supports marketing teams, Jasper AI doesn't offer that.
Unlike Writesonic, Jasper doesn't have integration features, so if you want to integrate the tool with other platforms, you're out of luck. And for large marketing teams that want to launch campaigns faster, this can limit your output significantly.
Jasper provides a limited free trial, whereas Writesonic customers can use the platform at no cost.
Copy.AI is the third-best alternative to Writesonic. This fantastic tool is equipped with advanced Natural Language Processing (NLP) technology, allowing you to generate copy in a matter of seconds.
It also offers a robust content editing suite that lets you quickly optimise your generated copy for SEO, Clarity Grading, etc. Lastly, it allows you to generate even more accurate, and unique content optimised for search engines.
Besides this, the team is working continuously to add more features. As a result, it makes sense to classify Copy AI as one of the best Writesonic alternatives.
3. ClosersCopy
While other copywriting software uses the GPT-3 model as AI, ClosersCopy has its proprietary solution.
ClosersCopy's proprietary AI technology for content generation outperforms GPT-3, which the company claims remove restrictions and filters other software imposes.
That means it's better at generating "natural language" content, making it the best alternative to Writesonic.
ClosersCopy caught the eye of several marketers, bloggers, marketing teams and businesses because of its unique offerings—and it didn't stop there. ClosersCopy also offers 300+ plug & play marketing frameworks and 30+ marketing workflows to streamline your content generation needs further.
Lastly, it offers robust team and project management features that enable multiple users to access and collaborate on projects.
4. Copysmith
Copysmith is a revolutionary AI-driven content generation software that will help you create more high-quality content for your eCommerce store or marketing campaigns.
Copysmith is a well-reviewed alternative to Writesonic that is cost-effective and provides excellent results for eCommerce businesses, marketing agencies, and in-house marketing teams.
Copysmith allows you to export your generated content in TXT, PDF, and DOCX formats. This allows you to share the information with your team or clients.
Copysmith has a great range of integration options. For example, you can connect your Google Ads account with Copysmith to create ad copies
You can integrate Frase to create SEO-optimized content, the Shopify plugin to create product descriptions, and Hootsuite to send automated social media marketing messages. Plus, you get a Google Docs add-on.
5. Rytr
AppSumo featured Rytr as a lifetime deal and has something in common with some of the other Writesonic alternatives. Its early users loved it and were quick to adopt Rytr's services.
Rytr is quickly becoming one of the most robust copywriting software, with high ratings and positive reviews on different review-based platforms like G2 and Trustpilot. Its early users have helped to make this transformation possible.
Rytr employs GPT-3 technology and its proprietary AI to improve the efficiency and quality of content generation.
The software offers more than thirty prewritten use cases in more than thirty languages and tools to rewrite existing content completely.
Similar to Writesonic, Rytr offers many content-enhancing features like an expander and rephraser. It also comes with a rich text editor to enable formatting options and a native plagiarism checker and grammar fixer.
Conclusion
Writesonic is an AI writer that can be extremely useful for anyone who has to work with textual content. This includes content writers, social media writers, ad agencies, copywriters, creative individuals, lyricists, small businesses, etc.
Although some aspects of the project need more work, it is still moving in a positive direction. I hope we will see further advances soon.
If you want to try it out, sign up for a free trial and then upgrade when necessary. I think this tool would be valuable for anyone who regularly writes content or creates marketing campaigns. Let me know what you think of it in the comments section below!