Jasper Art Review 2023: Best AI Image Generator (+ Sample)
Do you want to create an image perfect for your blog post or social media? You can do it in seconds with Jasper Art. Just type in the text you want, and the AI will create an image for you.
You can use Jasper Art for any occasion; it's perfect for when you need to get something up fast.
In this post, we'll take a look at the features of this new AI tool and see how it can help you create images in a snap.
| | |
| --- | --- |
| Name | Jasper Art |
| Company-owned | Jasper AI |
| What is Jasper Art used for? | It's an AI Text-to-Image Art Generation tool |
| Pricing | $20 per month |
| Date Launched | 28th August 2022 |
| Name of CEO | Dave Rogenmoser |
What is Jasper Art
Jasper Art is an AI that creates art or images in seconds. Just type in the text you want, and the Ai will turn it into an image you can use for your blog post or social media.
It is a powerful tool for anyone who wants to create engaging content but lacks design skills. The AI uses an algorithm that allows you to type in text and get back images customized for your brand. Jasper Art was explicitly designed with bloggers and marketers in mind, so it's a valuable tool for anyone who wants to create visual content fast.
In addition to being a tool that helps you create images with text, Jasper Art is also an AI-powered tool for creating memes. If you're unfamiliar with memes, they are image macros frequently shared on social media sites like Facebook and Twitter. They can be funny or serious, but they're always entertaining.
It is a simple yet powerful tool for anyone who wants to create quick graphic content but doesn't have the time to learn how to use Photoshop or other image editing software.
Unlike Jasper AI's pay-per-word model, which can add up quickly if you write a lot of copy for your business or website, Jasper Art is billed monthly with unlimited usage. You'll never be charged more than the monthly fee, no matter how much you use it.
Jasper Art is perfect for those who want to create images but don't have the time or skill to learn how to use Photoshop or other image editing software. It's also an excellent way to quickly create graphics for blog posts and social media posts without having to pay a designer.
Who is Jasper Art For?
Bloggers who want to add professional-quality images that complement their articles
Create custom images for your emails to generate leads and convert them into customers.
Artists who create Non-Fungible Tokens (NFTs) and sell them to make a profit
Writer seeking an illustrator to create images for a book.
Image-based content that is eye-catching, designed to be shared on social media platforms like Instagram, LinkedIn and Facebook.
A YouTuber who wants to make the most of their video's thumbnail by making it stand out from others.
A video producer needs to create a storyboard for the production of one or more videos.
Jasper Art demo
How does Jasper Art Works?
Now you can use Jasper to create images and illustrations precisely what you want for your blog post, Facebook Ads, or even just for fun to share with your friends. Leverage jasper to create your very own art and images.
To get started with Jasper Art, log in to your Jasper AI account, and you'll find the jasper art button in the side nav bar of your dashboard.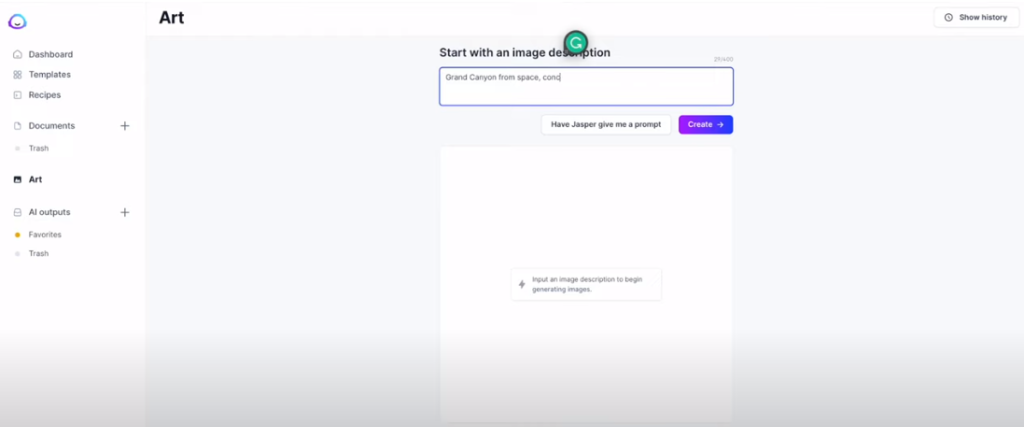 Jasper's new text-to-image functionality allows you to type out a description of what art or image you want Jasper to create, then click the "Create" button. Jasper will take your text and turn it into four different image outputs for you to choose from.
You can copy and paste the image directly into your blog post or download it for use later. Jasper's AI can create an infinite number of photos, so there is no shortage of options should you want to use this feature again.
Now you don't have to waste time searching online for stock photos that capture your blog post's feel; describe what you want, and Jasper will produce it for you in seconds.
Steps to get the best image results
Try using as many descriptions as possible to get the best result. The more you describe what you want, the better Jasper will be able to understand what type of image it should create for you.
Using commas to separate details from one another will make it easier for Jasper to read and understand those details.
Try using words like insane detail or professional photograph for realistic photos and images. These types of terms help Jasper understand that you want an ultra-realistic picture.
When an image comes back wrong, don't panic—look at your input and make a few adjustments (maybe add more detail). Then create again.
When you learn the process of creating images with Jasper Art, it takes some trial and error to get a fantastic output—but once you've mastered the program's unique way of working, its powerful features will enable you to create graphics for any purpose.
Features Of Jasper Art
The AI tool is packed with powerful features that make it easy for you to create digital art. Here are some of the most helpful:
Text-to-Image Art Generation. Write a brief description of the art you want to be created, and the AI platform will automatically generate original options.
Easy-to-use interface and navigation tools that make creating your images a breeze
Style of art (pixel, line art, origami, vector art): You can customize how you represent yourself in images by choosing from various styles.
Medium (chalk, modern oil painting, pastel, pencil sketch): You can create your original work by combining various mediums and techniques.
Artist style (Picasso, Salvador Dali, Van Gogh): You can give your image a personal touch by having it created by an artist of your choosing.Mood (Aggressive, Monochromatic, sombre, Cheerful)
Keywords (ambient, realistic, high resolution)
History of your work: The history tab shows all your previous outputs and lets you see how each one was created, providing insight into how your designs change over time.
Download option: If you have created a design you're happy with, you can download it as a PNG file to use in your designs.
Like and dislike: The like and dislike buttons allow you to provide feedback on your designs. This is especially useful to train the AI to understand what you like and don't like about your designs to give you more relevant results in the future.
Pros and Cons of Jasper Art
Jasper art, despite being a handy tool for artists, is not without its flaws. Here are some pros and cons of the Jasper Arts
It's important to remember that the software is still beta, so new features will be added as time goes on.
Jasper Art Pricing
Jasper Art is a subscription-based service. The plan's cost depends on how long you want to use it. Currently, it costs $20 per month, allowing you to create unlimited images.
The $20 pricing is available for the early users, and it looks like the price will go up once Jasper Art becomes available to everyone. As far as I know, there are no plans to offer a one-time purchase option.
Jasper Art Alternative
1. DALL-E 2
DALL-E 2 is an excellent alternative to Jasper Art. It's not as powerful as the Jasper Art, but it's also much easier for you. They were one of the first companies to use an AI image generator to create various original images.
OpenAI, a well-known research organization on a mission to harness artificial intelligence ethically for all, created the original version of DALL-E in 2021. It has now released an upgrade: DALL-E 2.
DALL-E 2 Features
Text-to-Image Art Generation.
It can be used in editing an existing photo.
Art variations.
Does not support hate speech
Commercial license:
DALL-E 2 Pricing
DALLE-2 costs $15 per month and provides you with 460 images. This means you can use the tool to generate 115 new images or edit an existing image. You can also create variations of each image.
Currently, Dalle-2 is on hold. However, if you are interested in being notified about invitation availability for the tool, please sign up for an alert.
2. Midjourney
Midjourney is a tool that allows you to generate art from the text. It uses deep learning and AI technology to turn your text into images, illustrations, and sketches.
The midjourney has some exciting features. It can generate an illustration for your text, a sketch, or a drawing. You can also choose from multiple styles that range from whimsical to realistic. The tool offers several different colour schemes as well.
The tool is available for free, and it's pretty easy to use. You need to enter your text, click on "generate", and then wait while the AI creates a new image based on your words. If you don't like what you see, click again, and another image will appear.
It's primarily held in the Discord community, so if you don't know how to use discord, prepare for a learning curve. But it's worth it—the photos are phenomenal!
Right now, Midjourney's research labs are in beta mode. But it's great because you can access them right away—all you need to do is join a #newbie room and type "/imagine."
Things to note about Midjourney
All content must be appropriate for a teen audience, so no offensive language or imagery.
You can make posts on public threads or in private mode, but the rules apply to both modes.
The public threads for ideas were great. They provided me with a list of descriptive words like "ultra-detailed" and 4k, and the Discord community never disappoints.
To use images commercially, you must subscribe to the paid version of their service. However, there are many questions surrounding copyright law and this type of platform—so do your research!
Midjourney Pricing
Midjouney's free option provides 25 image creation prompts per day, but if you want to write more often, consider paying for a monthly subscription.
What is the difference between DALLE-2 and Jasper art?
While both tools offer an easy way to create images, Jasper Art offers more prompts and fewer customization options than DALLE-2. And its monthly subscription allows for unlimited image generation—unlike the paid option offered by DALLE-2 which only generates 115 images a month on its $15 plan.
Does Jasper have the option to upload an image sample?
Unfortunately, Jasper Art doesn't offer this feature. All images must be generated by the platform itself at this time; however, it is still in development and more features will likely appear later on.
Is Jasper Art the best AI image generation tool?
Jasper is one of the best artificial intelligence tools for generating text images. It's more affordable than other comparable programs and produces excellent results.
How much does Jasper Cost?
Jasper Art is currently offering a $20 per month subscription plan with unlimited image generation. This is a great value considering their competitor's charges.
Who owns the Copyright of the images generated by Jasper Art?
The copyright of the generated images belongs to you, and you can use them however you wish. You can even sell them as stock photos if they're good enough.
Conclusion
In conclusion, this is an excellent tool for anyone looking to build their brand and grow their audience. It's easy to use, the images are very professional in appearance, and you can get quick results. The only issue I had was that some of my photos didn't turn out well, but I expect this platform will improve over time as it gains more users.
Jasper Art Review 2023: Best AI Image Generator (+ Sample)
Do you want to create an image perfect for your blog post or social media? You can do it in seconds with Jasper Art. Just type in the text you want, and the AI will create an image for you.
Price: 20
Price Currency: $
Operating System: Web Application
Application Category: AI text-to-image generator
Pros
It's easy to use
It can create a wide range of different styles of artwork
The pricing is fair compared to other similar tools
Unlimited image: With Jasper Art, you can create as many photos as you want without restrictions.
No image watermark: With Jasper Art, You don't have to worry about having a watermark on your images as with other tools.
Create amazing graphics for your business, website or social media presence.
Cons
Not so good at generating realistic-looking human images
It does not allow you to upload sample images