Sellvia Review 2023 (Pricing, Pros & Cons, Alternative)
The dropshipping world is a tough one to break into. The competition is fierce, and it's hard to find a provider that can handle your business's demands.
But if you're looking for a company that offers a ready-made store with no setup fees and hidden fees, look no further than Sellvia.
By providing a ready-made store and by solving your dropshipping demands, Sellvia simplifies your experience as an eCommerce entrepreneur.
In this Sellvia review, we'll take an in-depth look at what they have to offer and see if they're the right fit for your business. Sellvia is one of the US's newest dropshipping providers and is quickly gaining a reputation as one of the most successful.
In the past, dropshipping was a relatively new and untested business. But now, it's an established way to run your eCommerce store—and as a result, it's become much more sophisticated.
Dropshipping is simple: you don't have a warehouse or store where your inventory is kept; instead, when someone orders from your online shop, you buy the product from your supplier and have it shipped directly to your customer.
Dropshipping has many advantages, including low start-up costs, no need for inventory, and ease of scaling. However, some difficulties are also involved, such as the potential for long shipping times and issues with product quality.
Another considerable risk is that if something goes wrong with an order (say, if the manufacturer runs out of stock), nothing stops the customer from accusing you of fraud or not fulfilling their order.
That's where services like Sellvia come in—they'll take care of everything, so you don't have to!
Sellvia eliminates the core challenge of dropshipping, "the logistics". They achieve this by reducing transit times to customers in the United States, providing top-quality customer support, and allowing your customers to track their orders every step of their journey.
What is Sellvia?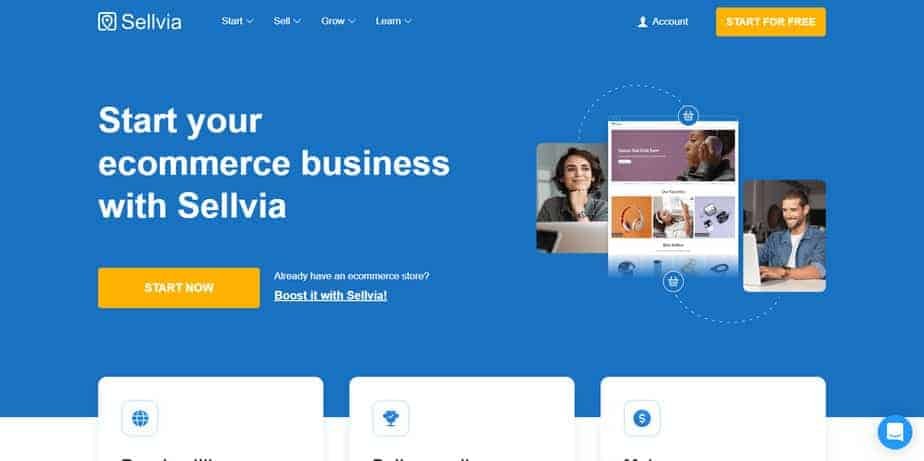 Sellvia is a dropshipping supplier based in Irvine, California, in the United States. It was founded by a team of eCommerce experts with decades of experience running successful dropshipping businesses.
One of the founders is an industry veteran who owns and operates multiple successful dropshipping businesses, including AliDropship, a well-known eCommerce platform.
That's why Sellvia has grown into such a successful business: because of its founders' expertise in operating successful dropshipping businesses for many years.
Sellvia's custom store service is an excellent option for sellers who want to get started quickly and don't have the time or patience to spend hours guessing.
The custom store service is for customers who want to create an online store with 200 products sourced from Sellvia's warehouse and delivered within 1-3 business days.
A done-for-you store is ideal for individuals who lack the time, skills, or inclination to create their eCommerce sites.
Why is Sellvia the best dropshipping supplier
Sellvia is the best supplier for dropshippers because it's a full-service platform that serves as an eCommerce supplier and an online storefront. Sellvia provides a wide range of products and services to help retailers grow their businesses.
If you're looking for an eCommerce platform but don't want to invest in Shopify's expensive plans, Sellvia may be the perfect choice for you. With Sellvia, you can create and maintain your store with their software.
On the other hand, It's a US-based company with warehouses and distribution centres across the country. This means it can ship products faster than AliExpress, which has to go through a third party to deliver its products.
Second, Sellvia offers more robust features than other suppliers, including reporting tools and the ability to track your orders as they move through the supply chain.
Sellvia has a fulfilment centre in Southern California, which makes them uniquely positioned to deliver your products within one to three business days.
Although other suppliers also offer this service, they cannot compete with Sellvia in terms of price and quality of products.
How Does Sellvia Work?
There are a few ways you can harness the Sellvia software to significant effect. A Sellvia subscription is the best way to start eCommerce without spending much time and money.
And that's because you can either subscribe for the Sellvia 'Done-For-You custom dropshipping store' or get the Sellvia monthly subscription plugin to your existing WordPress/WooCommerce site.
Using either will connect your store to the Sellvia warehouse in the US. Whenever you receive an order, you can quickly fulfil it with Sellvia and have it delivered within 1 – 3 business days.
Sellvia also supports a global audience. This means you can sell to customers worldwide, as long as they speak any of the supported languages in your store. And as a result, you increase your chances of making more sales from more people.
Sellvia WordPress Plugins
You can unlock Sellvia's WordPress plugins through the basic subscription plan. To integrate this software, you have to follow the guides below;
Download the plugin on your WordPress dashboard.
Enter the API key and activate the plugin.
Next, you can now start importing the products you want. After importing, select the category where you want to put the products.
With these three steps, you can use the Sellvia software with your WordPress site. However, product deliveries are only accessible to people in the US. But orders outside the US can be completed with the Alidropship default plugin.
Using the Custom Dropshipping Store
A store built exclusively for you, Sellvia PRO helps sellers like you to start selling online. It's perfect for anyone who wants to get started with dropshipping without worrying about developing their store from scratch or for anyone who has tried using a plugin but hasn't gotten the results they were hoping for.
With this package, you'll have a fully-functional store with 50 products ready to sell. You can use these existing products as-is or customize them so they're unique to your brand.
You'll also get access to our resources and help documentation, so you know exactly how everything works and can make changes quickly if necessary.
Before you get your custom store, you will fill out a questionnaire where you will answer some questions about your business. With this information, they will create a custom store for you.
You have to pick a theme, and you're ready to go. They can also include customization options in the questionnaire if you want something specific, like additional products or allowing them to manage your social media promotion.
After you complete the questionnaire, it usually takes one business day to receive your personalized storefront. Then, you can integrate your payment gateway and begin accepting payments immediately.
Both services allow you to link your store with Sellvia's US-based warehouse, which allows you to list and sell Sellvia's products in your store at a much lower price than the competition.
Some Important Features of Sellvia
Just like every other dropshipping supplier, Sellvia comes with some unique features. This section will discuss some of the features that this software carries.
Done-for-you dropshipping store
Setting up a store cannot come more straightforward than using this feature. The Sellvia Done-for-you dropshipping features offer to create a good store for you for no cost at all. All you have to do is to subscribe to one of their plans.
This feature offers you a great deal of everything you need to set up a fantastic store. One advantage of the Done-for-you dropshipping store is its free trial option. Registering for a free 14-day trial could earn enough to subscribe to a custom plan. However, that can only happen if you have an effective business plan.
So, if you want a store created with the Sellvia software, this feature provides the most effective and straightforward option.
Ecommerce Platform
Another option that appeals to users of Sellvia is integrating the eCommerce site. With eCommerce platforms, you can run and manage your store with Sellvia.
Although this feature is not compulsory for all users, WordPress owners can easily integrate this software. That is because Sellvia works well with WooCommerce (WordPress). You can manage your store, sell products, and receive payments quickly.
This feature allows you to enjoy every possible benefit a dropshipping store offers. E-commerce sites have become very effective and popular in selling products online. That means you can get good results from this platform as a user.
Click and Import
The Sellvia eCommerce store is straightforward to use. If you want to put on some products on your website, Sellvia makes the process very straightforward. With just a click, you can import products to your website.
Also, with the 'click and import' feature, Sellvia will automatically import the products' images and descriptions to your website. You can also put the products in the different categories in your store.
This feature is available at zero additional costs. It is one of Sellvia's fascinating attributes to offer its products to software users.
Sellvia product catalog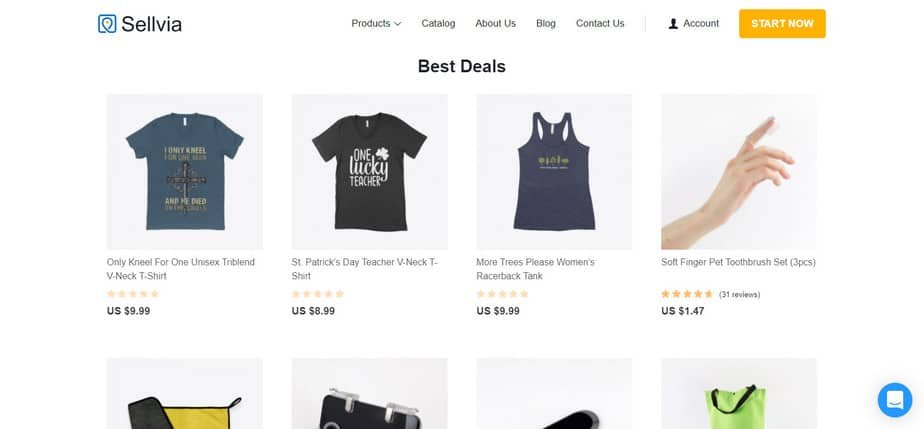 The product and catalog section of Sellvia appeals to users. If you choose Sellvia as your dropshipping supplier, you have many options to explore.
Different categories of products are marketable to any niche you promote. That is why Sellvia reaches a wide range of users and customers.
Some of their product categories include; Sports, Kids, Hoodies, Baby products, Made In USA products, pets, etc.
The product images and descriptions are also accessible on your site once you import them.
Sellvia's catalog is also one of its fascinating attributes. Each product has a customer review that shows the rating of the products among users.
Design Marketing Campaigns
Creating an account with this dropshipping supplier would not be enough to sell products. You must create awareness and get traffic to your store/site before earning. This Sellvia feature is responsible for taking care of that aspect.
Unlike other dropshipping suppliers, Sellvia offers more than just products. They give you helpful marketing tools that can help promote the products. An excellent example of this marketing tool is the provision of ad copies.
These copies can be used on social media platforms like Facebook or Instagram. All you have to do is modify the ad copies and run them.
Sellvia Logistics
There is arguably no dropshipping supplier in the US that handles deliveries of stocks like Sellvia. They give attention to ensuring that the packaging and delivery of the products can give your customers a good experience.
Sellvia's delivery usually takes from 3 working days. With this guarantee, you can ensure that the customers know the time they have to wait. Delivery around the US takes at most seven days to complete.
This feature ensures that your customers have little or no complaints about delivery services.
Sellvia Shopify App
The Shopify app works well for users who prefer the Shopify eCommerce store. This software is available on the Sellvia plugin for those who want to use their Shopify store.
This feature ensures that you get US-based suppliers, fast deliveries, and affordable product prices. So, with the Sellvia Shopify app, you can get every attribute a traditional Shopify store offers.
This will be a better option if you are not a big fan of WordPress or WooCommerce.
Promotional Materials
You can also access other promotional materials besides the marketing campaigns that Sellvia offers. Your social media platforms can make do with materials such as banners, texts, suggested target audiences, etc.
Sellvia's active users access these materials to promote their product across social media networks.
This feature can promote each store you manage for subscribers with many stores. These promotional materials are available to all users at any time.
Sellvia Plugins
As I mentioned, you can easily integrate this software with your WooCommerce site. This process can be done with the use of a plugin.
The plugin is best for people who do not want their store at Sellvia. So, if you download and activate the plugin, you can access all the features for your dropshipping business.
Automation Tools
The automation tool feature is one of Sellvia's ways of making your dropshipping business smooth. This software handles a lot of automation to take away the burdens from its users.
An excellent example of this automation is when a customer makes an order for a particular product. Sellvia's automation tools go ahead to fulfil the order to the customer without any action from the user.
The automation you can get from this software also includes; payments, returns, and other logistics. With this tool, you can automate many aspects of your eCommerce store without stress.
Fast Shipping Badge
As I mentioned earlier, Sellvia is one of the fastest product deliveries in the US. But customers are also willing to know how long it would take for their products to be delivered. The fast shipping badge option provides a solution to this issue.
With this feature, you can show your customers the following shipping details;
It makes fast shipping delivery visible to customers in the US
Estimates and displays the processing time for an order.
Display the expected arrival time of order.
It is the best way to know when to expect their package. All these features can be activated with just a single click.
Return Policies and Guarantees
The policies that come with the return items can be complicated for the suppliers and users. Return and refunds are among the most significant setbacks in dropshipping businesses today. However, you can prevent this problem by working with reputable dropshipping suppliers.
Sellvia comes to mind when talking about working with reputable dropshipping suppliers. They have a smooth return and refund process since their services come across the United States.
So, if you want to avoid the challenges of refunds, Sellvia is your best bet.
The above list consists of some of the relevant features of Sellvia. You can get more information by checking out their official website at Sellvia.com.
A review of Sellvia Pricing
Sellvia is a reputable platform that has built a reputation for reliability. The software provides the tools you need to run your business successfully.
You can choose various plans, including the free trial plan.
You can get started on Sellvia today with a 14-day free trial, after which you can choose between a monthly or annual plan.
The monthly plan costs $39/month, while the annual plan costs $399 and saves you $78 over paying monthly. Both plans include everything you'll need to be successful on the platform.
Basic Plan
The basic plan costs only $39 every month. At this rate, you get to spend around $468 annually.
Pro Plan
This plan ensures that you save more when subscribing to the annual plan. The Pro plan costs $399 yearly, saving you $69 compared to the basic plan.
It is advisable to subscribe to the annual plan; you pay a one-time fee and save more money. There is also an opportunity to subscribe to a 14-days free trial for first-time users of this platform.
Sellvia Review (Pros & Cons)
The good Side of Sellvia
Sellvia comes with a lot of advantages for both subscribers and customers. Below, I will discuss some of the benefits of this dropshipping software.
1. Low Prices of Products
One of how Sellvia positively influences drop shipping businesses is their low prices. This company has one of the best prices in the US, attracting many more customers.
2. Excellent packaging
Sellvia's packaging process is one of the best in the US for drop shippers. Their packages usually carry no brochures or labels, which will help your brands if you have any. So, you can still be your customers' first contact even after they have purchased a product.
3. Refunds and Return Policy
Sometimes, a customer might have a bad experience with a purchased product. Sellvia will not only let you return the product but could also offer a refund of your money. This guarantee can help build a great customer relationship and trust.
4. Marketing and Promotional Support
Sellvia offers limitless features that help you get sales from your store. Their product catalog gives you images and product descriptions with just a click. Sellvia also makes driving traffic to your store or site less challenging.
Sellvia Downside
Like every other dropshipping supplier, Sellvia also comes with its shortcomings. Here, I will briefly discuss some of the limitations of this platform.
1. Shipping Limitation
The location of your consumer is a significant barrier as a drop shipper. Sellvia is only available for US-based consumers, which challenges the platform. Their competitors, such as AliExpress, offer global shipping services, making users prefer other alternatives.
2. Available Products
The number of products available at Sellvia could also be one of its limitations. Sellvia offers over 1500 best-seller products in various categories. This number is pretty low compared to their rivals, which offer thousands of products in different categories.
How to Join the Sellvia dropshipping platform
If you want to start a dropshipping business with Sellvia's monthly or annual plans, follow the steps below;
Sign up to their done-for-you dropshipping store with the monthly or annual plans. There is also a 14-day free trial you could use.
Activate the software or plugins. It is available at Ecommerce, Shopify, and other marketplaces.
Import your preferred products and put them in any category of your choice.
Finally, you can start selling products on your site or store. The products will be delivered to the consumer within 1-3 working days.
Alternatives to Dropshipping Suppliers
So far, this review has covered the features, benefits, limitations, and other relevant information on Sellvia. This section will discuss some of the alternative dropshipping suppliers you could use if you have customers who are mostly not based in the United States.
1. AliExpress
AliExpress is another fantastic dropshipping supplier. It is a good backup for the Sellvia software as it offers similar and more features. They also offer shipping across the globe, an area in which Sellvia comes up short.
2. ShipStation
An excellent alternative to Sellvia is the ShipStation. This platform helps you import your products and integrates effectively with different marketplaces and shopping carts. The good thing about the ship station is that it is affordable for all users. At $25 per month, you can have access to this platform.
3. ShopMaster
This dropshipping supplier is one of the most popular tools that drop shippers use. They have a considerable integration with eBay, WooCommerce, and other suppliers. With these features, you can quickly grow your business.
The basic plan costs $19 per month, while the business plan is $39 monthly.
4. Easyship
This software is the most affordable alternative to Sellvia. In addition to its massive integration features, Easyship provides helpful analytics that can influence your business growth. The easy-ship software is free for all small businesses, and you can even link your courier account.
5. OrderHive
Orderhive is another excellent option that you could use instead of Sellvia. It offers fantastic features like other dropshipping suppliers, easy eCommerce integration, shipments, order management, etc. Their starter plan is available to users for $49.
So if you need a reliable alternative to Sellvia, you can explore one of these software. But each of them is mainly best for a particular purpose. And that is what the recommendation section below will discuss.
Recommendation
Sellvia has become one of US's most popular and widely used dropshipping suppliers. Their easy integration feature and other unique attributes stand out among their competitors.
However, the Sellvia drop shipping platforms offer products from US manufacturers. That means its consumers are based in the United States. This location barrier prevents global shipments of products. So, it is advisable to use this platform only if your customers are based in the United States.
If you need a dropshipping supplier that allows global shipment, AliExpress would be a good option.
Also, for drop shippers who cannot subscribe to the paid plans of these sites, Easyship would be a good alternative.
Conclusions
There you go! A review of Sellvia, one of the best dropshipping suppliers in the United States. This review has covered some helpful information on how this software works.
I have also discussed some of the essential features of the platform. If you were looking for an alternative to Sellvia, this article has listed a few of them.
The effectiveness and reliability of Sellvia cannot be overemphasized, especially for consumers in the United States. Signing up with this platform will be a suitable suggestion if you sell products to these consumers.
Have any more questions about this article? Check out the Frequently Asked Questions and Answers section below.
Sellvia Frequently Asked Questions and Answers
Where is Sellvia located?
Sellvia is located in Irvine, California.
How do I contact Sellvia?
There are two ways to contact Sellvia. The first is; through a contact form on their website. Another way is through their mail address at [email protected].
Can I make money with Sellvia?
It is 100 percent possible to earn from this platform. Once you get consumers to start purchasing products from your site or store— integrated with Sellvia— you can earn money.
Can I integrate Sellvia to Shopify?
You can install Sellvia to your Shopify store. This integration would give you access to all the platform's features
Found this post helpful? Feel free to share it with your friends and families.