Qmee Review 2023: Is it legit or Scam? (Find Out)
Have you ever considered making money from the comfort of your own home? Then this Qmee review is for you. If you haven't heard of online surveys before, don't worry; we'll go through one in this post. We're going to conduct a Qmee review in this piece.
The Qmee is one of the most popular survey providers in the United States, Canada, and Australia. Among other things, this survey tool allows you to ask users basic questions in exchange for monetary bonuses.
We're doing this review to help you find out whether Qmee is the right survey site for you. If not, we'll try and point you in the direction of a better option.
So, what exactly are online paid surveys? Let's find out…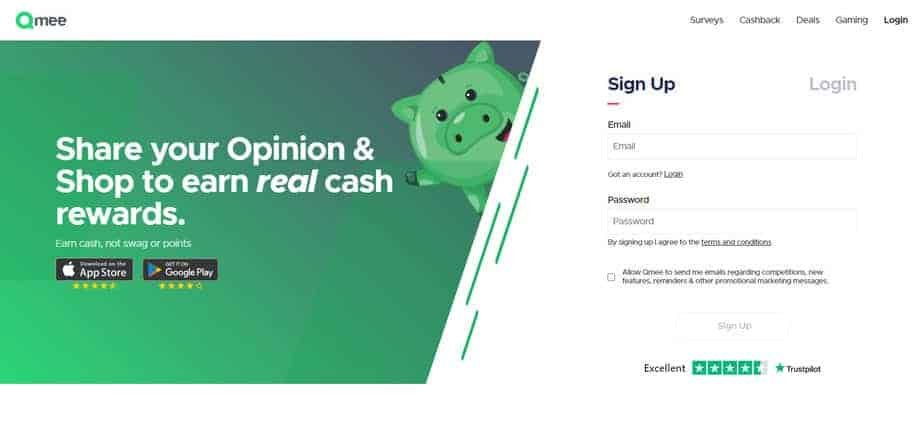 What Are Online Paid Surveys?
Online paid surveys are the easiest way to make money from home. They require you to answer questions or share your opinion about products and services. In exchange for this, you'll be compensated with points that can be turned into cash through PayPal transfers.
There are plenty of paid survey sites out there, but Qmee is one of the best ones on offer at the moment. But why?
Historical background
Qmee was established in 2012 by two influential businesspeople: Jonathan Knight and Nick Sutton. The purpose of installing the software was to develop a consumer-to-brand relationship. That's an interface through which customers may profit from the brands and platforms they're using. Qmee is based in London and New York, with headquarters in the Philippines.
The software's website states that Qmee is one of the fastest developing survey platforms on the Internet. The organization claims to have established itself as an authority in market research. Not only do they involve themselves with presenting facts and figures, but they also give suggestions to other companies.
What is Qmee?
Qmee is not a word used in everyday life, but we are familiar with the meaning. "Q" means searching the Internet, while "mee" means all the advantages you derive from searching the Internet. Qmee is an online application that offers different benefits for searching the Internet. It is an online survey platform that provides a reward for every activity you perform. Q mee pays users for logging into the site and participating in surveys.
Participating in Qmee is one of your best ways to make money from home. There are a lot of people out there who spend most of their time online especially searching the Internet, which Qmee uses as an income source for getting paid.
What Qmee offers
Qmee is an application designed for the benefit of its users. Qmee offers a series of services which include:
Qmee mobile application: The mobile application was first created in 2015. This mobile application provides easy access for users to Qmee. It also reduces the stress of searching the Internet. The application is easy to manage. All Qmee offers and benefits are provided in the Qmee mobile application. The application is user-friendly and easy to navigate. You don't need any special training to use the mobile application. You can Download Qmee mobile applications on the google play store. Then, Install the App on your Android, iPhone, tablet, and iPad
Qmee surveys: Qmee is a survey platform that allows users to answer simple and interesting questions for a cash reward. The surveys are user-friendly. Qmee provides surveys related to your profile and discipline. The surveys are always interesting, current, relevant, and easy to complete with a cash reward. Qmee surveys also offer users the benefit of increasing their survey reward by participating in surveys for five consecutive days.
Qmee Referrals: Qmee referral service is available for regular users of the platform. Such users offer the benefit of referring(introducing) people to Qmee. The referral receives a cash reward on an individual who registered on Qmee and successfully cashed out. The referral can only receive the commission if the person they referred successfully cashed out on the platform.
Qmee Cashback deals and offers: Qmee also offers rewards for performing activities and transactions. Usually, such actions are inevitable for users, but Qmee will reward you for completing any training on the Qmee platform. Qmee offers rewards to users for saving money. Also, Qmee coupons can be used for online purchases. On the Qmee platform, you have nothing to lose because you use what you have on the platform to get what you need.
Qmee gift cards: On Qmee, you can cash out using PayPal. However, Qmee also provides options for using rewards to purchase gift cards like Starbucks, Amazon, and iTunes. The minimum cash out for buying gift cards is $5, although, for the PayPal cash-out option, there is no minimum amount for now. Below is the official state from Qmee.com
When searching with Qmee, it works in the background to show you relevant results on the left-hand side of your screen when you're using your favourite sites. We give you cash rewards for shopping on favourite rite sites and engaging with favourite rite brands; we display price savings when we find you a better deal, so you don't have to go to different places to compare. We offer you money-saving coupons and discounts on your shopping items." (Qmee.com)
Qmee searches: Qmee also rewards users who use Qmee for searching for information on the Internet. Using Qmee, you don't have to be scared of wasting data because Qmee will pay you handsomely for every search you make on the platform.
Qmee discounts: Qmee also offers discounts for all items purchased using the platform. Items can be shopped for and purchased online by using money earned or saved on Qmee. There is always a discount on all the things an active user purchases on the platform.
Country Available
Qmee is available for customers in the United States of America (USA), New York, Canada, and Australia. The platform allows citizens from these countries free access to earn while taking surveys. However, the founder aims to extend the availability of the platform to users in other countries.
How can I have access to Qmee on my device?
You can access Qmee on your electronic device through the operating system designed for applications on your device. Qmee can work on the following platform and operating system:
Website: you can have access to Qmee by directly searching and logging in to the website using any search engine
iOS: an operating system developed for Apple products. Qmee can work on iOS. Therefore, customers using any Apple product can have access to it.
Android: for all android application users, the android operating system also accepts Qmee on its device. All you have to do is to download the Qmee mobile application on your android phone.
Qmee Review: How Does it work
Firstly, a customer must create an account(sign up) with Qmee before they can enjoy all the platform's benefits.
After signing up, the email and password are confirmed, after which the user logs in. A customer that has successfully created an account can enjoy all services on Qmee.
Registration fee
Signing up on Qmee is free; no registration fee is attached. Beware of anybody asking you for money.
Sign-up bonus
There is no sign-up bonus on Qmee. You are only entitled to all services on Qmee after signing up.
How safe is Qmee?
Related questions to this are
Is Qmee a scam?
Is Qmee fake?
Can my information be exposed to hackers?
Does the site pay well?
Many users across different countries have testified to the legitimacy of this platform. Qmee mobile apps for android and iOS have a rating of 4+ stars. This rating is based on reviews by thousands of users on the forum.
Also, the application program was written by geniuses and experts; therefore, your personal information is safe on the platform. We aren't saying it is the best site in terms of security, but it isn't the worst.
The payment rate on Qmee is also acceptable to users. The user reviews the payment rate by comparing it to other survey platforms.
More information is covered in more detail in our Privacy Promise. If you have specific questions, contact us at su*****@qm**.com" (Qmee.com).
Qmee sign up
Citizens of the United States of America, Australia, New York, and Canada can only sign up for Qmee. Citizens from other countries do not have legal permission to use the application. Signing up on the platform implies agreeing to the terms and conditions of Qmee. You can only enjoy the benefit by signing up to Qmee.
Information needed for creating a Qmee account (Signing up)
Email address: the email must be recent, personal, valid, and verifiable.
Password: the password should consist of a minimum of 6 six characters with upper case, lower case, numbers, and symbols.
Verified PayPal account
Name, sex, age, contact address, occupation, and family background.
Follow the step below to sign up on Qmee. Note that the sign-up process can take up to 20 minutes.
Read Also: Swagbucks Review: Is it legit, are they Paying?
Step 1: Follow this link to the sign-up page on the Qmee website.
Step 2: Enter your email address and choose your strong password.
Step 3: click on the button in front of this information "Allow Qmee to send me emails regarding competitions, new features, reminders & other promotional marketing messages." By doing so, you agree to their terms and conditions.
Step 4: Click the sign-up button to sign up.
Step 5: After signing up, install the Qmee browser extension. Downloading the browser makes the user eligible for payment for searching for information online and receives discounts when shopping online.
Step 6: Follow every instruction while navigating and going through a tour on the Qmee platform.
Step 7: Complete your profile by supplying the information about yourself.
Step 8: link your Paypal account to Qmee. Your Payments are completed through the PayPal account.
Email rejection: Your email can be rejected if it is not valid and verifiable. Use a valid and verifiable email to avoid this problem. Your Frequently used email is preferable.
Password rejection: If your password is rejected, it is not strong enough and, therefore, not efficient for security reasons. When setting your password, ensure it contains a minimum of six characters with upper case, lower case, numbers, and symbols.
Internet connectivity: Make sure that you sign-up with a device having a solid internet connection and a good service provider. It will help you avoid the problems of delay loading the page or repeating the same step.
Profile settings: Fill in your information truthfully. You know that information provided will determine your survey questions. Profile settings are not complex, so don't make it complicated for yourself.
Payment settings: This involves linking your PayPal account Qmee. Verification of Paypal gives some users headaches. Make sure the PayPal account is yours and has all your details, and then you have no problem.
Note: There is no sign-up bonus on Qmee.
Qmee login
Qmee login enables you to have continuous access to your account after you have signed up (register). Signing up on Qmee is a simple process, as shown below:
Step 1: Follow the link, and you will see a login option
Step 2: Click on the login option ( not sign-up this time around)
Step 3: Enter your email and password in the space provided
Step 4: Click on the sign-in button. Your account page will be displayed if you successfully sign in. You can also familiarise yourself with the platform if you use it for the first time. Master the way you can take and complete a survey.
They are a few issues associated with logging in on Qmee. They include;
Internet connectivity: Make sure that you sign in with a device having a solid internet connection and a good service provider. A reliable internet will help you avoid the problems of delay loading the page or repeating the same step.
Delay in Web page loading: When there is no strong internet connection, signing in the process might be delayed. However, downloading the mobile app solves the problem because you have your account permanently on your mobile device.
Frequent signing in and signing out: This is a problem users face using browsers to access the platform. When they need to use the search engine to get other information, they have to log out. The mobile app is more reliable than using a browser.
Qmee log-out
Like any other platform, Qmee also has a log-out option. If you want to log out of Qmee for any reason, go to settings, and you will surely see a log-out option; click on it, then successfully log out.
Closing an account on Qmee
If a user wishes to close an account with Qmee, They should contact the Qmee su*****@qm**.com/" target="_blank" rel="noopener noreferrer">help desk.
Qmee Terms and Conditions
Before using an application, you must know its terms and conditions. Knowing the terms and conditions of any platform keeps you aware of what the Qmee can do. You either agree with them, or you don't agree. If you disagree, you can't use the application.
Read Also: Timebucks Review: Complete Money Making Guide
The above information shows that Qmee is serious with its terms and conditions. The following are the terms and conditions of Qmee services:
Update to site and terms: Qmee has the only right to change and amend all terms and conditions on their official page. However, a notice will be provided to the user before the change. The new terms and conditions will be posted on the official website for the user to see. Therefore, it is expected of every Qmee user to always check the official page for any updates on their terms and conditions. Also, Qmee clarifies to users that they do not guarantee an error-free official web page.
How to contact Qmee: You can contact Qmee by using the contact us link on their website or emailing them at su*****@qm**.com/" target="_blank" rel="noopener noreferrer">HTTP://

su*****@qm**.com

.
How Qmee can contact you: Qmee can only get you through emails, addresses, and phone numbers you provided during registration.
Service availability: Qmee service is only available for people residing in the United Kingdom, USA, Canada, and Australia. They said they have the right to limit their application user to a specific geolocation location. Qmee frowns at residents of other countries using their service.
Receiving payments: Payments are accepted through PayPal. However, users can also use their reward to buy a gift card. Below is the official statement from Qmee regarding Receiving payment
(https://www.qmee.com/terms-and-conditions). You can find information about the terms and conditions by clicking on the link above.
How does Qmee pay?
The two payment options for a Qmee are Paypal and a gift card. No minimum amount for cashing out through PayPal payment options. However, the minimum amount you can cash out for the gift card payment option is $5. Verification is essential to cashing out through a gift card.
How much does Qmee pay for Survey?
Qmee reward depends on the length and duration of the survey questions. Qmee pays a minimum of $2.5/hr per Survey. Some surveys can pay up to $3/hr
How to take surveys on Qmee
The following steps and tips can help users take surveys successfully on Qmee.
Focus on the Qmee survey: Although there are other alternatives to make some cash on Qmee, the Qmee Survey offers you the best reward. Customers should focus more on surveys to earn more from them.
Master your profile: You need to master your profile because survey questions are related to the information you provide on your profile. Learning about your profile helps you answer survey questions more straightforwardly and faster.
Give an honest answer to all surveys: Answer all questions honestly to the best of your knowledge. The simple answer helps the survey providers to gather the correct information. It also allows you to find the survey questions interesting.
Watch out for tricky questions: As you answer the survey questions, watch out for tough questions asked by the providers. The questions are to test your commitment to the survey questions. Answering those questions wrong can disqualify you for a survey.
Watch out for the survey duration: When answering a survey, use your time wisely. Make sure you are not too fast to the extent of finishing a 30-minute study in 15 minutes. You might be disqualified because the survey provider will think you are just skimming through the question. Use 8-9 minutes for 10 minutes of questions.
Take related surveys: select surveys you know you can answer correctly.
The following is a list of platforms that offer related services as Qmee. You may choose to check them out.
PrizeRebel
OneOpinion
Swag Bucks
MyPoints
Paidviewpoint
Vindale Research
Opinion Outpost
InboxDollars
Survey junkie.
Check other related surveys at the survey site.
Read Also: Make Money On Opera News Hub (Complete Guide)
Frequently Asked Questions on Qmee (FAQ).
Why can't I cash out with my PayPal account?
Users cannot cash out with their PayPal account if it is not verified. You need to verify your account to convert your money to a gift card.
Why is the reward on Qmee low compared to other survey sites?
Qmee's reward on the Survey and other services is low compared to some additional survey sites. However, this is not a problem because answering a survey on Qmee is easier, faster, and more engaging.
Why am I disqualified after almost completing a survey?
Qmee cannot just disqualify any users for no reason. Your answer and commitment determine if you will complete a survey or not.
Can I use VPN to change my location?
If you are not a citizen of the four countries using the Qmee platform, you cannot use the application. Using VPN to change location is a criminal activity and is punishable under the law.
How often will I get surveys?
You can always get a survey on Qmee, provided you are committed to it. To receive a survey, you will first answer an opt-in survey( this is called opting-in). The opting Survey is found by clicking a survey tab on the Qmee dashboard. All you need is to answer the opt-in Survey honestly and correctly to receive more surveys.
Can I change my account on Qmee?
You can change your user account on the Qmee dashboard by clicking the "Details" tab. You can change your account on the Qmee mobile application by clicking on the "Account" tab. Note that you can only have one Qmee account; therefore, changing your account implies changing the email you use to log in. If you wish to close your Qmee account, contact the Qmee help desk.
Check other frequently asked questions at the FAQ on the Qmee website.