How To Create Google AdSense Account In Nigeria 2023
In this post, I will teach you everything you need to know on how to create Google AdSense Account In Nigeria 2023.
As a blogger, you must have heard of or come across Google AdSense which is regarded as one of the best contextual advertisement programs available.
You landed on this page probably because you are looking for the right way to create a Google AdSense Account in Nigeria and probably get approved.
In this post I  will be sharing with you the right way to Create an AdSense Account in Nigeria 2023 and get approved, So without any waste of time let's dive into the topic of today.
Google AdSense is one of the numerous ways to monetize your website traffic in Nigeria.
If you are new to blogging and was looking for different ways to make money online with your blog. I was advised you also to check out my Affiliate marketing guide for beginners.
What is Google AdSense?
Google AdSense is a program owned and managed by Google in which contextual adverts such as images, video, or interactive media are placed on the publishers' website and the publisher gets paid whenever someone clicks on the Ads.
How does Google AdSense work?
Google Adsense works on a cost-per-click (CPC) and cost-per-impression(CPM) revenue sharing basis.
Impressions– the number of times your ad is viewed by visitors on your website.
Clicks– how many users click on your ad.
It charges advertisers per ad click and per 1000 impressions publishers get roughly 68% of the amount an advertiser has set to pay for each ad.
An approved publisher who participates Google AdSense program inserts an AdSense JavaScript code provided into a webpage. Each time this page is loaded or visited, the JavaScript code fetches ads in the form of text, images, or both from Google's servers and displays it on the webpage.
Google will display targeted ads on your page that are relevant to the content on the web pages that the code has been inserted, and when your website visitors start clicking on those ads, you will be paid for it.
Google Adsense Requirements
The below mentioned are the things you need to have before applying for a Google AdSense Account.
A website: You must have a YouTube channel or website be it Self hosted or a Free .blogspot blog
A Google Account: Google account simply means a Gmail account.
Your Content Created: This can be your YouTube videos, and blog posts, as long as you're the owner and it complies with the AdSense Program Policies.
Finally, you must be above the age of 18.
How To Create Google Adsense Account
The processes involved in creating a Google AdSense account are really easy. However, for faster approval, ensure that your blog is well developed and easy to navigate because it will require human review before your account could get approved.
Visit the AdSense Signup page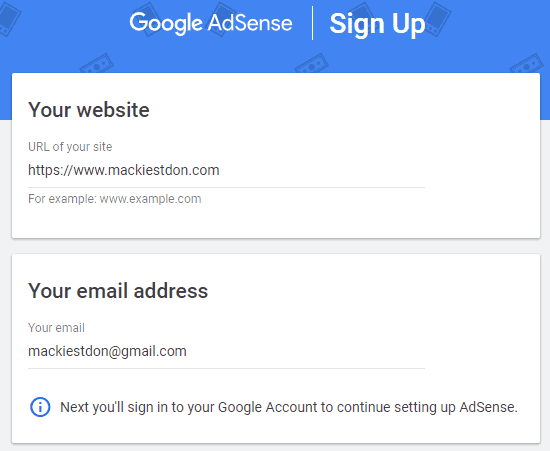 Visit the Google AdSense signup at https://www.google.com/adsense/signup/new/ Now you'll need to enter all your details, which include your website and email address. You can also opt-in for customized help and performance suggestions from AdSense. Your screen will look something like this: After everything click on Save And Continue
Select Your Country
It is very important to choose your correct country because after approval Google will still send a verification PIN to the selected country.
After selecting your country, you will get the Google AdSense agreement. After reading, select "Yes, I have read and accepted the agreement and click on "CREATE ACCOUNT".
Add Your Mailing Address And Phone Number.
Pay Attention Please, It is very important! I don't want you to make the same mistake I made during my first AdSense Signup.
The "payee name" is very important. Make sure to use the same name you used when opening a bank account, as AdSense will be sending you checks or EFT payments under that name.
You may not be able to change it again after signing up. Some countries do not permit a change of payee name after signing up, so your payee name must be entered without any form of error.
Add AdSense code to the Website
On the next page, you will receive instructions that will enable you to connect your website to AdSense. AdSense will provide you with a snippet of code that you need to add to your site within the <head> </head> section. They will also give you specific instructions on how to do so when you have a WordPress site. Once you've inserted the code on your site, click the submit button.
Now your website is ready for the Google AdSense team to review. Be sure to keep the snippet of code live on your site until AdSense responds. Sometimes it takes a few days or up to two weeks for the AdSense team to get back to you.
If you do not yet have a blog, you can refer to my previous tutorial on How to start a WordPress Blog.
Have any questions regarding the AdSense account creation process? Feel free to ask me via the comments section!
Remember to share this content with your friend using the share button below: