10 Best Webinar Software Platform And Pricing 2023
A webinar is an online presentation or meeting help via the internet in real-time. In simple words, a webinar is an online event that connects people across the world. The primary role of a webinar is to discuss, receive, and send information in real-time.
So does your business need webinar software?
If yes, then you probably know the importance of choosing a quality and reliable webinar. Choosing quality webinar software means better interaction with your prospects.
However, selecting a webinar software can be overwhelmed and challenging. With hundreds of webinar software available on the market and all claiming to deliver exceptional results, choosing the right one for your business can be a bit challenging.
Luckily, today you have landed in the right place. We have conducted extensive research and compiled a list of the 10 best webinar software on the market.
Questions to ask before choosing a Webinar software
Before you start shopping for a specific webinar software for your business, below are essential questions that you need to ask.
Who are my audiences?
Are you targeting younger or older demographics? If you are targeting older demographics, then you should consider choosing a webinar software that is easy to install and use. On the other hand, if you are targeting the younger generation, then you should purchase webinar software that is compatible with mobile platforms and can also be accessible on social media platforms.
How many participants am I targeting?
Are you targeting 50 or 100 attendees? It is crucial to choose a webinar software that can comfortably accommodate the number of attendees that you are targeting. Also, consider if your participants want to participate in life or prefer to watch a recorded version.
What is my budget?
You cannot subscribe to a webinar that you cannot afford; it is, therefore, vital to consider your budget before you start shopping for one. Most webinars cost between $20 and $1000 each month. Most of them are billed annually. So when choosing a webinar platform, ensure that it is within your budget.
Do I plan to have guest speakers?
Are you the only person who will be speaking at your webinars or will you be hosting guest speakers? If you plan to have more than two people presenting at a particular webinar, then it is vital to choose a platform that is an admin console that allows you to host more than two presenters at a time.
What kind of integrations do I need?
Most webinar platforms allow users to manage registrations, invitations, reports and much more. Before you choose a webinar software, ensure that it can support integrations that are important for your business.
Best Webinar Software And Pricing In 2023
If you are looking for a simple, interactive, and efficient webinar, then look no further than Webinarjam. It is currently among the bestselling webinar software on the market, thanks to the unique features that it is equipped with.
Although sophisticated, WebinarJam is very easy to use. You don't need to be tech-savvy to benefit from this software. Anybody, including those who have never used a webinar before, can benefit from this program. Webinar jam is ideal for hosting an automated webinar to a broad audience.
Additionally, Webinarjam is among the few webinars that allow users to stream content directly from YouTube. Also, this software provides a popup while having one on one sessions with your prospect, a factor that will enable them to purchase your services or product directly from the webinar. The advanced live chat features that it is equipped with allow secure two-way communication.
WebinarJam uses the latest technology, such as WebRTC, RTMP, Flash, and HLS, that is compatible with most devices and web browsers. It also uses the newest broadcast distribution technology that creates quality universal signals for better communication. All your connections will be recorded, meaning that you can later review the chat.
Pros
Allows social media integration
Has amazing customer support
Automatic recording
It is compatible with almost all operating systems and browsers
It is easy to set up (the entire process takes less than 60 seconds)
It automatically records every webinar
It is easy to use
Can easily handle multiple participants
This webinar allows you to integrate surveys and polls
Cons
Some people complain that they experience sound and video delays
Pricing
Basic Plan: $470 annually and $39.92 monthly. This Plan allows you to have up to 500 participants per webinar, 24/7 support, and access to up to three presenters.
Pro Plan: $783 annually and $65.25 monthly. This PlanPlan allows you to have up to 1000 participants, 24/7 customer support, and up to four presenters.
Premium Plan. $ 83.08 per month. Allows up to have up to 5000 participants and up to six presenters.
EverWebinar is a powerful automation platform that can help you build your email marketing list with ease. With EverWebinar, you can automate and schedule your webinar footage to play at specific intervals. It is built with direct integration with WebinarJam, but the parent company sells it separately.
While WebinarJam focuses on live events, EverWebinar is focused on evergreen webinars (webinars that are rebroadcasted over time). This is because some webinar contains content or topics that stays relevant for a certain period and hence can be replayed to new potential clients.
With EverWebinar, you have three options to choose from. They include:
Show the webinar live.
Show a fully automated video no work is required from you.
Show a hydroid – a video that has been recorded with live chat enabled.
Pros
Allows you to swap between EverWebinar and WebinarJam in a single click
Gives performance statistics in real-time
Unlimited free hosting through cloud-based servers
Time zone auto-detection
Advanced scheduling system
Just in time webinar that begins immediately upon registration
It converts past live webinars to evergreen events
It allows you to fake your audience for marketing purposes
Cons
Some people have complained about streaming issues on mobile
Pricing Packages
It costs $41 per month (billed annually), which is a bit on the higher side.
ClickMeeting key selling point is its user-friendly dashboard and interface. This webinar software is ideal for small and medium-sized businesses as well as web entrepreneurs. It can comfortably handle both internationally and company meetings.
If you want to reach out to your target audience for product promotion, customer training, and product sales, among many others, then this webinar will not disappoint you. It is an all-integrated platform that provides multiple options, from customized invites to automated webinars.
ClickMeeting is very simple and easy to use. It provides detailed and clear instructions on how to set up for an event. This means that you don't need to hire a technical expert to do the setup, all that you need to do is follow the simple and straightforward instructions given.
ClickMeeting also offers critical analytical insights about past webinars and details of participants of the forthcoming webinar.
If participants come into the meeting early, they will get additional information about the webinar. You can also share the information about webinar topics, essential files to download, and presenters to keep the participants engaged before the event starts.
Pros
Offers automated and on-demand webinars
Simple and easy to set up
The full switch to HTML5+WebRTC
Better screen sharing
Offer waiting room with agenda
Chat message translation
Event duplicating option
Cons
ClickMeeting does not allow you to schedule recurring meetings
Pricing
$25 per month for 25 attendees
$35 per month for 50 attendees.
Custom pricing is also permitted.
Easy Webinar is currently the only webinar software that allows you to put a webinar at the center of your digital marketing strategies. Additionally, this software offers all in one solution for automated and live webinars.
This webinar software offers plenty of features, including live webinars, HD videos, premade sales funnels, evergreen webinars, multi presenter options, mobile apps, strong analytics suits, and much more. Easywebinar is ideal for small and medium-sized businesses.
Pros
An automated webinar has analytics and sale funnels
The basic PlanPlan allows up to 100 attendees
Have more than 8000 customers with plenty of positive reviews
Enables integration with other software such as GetResponse, Mailchimp and Stripe
Unique automated and live webinar feature
Mobile app for the on-the-go attendees
WordPress integration
Inbuilt analytics suite
Cons
Quite costly than other options
Standard Package: $ 78/month. This PlanPlan allows you to have up to 100 participants per webinar, 24/7 support, and access to up to three presenters.
Pro Plan: $129/month. This PlanPlan allows you to have up to 500 participants, 24/7 customer support, and up to four presenters.
Enterprise Plan. $499/month. Allows up to have up to 2000 participants and unlimited attendees when purchasing the annual PlanPlan. To view the demo before purchase, you can contact them to get a quote.
5. Gotowebinar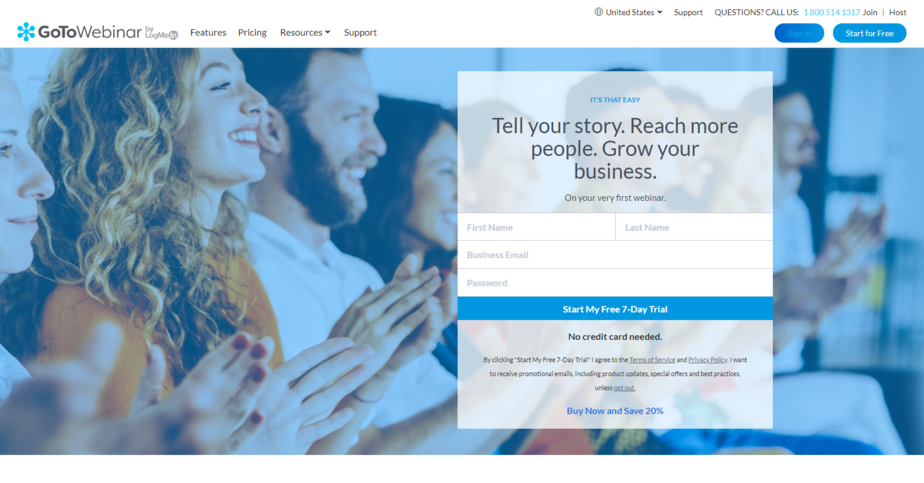 Gotowebinar is ideal for people who want to avoid the confusion that comes with organizing a webinar. With Gotowebinar, all that you need to do is select a date that you will host the event. The software will take care of the rest.
This is important because it allows you to focus on what is important, and that is, growing your business and reaching out to more customers. This webinar is highly professional and trusted by large, well-established companies. Gotowebinar is among the oldest in the industry and can hold up to 5000 participants.
Gotowebinar is also equipped with plenty of amazing features aimed at improving your webinar experience. Some of the features it boasts of include event management, customizable webinar invitations, in-built surveys and polls, automated email responders, flexible scheduling, and much more. You will also access multiple in-built webinar templates that will help make your work easier, especially when marketing your business.
Pros
Video sharing feature
Allows up to 5,000 participants in the room
Break out rooms to divide members
Quality video and audio
Prerecorded event
Robust analytics
24/7 customer support
Inbuilt survey and polls to engage with your audience
Smooth integration with tools such as Salesforce, Zapier, Unbounce and much more
Automatic recording
Cons
It is expensive; the basic version costs around $900 per year
Pricing
Starter Plan: $89/month, billed annually at a 20% discount. This PlanPlan allows you to have up to 100 participants per webinar, 24/7 support, and access to up to three presenters.
Pro Plan: $199/month, billed annually at a 20% discount. This PlanPlan allows you to have up to 500 participants, 24/7 customer support, and up to four presenters.
Enterprise Plan. $429/month billed annually at a 20% discount. Allows to have up to 1000 participants and a custom URL with five channels.
All subscriptions are billed annually. You can check the pricing page to find out the features of each package.
6. Demio
Demio has positioned itself as a smart webinar platform, and there is a good reason for that. First, this webinar software has robust tracking options.
Secondly, Demio offers fantastic automation rules, such as sending webinar recordings to those who have just joined. This makes it easy to segment your audience in real-time based on when they entered and the action they took.
Thirdly and most importantly, Demio is a straightforward tool. You don't have to be tech-savvy to use this software. Anyone, including those who know little about the webinar, can use this software. Setting up takes a few minutes.
Demio is ideal for beginners who want to avoid webinar software with a complicated interface. It is also suitable for professional marketers and corporate users because of its amazing features.
Pros
100% browser-based. It supports all devices and browsers
It is simple and easy to set up
Provide extension automation
Offer in-built analytics
It offers an impressive customer experience
Offer powerful tracking options
Can be integrated with other marketing tools
Cons
The price is a bit higher
Pricing
STARTER: $34/month billed annually, allows only 50-Attendee Rooms. Perfect for small businesses and solo entrepreneurs getting started with webinars. The most popular Package with more tools, automated events, and custom branding.
GROWTH: $69/month billed annually for 150 participants.
BUSINESS: $163/month billed annually. Perfect for growing companies that need a bigger room size, team access, and dedicated support.
GetResponse is an all-in-one box solution that incorporates webinar platforms and other marketing tools, including custom emails, autoresponders, list segmentation features, and much more. GetResponse is the only webinar software that allows users to have a webinar tool and email database under one roof.
This means that you can schedule webinar campaigns for subscribers, share events on social media, and also send reminders to your subscribers. This software also allows you to use the registration details of your subscribers to send them customized "thank you" messages.
Pros
Desktop sharing
YouTube integration for viewing videos
AB testing
Detailed reporting
Survey and poll sharing
One-click webinar recording
It allows users to send autoresponders
Will enable users to customize their webinar URL
Pricing
GetResponse comes with 30 days of a free trial.
The Plus Plan: This PlanPlan costs $49/month for 100 attendees and does not include webinar features.
The Professional Plan: This plan costs $99/ month for 300 attendees,
The Enterprise Plan: This package costs $1,199 for 500 attendees.
8. Adobe Connect
In addition to creating a webinar, Adobe allows you to share documents, host videos, host meetings, and much more. Adobe Connect also enables you to customize your hosting room as per your requirements.
It also allows you to show your services or product to your get audience. It is ideal for small and medium-sized businesses that want to boost interaction with their target customers.
Pros
It provides multiple templates that you can take advantage of to attract more customers to your business
It easily integrates with CRM software like Salesforce and Elodie
Its powerful analytics for better predictions
Allows you to create custom registration pages
Allows you to reach out and influence your target audience via surveys, blogs, and polls.
Cons
Some users have complained of compatibility issues when displaying videos and audio on mobile devices.
Pricing
$130/ month for 100 participants,
470/month for 500 participants, and
580/month for 1000 participants.
Each pan allows users to host unlimited events. It also comes with 30-day money-back guarantee.
9. Zoom
The most impressive thing about zoom is that it provides a basic webinar for free. This means that if your meeting is conducted in less than 40 minutes and participants are less than 100, then you won't pay. This is because this webinar software is built for large companies.
Zoom has excellent features, including group and private chats, screen sharing, video conferring features, and much more. Zoom is mostly used for teaching purposes, but it is also ideal for marketing purposes.
Pros
Simultaneous screen sharing
Compatible with almost all devices and browsers
Free application and desktop sharing
Allows you to record the whole event
Cons
Navigating the interface is a bit challenging for newbies
Pricing
The paid plan starts from 14.99/month for 100 participants.
10. Webinarninja
Webinarninja is a powerful, all-in-one software that is trusted by big brands such as Printful, Appsumo, and much more. Webinarninja is not only equipped with amazing features that enhance the user experience, but it is also straightforward to use. It allows you to create webinars in as little as one minute. Webinarninja will enable you to create four different types of webinars, namely live, hybrid, series, and automated webinars.
Pros
Fast live charts
Has been integrated with over 1000 apps
Drip campaigns and email automation
Instant screen sharing
Custom registration of landing pages
Allows you to run multiple polls and surveys before and after the webinar
Cons
Some users have complained their customer support does not respond fast
Pricing
The starter plan costs $39 per month for 100 participants, the pro plan is $79 per month for 200 participants, and the power plan is 199 per month. This software comes with a 14-day free trial.
In conclusion, the webinar software that you choose will play a crucial role in determining your business's success. All the above-listed webinars have been tested and proven beyond a reasonable doubt to deliver exceptional results. But for us, Webinarjam was our top pick.
In addition to having great features, this webinar software comes with 60 days of free trial for just $1.Very few webinar software can match WebinarJam in terms of marketing features. However, our topic may not be your top pick.
I recommend that you consider the unique needs of your business before choosing a webinar platform for your business. Still, we wholeheartedly recommend that you consider the above webinar software that we have covered.